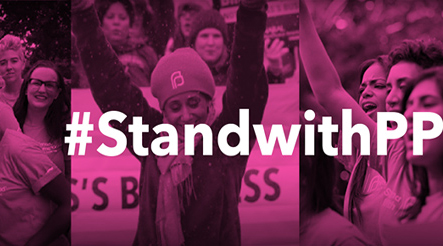 An individual with ties to far-right video scammers has launched a new video attack on Planned Parenthood, the nation's leading provider of health care to women. And, as with past such shady scams, Republican politicians are jumping on board, launching congressional probes of the nationally respected organization and calling once again for defunding Planned Parenthood's health services.
The new "undercover" videos purport to show Planned Parenthood staffers saying the organization profits from selling fetal tissue from abortions to scientists. The claim is that Planned Parenthood engages in criminal body part trafficking.
In response, Planned Parenthood Federation of America President Cecile Richards charged that "An organization that opposes safe and legal abortions used secretly recorded, heavily edited videos to make outrageous claims about programs that help women make tissue donations for medical research."
"The idea that Planned Parenthood profits in any from tissue donation is not true," Richards said emphatically.
The videos' implication, of course, is that abortion is a ghoulish form of body-snatching, and anti-abortion fanatics have opposed scientific research using fetal tissue. But a 2001 fact sheet by the American Society For Cell Biology points out that fetal tissue is "used for scientific research into fundamental biological processes and human development."
"In addition," the scientific society says, "transplantation research uses fetal tissue to study potential treatment of life-threatening diseases."
Scientists obtain fetal cells from hospitals and nonprofit tissue banks as well as abortion providers, where women have donated these tissues for medical research.
""In health care, patients sometimes want to donate tissue to scientific research that can help lead to medical breakthroughs, such as treatments and cures for serious diseases," Eric Ferrero, vice president of communications for Planned Parenthood, said in a July 14 statement. "Women at Planned Parenthood who have abortions are no different."
Ferrero noted, "At several of our health centers, we help patients who want to donate tissue for scientific research, and we do this just like every other high-quality health care provider does – with full, appropriate consent from patients and under the highest ethical and legal standards. There is no financial benefit for tissue donation for either the patient or for Planned Parenthood. In some instances, actual costs, such as the cost to transport tissue to leading research centers, are reimbursed, which is standard across the medical field." (Among the parts edited out of the videos were repeated statements by Planned Parenthood staff that the organization charges fees only to cover costs, not to make a profit.)
Ferrero continued:
""A well funded group established for the purpose of damaging Planned Parenthood's mission and services has promoted a heavily edited, secretly recorded videotape that falsely portrays Planned Parenthood's participation in tissue donation programs that support lifesaving scientific research. Similar false accusations have been put forth by opponents of abortion services for decades. These groups have been widely discredited and their claims fall apart on closer examination, just as they do in this case."
David Daleiden, the 26-year-old man who made the videos, says he is a longtime friend of Lila Rose, the founder and head of Live Action, a right-wing anti-abortion group which Daleidin worked for while in college. Live Action was involved in infiltrating Planned Parenthood clinics for the purpose of creating similar sneak attack videos in 2011. Those videos sought to portray Planned Parenthood as assisting "sex trafficking."
The anti-abortion extremist movement has a history of creating false-front groups and using trickery to project its message. The latest videos were produced by a "Center for Medical Progress" which Daleidin set up in 2013 and which gained tax-exempt status. Daleidin also set up a fake company, Biomax Procurement Services, which sought to entrap Planned Parenthood employees in seemingly incriminating statements.
Planned Parenthood President Cecile Richards asked then-Attorney General Eric Holder to investigate the video scams. In a letter to Holder, Richards wrote that individuals gained entrance to Planned Parenthood clinics under false pretenses. "Once inside," she wrote, "these people have recorded 'undercover' videos of their conversations with our clinic staff and then selectively and maliciously edited the videos."
At that time, Republicans seized on the videos in an effort to block federal funding for all family planning programs, and in particular for Planned Parenthood, as part of "deficit reduction." But Congress was under Democratic control then, and the Republicans eventually had to back off. Now Republicans control Congress, and are threatening to shut down the government over the issue.
Senator Rand Paul, R-Ky., one of the numerous GOP presidential contenders, is proclaiming that he will "lead the fight against Planned Parenthood." Paul is introducing legislation to defund the organization, and a petition on his website cites his opposition to any "abortion on demand." Two other Republican presidential candidates, Gov. Scott Walker of Wisconsin and Gov. Bobby Jindal of Louisiana, have called for investigations in their states.
House Speaker John Boehner, R-Ohio, and Majority Leader Kevin McCarthy, R-Calif., have ordered congressional investigations of Planned Parenthood over the the video allegations. The House Energy & Commerce Committee and the Judiciary Committee have both begun investigations. Boehner and other Republican leaders have asked the Justice Department to investigate.
Republican candidates and leaders have yet to exercise such indignation over numerous recent incidents filmed on videotape of gross police misconduct and deaths of prisoners while in custody.
Evidently they see reviving the attacks on Planned Parenthood and women's reproductive rights as a useful issue in attracting votes from their right-wing base as 2016 campaigning heats up.
Planned Parenthood, with 700 health centers around the country, has pioneered in providing affordable health care not only for women and girls, but also for men. The country's largest provider of sex education, it also provides cancer screenings, birth control and other essential preventative testing and care. Abortions are only one of the many services it provides.
Planned Parenthood Federation of America President Cecile Richards responds to latest video attacks:
Photo: Planned Parenthood Action has launched a #StandwithPP defense campaign on Facebook and other social media. Planned Parenthood Action/Facebook