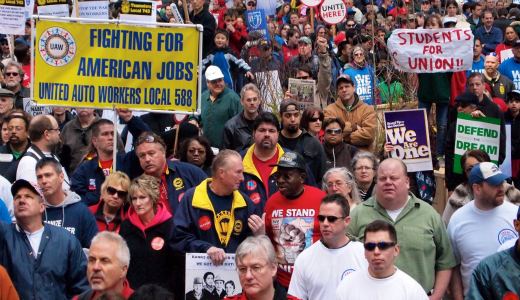 CHICAGO – On April 9, nearly 10,000 trade unionists and their supporters poured into Daley Plaza downtown. They came by bus from other Illinois towns and they came in feeder marches from around the city.
This city's "We Are One" rally was one of over 1,200 events that took place during the week of April 4, in commemoration of the assassination of Dr. Martin Luther King, Jr. The mood was festive and militant at the same time. Bill Lucy, president of the Coalition of Black Trade Unionists, gave a moving speech. He linked the 1968 Memphis sanitation strike where Dr. King was killed and the growing fight back against ultra-right corporate attacks on unions and public workers.
Chicago We R 1 4-9-11 from Scott Marshall on Vimeo.
Photo: Scott Marshall/PW