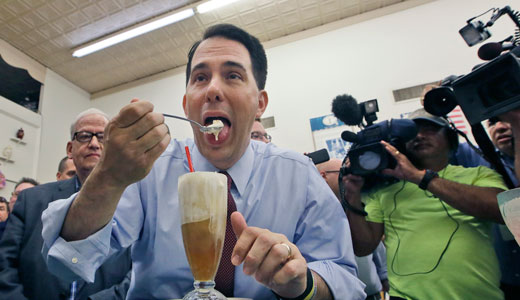 LAS VEGAS – Expanding on the hatred of unions that he imposed as Wisconsin's governor, right wing Republican presidential hopeful Scott Walker is proposing to abolish the National Labor Relations Board, turn the U.S. into a "right-to-work" nation, and eliminate federal workers' rights to union representation.
Walker's anti-unionism is his key platform plank. He disclosed his schemes in a mid-September speech in Las Vegas. The New York Times obtained an advance copy.
And Walker took time out from that main anti-union cause to blame Seattle's striking school teachers – who haven't had a raise in six years – for "organized extortion." The school board's refusal to bargain forced the teachers, National Education Association members, out.
In his speech, Walker took his union hatred even further than he did in Wisconsin, where his infamous Act 10 stripped collective bargaining rights from 200,000 state and local government workers – unless their unions had backed him in his initial 2010 run for governor.
Act 10, passed in 2011, and later upheld in the courts, also ordered all public worker unions to be recertified as representing their members every year, and eliminated dues.
Act 10 aroused intense worker hostility in Wisconsin, with up to 100,000 workers and their allies from around the country jamming the streets of the state capitol, Madison, and the capital building there, in protest. It also led to a recall election for Walker, which he won. He won re-election to the governorship last year. He now trails badly in GOP presidential polls.
Walker later signed a separate "right to work" law – which unions and workers call "right to work for less" – saying that any worker, public or private, who uses the union's services does not have to be a member or even pay for them.
Such right to work laws are a favorite cause of big business, the radical right and their political puppets. Their aim is to destroy workers' opposition to corporate hegemony by robbing unions of money they need to operate.
"On Day One, I will stop the government from taking money out of the paychecks of federal employees for political union dues," Walker said just before the speech. "I've won those battles in Wisconsin, and believe me, I won't back down from the battles in Washington."
In the Las Vegas speech, Walker said the National Labor Relations Board, which oversees union-management relations for most U.S. industries, is a problem, as are unions.
"To grow the economy at a higher rate requires a comprehensive approach and reform of the labor unions is a key part of the plan," he said.
Photo: Scott Walker with his mouth open. AP