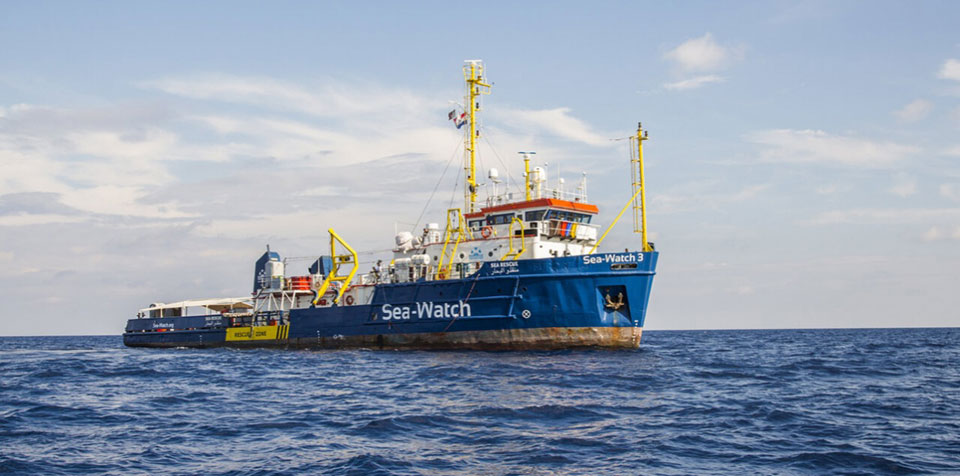 A civilian refugee-rescue ship was detained in Italy on Sunday night after the authorities accused the crew of "saving too many people."
The Sea Watch 3 saved the lives of 363 people in the central Mediterranean between February 26 and March 1.
The crew also found another 90 people but, since there was no room left on the ship, they were placed in the Sea Watch 3's life rafts until the Italian coastguards took care of them.
On March 3 the ship was finally given permission to begin disembarking those rescued in Augusta, on the Italian island of Sicily. But the authorities took days to bring everyone ashore.
The ship was blocked in on Sunday night, following a two-week off-shore quarantine. It was only last month that the ship was allowed to leave Sicily after being held there for seven months.
The ship's operators, German charity Sea Watch, blasted the "politically motivated" decision to bar the ship from leaving.
"Again, we are accused of having rescued too many people," Sea Watch said on social media today.
"The alternative [was] letting 363 people drown, as EU authorities [turn] a blind eye, [and do] not show any efforts to closing the rescue gap in the Mediterranean."
Meanwhile, the Ocean Viking, another refugee-rescue ship owned by European charity SOS Mediterranee, remains at sea.
"Ocean Viking is waiting for a place of safety to be assigned by [the] authorities for the disembarkation of 116 survivors following four requests in four days," SOS Mediterranee said on Sunday.
"[The] weather in the central Mediterranean is strongly deteriorating now and in the days to come, affecting many of the survivors' health state."
This article was reposted from Morning Star.