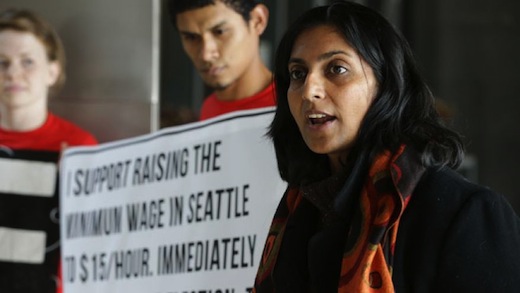 SEATTLE – Seattle voters shocked the political establishment here, Nov. 5, when they elected an avowed socialist, Kshama Sawant, to the nine-member Seattle City Council.
All council members in this city are elected non-partisan and at-large. So Sawant's 51 percent victory over 16-year incumbent councilman, Richard Conlin, was seen as an indication of a shift to the left among voters citywide.
Sawant racked up 60 percent margins in the Central District, Seattle's historically Black community, the International District with heavy concentrations of Asian American voters, and in Wallingford, adjacent to the University District. She scored 55 percent or higher in the University District home of the University of Washington. She also won above 55 percent in Fremont and Ballard, the center of Scandinavian American voters, and in Beacon Hill, a solidly working class district south of downtown.
Underlining the class split in the vote, Conlin won in the "outer ring" neighborhoods, Laurelhurst, Magnolia, Montlake, Sand Point, and West Seattle. Conlin was the lone "No" vote on mandatory sick leave for Seattle workers; he advocates outlawing panhandling and has supported the redlining of low-income mortgage borrowers in Seattle.
Sawant was born in India and moved to the United States after graduating from college when her husband was hired by Microsoft. She is an economics professor at Seattle Central Community College. When Seattle police evicted the Occupy Wall Street encampment from Westlake Park, she arranged for the camp to move to the campus where she teaches. Sawant, herself, was an organizer for the Occupy Wall Street movement.
Sawant made the fight for a $15 per hour minimum wage the centerpiece of her campaign. The issue is so popular that voters in SeaTac, home of the Seattle-Tacoma airport, put an increase in the minimum wage to $15 an hour on the ballot. It was approved by a razor thin margin. Enemies of the increase are now challenging it in court and a recount is expected. Already, Washington State has the highest minimum wage in the nation with increases pegged to the rising cost of living. Currently $9.19 an hour, it is set to rise to $9.32 in January.
Sawant also campaigned for rent control in the city. She called for a "millionaires tax" to curb income inequality and ease the fiscal crisis in Washington State where there is no income tax, only a regressive 8.5 percent sales tax. She denounced police brutality and police use of lethal force in Seattle. And she campaigned for immigration reform.
She is a member of the Socialist Alternative party, followers of Leon Trotsky. The labor leadership in the U.S. she has stated, "has completely betrayed the working class. They are hand in glove with the Democratic Party …. and they tell the workers that you have to be happy with these crumbs."
She charges that the "Democratic Party pays lip service to workers' needs. In reality both the Democrats and Republicans serve the interests of a tiny financial aristocracy."
Yet already questions are being asked about these statements that run so counter to the spirit of unity that put her in office. Thanh Tan, a widely respected columnist in Seattle, writing in the Seattle Times blog, declared, "Having an immigrant woman of color join the Seattle City Council is a powerful symbolic feat. Sawant has injected new energy into Seattle politics…. If she wants to be effective, though, she has to convince at least four other council members to support any rule change she puts on the table."
Serving on the city council, Tan continues, goes beyond making speeches. "It's also about governing, building coalitions and counting votes that matter."
Tan is warning Sawant that, by herself, she will not be able to achieve any of the goals she advocates. To win, she will need allies and coalition partners in a broad-based movement that includes the leadership and membership of the Washington State labor movement. The battle is so intense, some say, it amounts to outright class war against workers being carried out by the Tea Party Republicans here, and in those struggles, many Democrats are allies of the labor movement.
A few weeks ago, a reporter asked incumbent Seattle mayor, Mike McGinn, his view of the SeaTac minimum wage initiative. McGinn said he fully supports it. Not to be outdone, McGinn's challenger, State Senator, Ed Murray, said he supports a $15 minimum wage not just at SeaTac but for all Seattle workers. Murray won the election. He is now "Mayor-elect" of the Emerald City. He is a Democrat. The broad movement to win a citywide, $15 minimum wage will be mobilizing in the streets for the $15 minimum wage to help Murray remember that he supports that demand. If he keeps his promise he will be regarded as a crucial ally by overworked, underpaid workers everywhere.
As for the Republicans, they will be working overtime to block any increase in the minimum wage or any of the other reforms urged by Sawant. The first rule of smart politics is: "Know your friends; Know your enemy."
Photo: Kshama Sawant, right, speaks outside Seattle City Council chambers about her support for raising the minimum wage to $15 an hour for all workers in the city. Ted S. Warren/AP