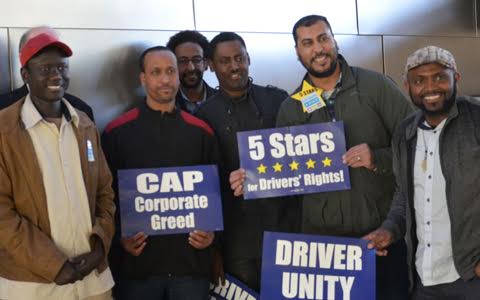 SEATTLE (PAI) – Teamsters Local 117 in Seattle will step up its efforts to unionize Uber and Lyft drivers – who are already working with it on an organizing campaign – after the city council's unanimous vote to give those drivers workers' rights.
The ordinance, passed 8-0 on Dec. 14, says the drivers, whom the ride-sharing services call "independent contractors" are, in Seattle, have the right to organize.
Seattle's Uber and Lyft drivers are already joining Local 117's App-Based Drivers Association (ABDA) to promote their cause and their rights. And they packed the city council chambers when lawmakers considered the ordinance.
The Seattle ordinance is important by creating a road map for other cities and states to let their Uber, Lyft and taxi drivers organize and bargain, too.
It's also important due to growth of the "gig" or "on-demand" economy, where firms like Uber, Lyft and Airbnb treat their workers as "independent contractors" without labor law protection, or even unemployment insurance.
"This bill means a lot to us drivers," said Fasil Teka, an Uber driver and one of ABDA's 13-member elected leadership council. Driver Kimberly Mustafa added that Lyft previously named her "a platinum driver" but "deactivated" her – barred her from driving-after she helped the Teamsters organize the city council event.
Issues in Local 117's organizing of the Uber and Lyft drivers include such indiscriminate deactivation, a flawed rating system, and low pay.
Seattle's mayor plans to neither sign nor veto the ordinance. The two ride-sharing companies are lobbying the state legislature to ban such local reclassification of workers. They also may challenge Seattle's ordinance in court, as a violation of national labor law.
And Uber and Lyft are among the companies pushing through state legislative bans on all local labor ordinances – including ordinances like Seattle's – in Republican-run states such as North Carolina and Ohio.
Under U.S. labor law, independent contractors cannot organize and bargain, and the firms don't have to pay Social Security and Medicare withholding taxes on those workers, or cover them with workers' comp or unemployment insurance.
The Seattle ordinance sets up procedures where drivers first must vote on representation, then choose a "qualified driver representative" organization to speak for them.
The city has to evaluate and approve the group, assuring that it's a non-profit, experienced in bargaining. Then the city can order the firm to share driver lists and contact info with the rep before a vote. If the rep wins, the two sides must bargain, and the city can order binding arbitration if they can't agree.
The ordinance does not specify the rep must be a union, but the definition of what the rep can bargain about is virtually identical to what unions bargain on with companies.
"There is currently no effective mechanism for for-hire drivers to directly address working conditions collectively with the entity that hires, contracts with, or partners with them," the ordinance explains.
"Business models wherein companies control aspects of their drivers' work, but rely on the drivers being classified as independent contractors, render for-hire drivers exempt from minimum labor requirements that the city of Seattle has deemed in the interest of public health and welfare, and undermine Seattle's efforts to create opportunities for all workers in Seattle to earn a living wage," it adds.
"Collective bargaining in other industries has achieved public health and safety outcomes for the general public including, but not limited to: Job security provisions, scheduling predictability, job training, and methods of communicating health and safety information.
"Leveling the bargaining power between for-hire drivers and the entities that control many aspects of their working conditions will enable more stable working conditions and better ensure drivers can perform their services in a safe, reliable, stable, cost-effective, and economically viable manner, and thereby promote the welfare of the people who rely on safe and reliable for hire transportation to meet their transportation needs," the Seattle ordinance states.
"By giving us rights, this law will help all of the drivers and also help our communities," said Peter Kuel, an Uber driver and ABDA leadership council member. "Since I started driving for Uber, Uber has cut our pay without notice, terminated drivers without giving a reason, and blocked our efforts to improve our working conditions. We're looking for fairness and the ability to earn a living wage."
Photo: ABDA blog