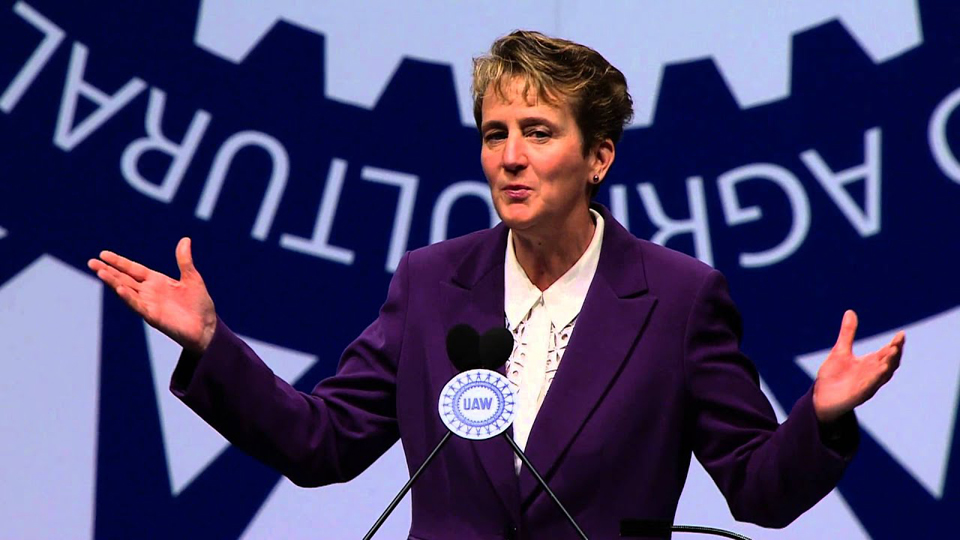 WASHINGTON —In her second comment on the Senate impeachment trial of GOP President Donald Trump, Service Employees President Mary Kay Henry is demanding lawmakers call live witnesses to ensure a fair trial.
And those senators who don't want witnesses, she adds, are "playing political games with issues serious for our democracy and the sanctity of our elections."
Henry specifically faulted Senate Majority Leader Mitch McConnell, R-Ky., for impeachment trial rules that block calling witnesses until all the arguments and senatorial questions are over. And even then, senators would have to vote on whether to call them or not.
On Trump's orders, his lawyers speaking to the GOP-controlled Senate resist calling witnesses, notably former Trump National Security Adviser John Bolton. Henry wants them.
"All senators need to put our country over partisanship," Henry said. The first Senate votes, all on party lines, "were their first test of that and too many of our elected leaders failed. But it's not too late to include testimony and evidence the public deserves to hear. Working people will be watching future votes closely to see who stands with us," she warned.
Bolton and the other witnesses, the prosecuting House Democrats respond, can add evidence that has been revealed since the House voted on party lines in December to impeach Trump on charges of abuse of power and obstruction of congressional investigations.
A prime new piece of evidence comes from advance proofs of Bolton's planned book.
Bolton writes Trump abused power by being directly involved in – in so many words – bribing the Ukrainian government by withholding $391 million in U.S. military aid unless and until the Ukrainians dug up political dirt for Trump for the 2020 campaign. Trump's target for the dirt is a leading Democratic contender, former Vice President Joe Biden.
The obstruction of Congress count refers to Trump's refusal to turn over evidence or let witnesses, Bolton included, testify when the House was probing the Ukrainian deal, including holding hearings and hearing from other Trump administration personnel.
The two sides ended their lawyerly arguments on Jan. 28. The 100 senators, who have been stuck silently in their chairs, now get to ask written questions up to a limit of 16 hours of q-and-a. Then there could be Senate votes on calling witnesses.
All 45 Senate Democrats and both independents are expected to vote to call witnesses, but they need four of the 53 ruling Republicans to join them in that demand in order to bring Bolton – who has volunteered to testify – and the others to the Senate floor. So far, Utah's Mitt Romney wants to hear witnesses and Maine's Susan Collins is thought to be leaning the same way. Collins faces a tough re-election race this fall.