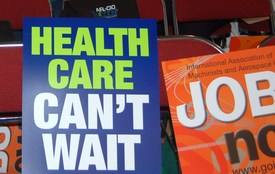 PITTSBURGH- Delegates, alternates and others at the 26th AFL-CIO convention who are from states with Senators who serve on the Senate's Finance Committee began calling those lawmakers Tuesday afternoon from the convention floor telling them that the bill they have drafted is unacceptable and that it must be fixed.
The message they are giving their senators is that the bill Senate Finance is about to debate has been written to appease a small group of Republicans who will not vote for it and that, as Democrats, they can and must do better.
The telephone lobbying effort is being led by the 1.5 million member American Federation of State, County and Municipal Employees.
AFSCME's president, Gerald McEntee, is telling everyone and anyone who will listen at the convention that the bill "does not even come close" to meeting the standards set forth for health care reform by the AFL-CIO and that "it does not meet President Obama's standards either. It has no employer mandate, no public option, no help for retirees."
The bill, AFSCME says, imposes substantial costs on states, weakens state insurance regulations, and taxes existing health plans workers currently have.
"Proponents of this tax proposal claim it is only a tax on insurance companies," McEntee said, "but we know that this additional cost will be passed on to individuals and families in the form of higher premiums. This bill fails to provide good, affordable coverage and does not even protect families from medical bankruptcy."
The move against the Senate Finance Committee plan began just minutes after the AFL-CIO passed a resolution in support of H.R. 676, the Medicare for all bill introduced several years ago by Rep. John Conyers (D, Mich.). H.R. 676 would eliminate private insurance companies altogether. The federation's resolution calls for immediate passage of President Obama's health care reform, including his proposal for a strong public option, as a first step toward eventual passage of single-payer health insurance.
Supporters of the AFSCME lobbying campaign aimed at the Senate Finance Committee's members passed out flyers containing a statement by McEntee urging the immediate calls to lawmakers.
"AFSCME members stand shoulder to shoulder with President Obama in the fight to fix our broken health care system," McEntee said in the statement. "The problems with the current U.S. health care system are linked to the overall problems with our economy. As our health care costs have increased, our economic bottom lines have plunged downward."
President Obama, in his speech to the convention earlier yesterday, said that he agreed with labor's position that the broken health care system is a major impediment to collective bargaining. "Because of the high costs of health care you can't even get to talk about wage increases because you have to fight so hard just to hold onto the health benefits you do have," Obama said.
AFSCME is saying that the Senate Finance Committee resolution falls short of what the federation is seeking because the AFL-CIO wants affordable health care for all that will lower costs, improve quality and cover everyone. The health care resolution passed by the convention calls for two important things absent from the Senate Finance bill.
The first is that the AFL-CIO resolution makes it clear that the system of employment-based health coverage must be stabilized. To do this, labor says, employers must assume responsibility for contributing to the cost of coverage through a "pay or play" system. The federation says employers who offer coverage for early retirees should get the help they need to continue this benefit. The Senate Finance bill, AFSCME says, would endanger continued Medicare help that early retirees in this category now receive.
The second way AFSCME says the Senate Finance bill fails to measure up to AFL-CIO standards is that it does not have a public option to inject competition into the system.
Unions see the public option as critically important even to workers who will want to keep their employer based private insurance coverage because competition from the public plan will lower their costs too.
"As a case in point," the statement by McEntee read, "the most expensive health coverage plan for state employees is in Nebraska, where premiums for family coverage run just under $25,000. It's no coincidence that the last time this plan was put out for a bid, only one insurer bid on it."
The AFL-CIO resolution on health care says a public option is needed because without competition costs will go up. The resolution also emphasizes other reforms to the private insurance marker to prevent companies from denying coverage or charging more because of health status or gender.