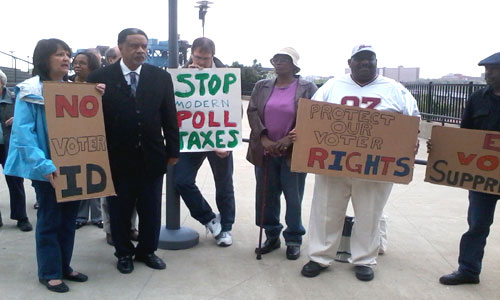 Filling a federal courtroom and adjacent overflow room, some 300 Cleveland area residents heard two hours of testimony on Ohio's new voter suppression law at a field hearing May 7 called by U.S. Senator Dick Durbin (D-IL).
It was the second such hearing by the Senate Judiciary Subcommittee on the Constitution, Civil Rights and Human Rights, which Durbin chairs. Last September, the body convened in Tampa, Florida, on that state's new law curtailing voter registration drives and early voting.
Durbin said that, while voting is the most basic right in a democracy, it was denied to a majority of Americans for most of the nation's history and has only been generally established after six constitutional amendments won "through long and difficult struggle, including much bloodshed."
Now, over 30 states have new or pending legislation to restrict access to voting, he said, threatening to disenfranchise five million in the upcoming presidential election.
The American Legislative Exchange Council, headed by oil billionaires Charles and David Koch, formulated many of these laws, Durbin charged.
He noted that Paul Weyrich, the extremist founder of ALEC, once stated, "I don't want everybody to vote…our leverage in the elections quite candidly goes up as the voting populace goes down."
The Ohio law, HB 194, which faces a repeal referendum in November, cuts the days of early voting from 35 to 17, including eliminating the three busiest days just prior to the election. It also ends the requirement that poll workers assist voters who are at the wrong precinct and prevents county election boards from sending mail ballot applications to all registered voters.
U.S. Senator Sherrod Brown told the hearing that the new laws are being promoted "under the guise of preventing voter fraud and saving money," but this is "a solution in search of a problem," since no evidence of voter fraud has ever been presented.
The real aim of the "one political party" pushing these efforts, he said referring to the Republicans, is to suppress voting by minorities, youth, disabled, elderly, homeless, and low income people.
Previously, there was a bipartisan consensus to expand ballot access and correct problems that arose in the 2004 Ohio presidential election. The reforms were enacted in 2006 by a Republican-controlled legislature, and signed into law by GOP Gov. Bob Taft.
"There is now a concerted effort to undo that progress," he said.
Brown noted that, as former Ohio Secretary of State, voting was promoted, with bipartisan support, by utility companies that included registration forms with bills and by McDonald's, which printed the forms on food tray liners.
"We accepted many forms with ketchup and mustard stains," he said "and they are still being used by election boards."
"Shame on you who would restrict our right to vote," said Cleveland Congresswoman Marcia Fudge who helped lead the effort to collect over 300,000 signatures to repeal HB 194. Claims that the law addresses voter fraud are "ridiculous," she said noting that there have only been four cases of fraud alleged in Ohio in the last 10 years.
No examples of voter fraud could be cited by two witnesses chosen by Sen. Lindsay Graham, ranking Republican on the subcommittee, who did not attend the hearing.
David Arredondo, a state co-chairman of the Romney for President campaign and co-chair of the Lorain County Republican Party, said he knew a "foreign national" who was encouraged to register by the Bureau of Motor Vehicles after the Motor-Voter law was passed under Pres. Bill Clinton.
Durbin countered that voter registrants must attest to U.S. citizenship and lying on the forms would subject someone to felony charges.
Arredondo also complained that students no longer living in Ohio can get absentee ballots if they are still on the voter lists. Citing Mexico and Iraq as models, he said all absentee voting should be ended.
Lake County Republican Party leader Dale Fellows said voting on the three days before an election was expensive and difficult for the limited election staff in small counties but Carrie Davis, representing the Ohio League of Women Voters, said early voting has actually saved money by allowing consolidation of precincts and reducing problems on election day.
Davis said the League had been forced to suspend voter drives in Florida because of new "onerous requirements" threatening the group with felony charges for administrative errors.
Greg Moore, Director of the NAACP National Voter Fund, said eliminating voting on the three days before election day was "mainly an urban problem. It affects students with classes, shift workers and mothers with day care problems. Shutting down the days of highest demand would be like closing department stores on the three days before Christmas."
Durbin said he would continue to hold field hearings in other states with similar legislation and seek evidence of voter fraud, which failed to surface in either Florida and Ohio.
"If it's not about suppressing fraud, it's about suppressing votes," he said.
Photo: Rick Nagin/PW