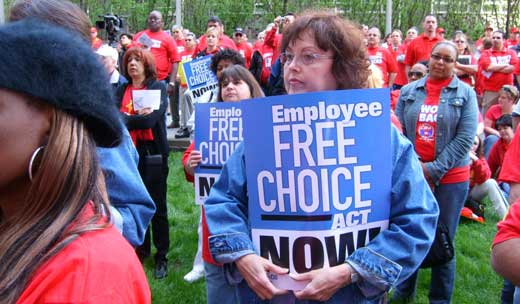 As he promised labor leaders and their allies earlier this year, Senate Labor Committee Chairman Thomas Harkin, D-Iowa, unveiled Mar. 29 a new "Rebuild America Act" to "get the economy working for workers again."
The bill drew immediate praise from AFL-CIO President Richard Trumka. But with a crowded calendar, intense partisan gridlock in Congress and an implacably labor-hostile House GOP majority, it is not expected to go anywhere in the 112th Congress.
Harkin's bill "represents a sweeping and inspirational vision of how we can rebuild our economy on stronger foundations," Trumka said. The veteran lawmaker's plan "would foster shared prosperity by putting America back to work, rebuilding our infrastructure, repairing our safety net, and insisting that shared sacrifice start at the top — with Wall Street and the wealthiest Americans."
In a prior speech, Harkin said his legislation would include pieces of the Employee Free Choice Act, labor's top legislative priority at the start of the 111th Congress and the Obama administration in 2009. That measure, to level the playing field between workers and bosses in organizing and bargaining, was halted by a GOP filibuster threat – backed by a multimillion-dollar Chamber of Commerce scare campaign.
The senator "understands strong and vibrant unions are essential to creating the good, middle class jobs that can support a family and build a strong economy," Trumka said. "It is no accident that economic inequality has skyrocketed and upward mobility for working people has diminished as unions have been under siege."
He also praised Harkin's provisions to revive manufacturing, an increase in Social Security benefits, a plan to raise the minimum wage and for restoring overtime pay rights for millions of workers who lost them under the GOP Bush government. And Harkin's bill would "clamp down on rampant speculation on Wall Street," Trumka said.
"While too many in Congress spend their time focusing on handouts and tax cuts
for the 1 percent who broke our economy, the Rebuild America Act rightly focuses on making our economy work for the 99 percent who have so far picked up the tab for the crash of 2008 and the Great Recession," Trumka concluded.
Photo: The Rebuild America Act includes parts of the Original Employee Free Choice Act that was stalled by Republican filibuster. Via Flickr.