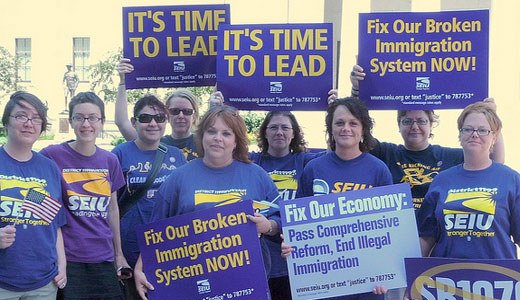 WASHINGTON – Talk about not getting the message. Though Republicans got clobbered 71 to 27 percent among Latino voters last fall, the GOP-run House Judiciary Committee – and House Republicans as a whole – seem determined to lose the Latino vote by even bigger margins in the future. There has been no let-up in House Republican attempts to weaken comprehensive immigration reform, a key concern for Latino voters.
The continued anti-immigrant push by the GOP has prompted the Service Employees to plan an all-out campaign against GOP anti-immigrant legislation, and to remind Latinos, unionists, and other voters in 2014 and 2016 of the party's intolerance, Secretary-Treasurer Eliseo Medina says.
The campaign of door-knocking, demonstrations, leafleting, voter registration and more will target congressional districts of key lawmakers, he told Press Associates Union News Service. "You name it, we'll do it," he said.
Last week, the Judiciary panel, along party lines, shoved a bill through the House to prevent implementation of President Obama's order telling federal agencies not to arrest and deport "DREAMers" – young people now in college or the military who came to the U.S. as undocumented children. The Senate will kill the bill.
And on June 18, the Judiciary Committee, again along party lines, approved yet another anti-Latino, anti-immigrant measure: The so-called "Safe Act," the federal equivalent of Arizona's notorious SB1070. Both the Arizona law and the Safe Act let local law enforcement stop, detain and deport people who don't "look" as if they're legal. Medina called the Safe Act "ideological and divisive."
Labor supports comprehensive reform, including legalization and eventual citizenship – after at least 13 years – for the nation's 7.5 million undocumented workers and 3.5 million undocumented kids. As the House panel worked, labor, lawmakers, and Latino organizations called the GOP law an open invitation to racism and racial profiling.
"This extremist and radical legislation contradicts what Americans want to see from Congress," namely comprehensive reform with an eventual path to legalization and citizenship for the undocumented, plus secure borders, Medina told a rain-soaked crowd on the Capitol grounds as the panel – indoors – shoved the Safe Act through.
Led by immigration reform negotiator Luis Gutierrez, D-Ill., Judiciary Committee Democrats ducked out of the work session to support the undocumented people, Dreamers, and others gathered outside. "You cannot start by saying 11 million people are rapists, murderers, drug dealers, and gangbangers," Gutierrez said of the GOP's attitude.
"This is what they think of our community," added Medina, the son of immigrants.
"We are listening and will respond accordingly. If they thought 2012 was bad" in terms of the tide of Latino votes against the GOP, "wait 'till 2014 and 2016. There are 50 million reasons that the adults in the Republican Party should step in and stop this."
Photo: SEIU has rolled out a plan to fight the GOP's attacks on immigration. Progress Ohio/Flickr (CC)