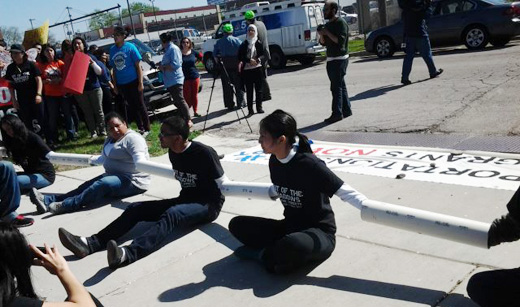 BROADVIEW, Ill. – Seven undocumented immigrants were arrested for sitting down at the Broadview Detention Center here today. They were leading a demonstration of more than 150, calling on the Obama administration to suspend deportations, which they say are tearing families apart.
Linking arms together with pipes, chains, and locks seven demonstrators sat down in front of the facility at which undocumented immigrants are being held, awaiting deportation on planes out of Chicago's O'Hare International Airport. They were arrested when they refused police orders to move.
Demonstrators said they were aiming their demonstration and their acts of civil disobedience also at Illinois state lawmakers who they say have not extended enough support to their cause. The seven who led the demonstration and were arrested today have all been directly affected by the nation's immigration crisis.
The detention center is the final stop for many undocumented Illinoisans – especially in Chicago – who are in the process of being deported. From there, they are forced to ride on airplanes that take them from O'Hare Airport to countries that are no longer their homes.
Among the seven leaders of the action at the detention center today was community member Xanat Sobrevilla, 25, an organizer with the Immigrant Youth Justice League (IYJL) since 2011. She has helped organize numerous activities, including National Coming Out of the Shadows events, where immigrants reveal their undocumented status with the support of friends and their community; and "Shout It Out" events that underscore the importance of mental health advocacy for undocumented people.
In 1996, Sobrevilla emigrated to the U.S. with her family from Mexico City. She graduated from the University of Illinois in 2009 with a Bachelor's of Science in Integrative Technology. She has volunteered at Rush University Medical Center, and hopes to attend medical school in the near future. But that future is threatened if the deportations continue.
"I am asking that President Obama issue an executive order to stop all deportations now," she declared. "I am tired of living in fear. I am tired of seeing my community targeted, destroyed, and aimlessly used as political pawns."
She drew attention to the case of Octavio Nava Cabrera, an undocumented individual currently held at the detention center. "I am tired of waiting for change when the President has the power [to do something] now. I want people like [local resident] Octavio Nava Cabrera, who has been in detention for a month, to be released and reunited with his loved ones, who have been in agony ever since the day Immigration and Customs Enforcement surrounded his house and took him."
Sobrevilla's fears hardly seem unjustified. In 2012 alone, the Department of Homeland Security announced the record-breaking deportation of 409,000 people, surpassing a required 400,000-person quota. Of those deported, very few had criminal records. On the other hand, the deportations have caused rifts in families and neighborhoods, both of which continue to be targeted.
"Events like this, I think they're one of the only ways to bring attention to the issue," the IYJL's Tania Unzueta told the People's World. "The people that have the power to change this need to know about it."
Social networking, she acknowledged, has also played an important role in getting exposure for the event. "We've been streaming the action, and it's part of the [overall fight against] deportation."
Another of the seven, Maria del Socorro Martinez Garcia, part of the Latino Organization of the Southwest, came to the U.S. from Coahuila, Mexico 22 years ago. She is now 41. She became involved in the fight after a community member was faced with deportation. "I felt that I was in her position," she remarked. "I wondered, 'what would happen to my children if I were deported?' Deportations are hurting mothers, fathers, entire families."
Stephanie Camba, 22, also of the seven, came to the U.S. from the Marshall Islands. Here, she attended the University of Illinois, studying Human Development and Family Studies. Her belief in the value of families and the importance of their safety in their neighborhoods necessitated her involvement in the civil disobedience, she said.
Many undocumented activists note that fear of the police on the part of immigrants without papers is detrimental to building the kind of community-police cooperation needed to keep neighborhoods safe.
Camba also noted that "it's important to think about the families who don't have the [opportunity to] see their loved ones again."
Hugo Dominguez, 23, is originally from Mexico City. He said that although he is happy because his father and younger brother are now legal U.S. residents, his mother is not, and he fears she might be in the wrong place at the wrong time and end up being deported. His encouragement from his family played a large role, he said, in his decision to attend Northeastern Illinois University, where he is now majoring in Communications, Media, and Theater.
Miguel Martinez is a 22 year-old guitarist from Mexico, who said he does not fear being undocumented, and believes that no one should have to.
Jesus Morales, 24, and also from Mexico, is upset by the fact that he has a different legal status than that of his friends, and hopes he will be able to go back to school and further his education.
Jose Martinez, 21, and also an IYJL organizer, wants to become a researcher in a science field and start up a small business. He came to the U.S. from Mexico City. "In being undocumented," he said, "you often have fear in something that others see as ordinary or no big deal. We should be able to live, work, and study without fear of being deported."
Unzueta said that the protest "came as a surprise to the people at the Detention Center. They didn't expect us to be here." And that, she said, was part of the plan. She noted that there was a concentrated effort between the IYJL and other organizations to give little to no forewarning prior to the event. "We wanted it to have an impact," she explained. "Now it's time to bring more people into this fight."
Photo: Edy Dominguez, Immigrant Youth Justice League Facebook page