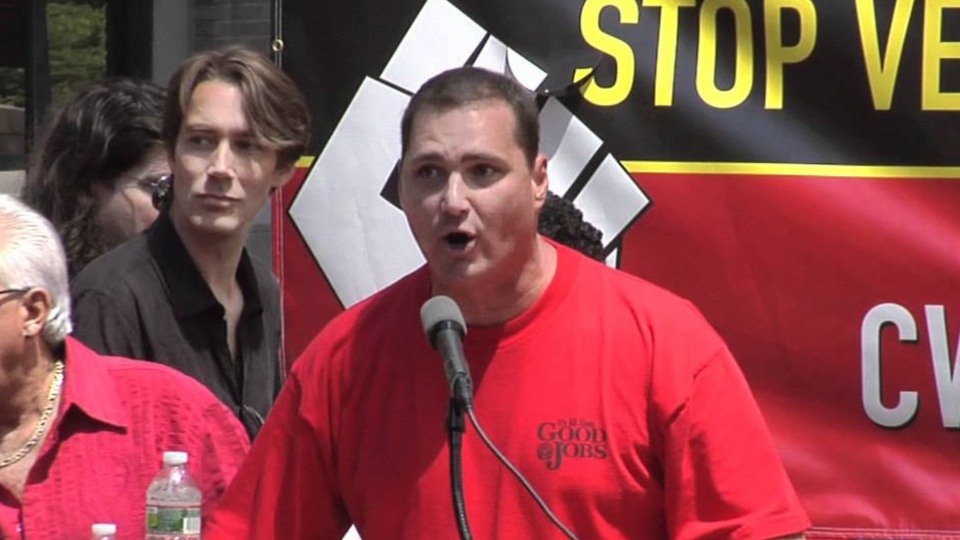 ST. LOUIS—Sexual harassment and bullying revelations, backed by credible testimony from victims, roiled the three-way race for the presidency of the Communications Workers of America on the eve of the union's scheduled July 10 balloting.
The allegations against Ed Mooney, president of the union's district covering the mid-Atlantic states, were serious enough that a special session of the union board, two weeks before, had to deal with them, union President Chris Shelton said.
Several CWA district and sector presidents called upon Mooney to both resign his current post and drop out of the running for the presidency. He faces incumbent Secretary-Treasurer Sara Steffens and Claude Cummings, president of the union's deep South, Austin-based district. Shelton, president for eight years, is retiring and strongly backs Steffens. If none win a majority on July 10, a runoff will occur.
"I was disturbed by all the allegations of sexism and homophobic behavior" levied against Mooney, Shelton told The News Guild-CWA's convention/sector conference beforehand. When Mooney did not drop out, Shelton said, "I sent Mooney to sensitivity training" about sexual harassment and bullying. He called Mooney's responses "inadequate."
The election is notable for several reasons, besides the controversy. It will determine the future direction of the politically influential union.
Steffens, who would be the union's first female president, pledges to continue Shelton's progressive politics. CWA endorsed Sen. Bernie Sanders, Ind-Vt., in both of his Democratic presidential runs against "establishment" candidates Hillary Clinton in 2016 and Joe Biden in 2020. When Sanders lost, CWA leaders actively backed both.
But Steffens also says that to make up for the tens of thousands of telecom jobs lost to automation, fiber-optic cable technology, and telecom outsourcing of call centers overseas, CWA must do more internal as well as external organizing to strengthen itself.
If elected, Cummings would be the union's first African-American president and its first from the South. At 71, he's stressing his 50 years of experience within CWA and his role in bargaining with what's left of AT&T, the once-dominant "Ma Bell." But he also pushes coalition-building, specifically with the NAACP, the A. Phillip Randolph Institute, and Greenpeace.
Mooney is considered the favorite among the remaining telecom workers, who are still the largest single bloc within the union they dominated for decades, but far from a majority. Others include college grad student workers, the News Guild—which has grown by 15% in the last four years—digital employees, hospital workers, the Flight Attendants, the Electrical Workers (IUE), and local government workers, especially in Texas and New Jersey,
Mooney's also considered more "moderate" than Steffens and Cummings, as shown by his promise that under his leadership, CWA would concentrate politically on passing pro-worker legislation—with no mention of the U.S. presidency or progressive causes Shelton advocates.
And because Mooney's such a favorite of the telecom workers—who also count Cummings, longtime president of a Texas local, in their ranks—he's had to pledge on his campaign website that he would be a president for all of CWA.
That's a nod to both his reputation for retaliation against opponents within the union—one charge lodged against him—and the fact that Steffens, of the News Guild, would be the union's first-ever non-telecom president.
That fact and latent sexism could count against Steffens, who's considered virtually tied with Mooney with Cummings running third. If no one gets a majority, the CWA constitution provides for a runoff, says Barbara Camens, the News Guild's general counsel.
But the allegations were credible enough that five CWA local presidents, one vice president, and three retired local presidents brought them to the union Executive Council, two weeks before the July 10-13 convention in St. Louis.
"The reports of disturbing behavior that we have read and heard do not show only a few isolated incidents; they reveal a pattern of unacceptable conduct. This information shook us and we feel compelled to bring this information forward," their letter to the board and delegates began.
"We believe that no one with a longstanding reported pattern of bullying, bigotry, abuse, discrimination, threats of violence, and harassment should be our CWA president. We do not expect perfection from our leaders, but we do demand mutual respect." Mooney's behavior also violates CWA toleration policy, they said. And it shows the need for further transparency within the union.
Shelton, in addressing "the elephant in the room" when talking with The News Guild's convention/sector conference, said the board did not have adequate time to do a thorough investigation of the allegations about Mooney, but enough witness testimony and evidence was brought forward to justify concern.
Shelton advocated unity regardless of who wins the presidential race. "It's not going to be easy, but we need to organize and mobilize like never before," Steffens added before Shelton once again backed her.
"In every decision, in every challenge, this union and I had to face, Sara has been by my side. In every collective bargaining situation, every strike decision, every time I had to testify before Congress, Sara Steffens was right there with me, every step of the way."
"We have to be willing and able to strike, where it makes sense," Steffens told CWA Bay Area locals in April while campaigning for the top spot, according to an essay by supporter Steve Early. "That's the moment we're in." She promised CWA would stay a "militant, democratic, and progressive union."
We hope you appreciated this article. At 

People's World

, we believe news and information should be free and accessible to all, but we need your help. Our journalism is free of corporate influence and paywalls because we are totally reader-supported. Only you, our readers and supporters, make this possible. If you enjoy reading 

People's World

 and the stories we bring you, please 

support our work by donating or becoming a monthly sustainer today

. Thank you!