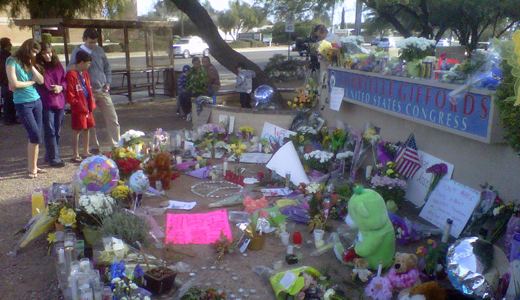 Civil discourse and hate rhetoric displayed by right-wing extremists on national airwaves played a role in the Tucson, Ariz. shooting, say labor leaders and Clarence Dupnik, the Arizona sheriff who is investigating the tragic shooting on Saturday.
"The kind of rhetoric that flows from people like Rush Limbaugh – in my judgment he is irresponsible, uses partial information, sometimes wrong information," the sheriff told ABC News. Dupnik, the Pima County Sheriff in Tucson added, "Limbaugh attacks people, angers them against government, angers them against elected officials and that kind of behavior, in my opinion, is not without consequences."
The senseless shooting Jan. 8 occurred as U.S. Rep Gabrielle Giffords, a Democrat, met with her constituents at a public meeting in front of a Tucson Safeway store. The gunman, 22-year-old Jared Lee Loughner, seriously wounded Giffords, killed six people and wounded 13 others.
"The vitriol affects the [unstable] personality that we are talking about," Dupnik said. "You can say, 'Oh no, it doesn't,' but my opinion is that it does. It's my feeling there are millions of people in this country who feel exactly as I do and are not saying anything."
In the wake of the deadly shooting the Arizona sheriff said he would like to see the federal government establish some kind of commission to deal with civility in the U.S. and make recommendations about how to get it back.
Investigators say they are unclear what motivated Loughner's shooting rampage. Reports describe him as a loner, mentally unstable and a troubled individual from a somewhat dysfunctional family. Many say he had behaved bizarrely in his community college courses. One student even notified school officials that he feared for his life, describing Loughner as someone you might see on the news after he had done a school shooting. Loughner was eventually expelled because he refused the mental help recommended by school officials.
Many argue that the unprecedented vilification of the nation's first African American president on national airwaves ever since the election of Barack Obama in 2008 and a steady stream of other controversial verbiage by right-wing commentators and GOP officials contributed to the problem.
AFL-CIO President Richard Trumka said the shooting "serves as a terrible reminder to all of our political and civic leaders about the need to end the use of appeals to violence in our political rhetoric. We must find ways to passionately debate and even disagree with each other," he declared, "without using words that can give unstable individuals an incitement to engage in violent acts."
Too much vitriolic, hate-filled rhetoric that we hear on the radio and television has demonized public servants and candidates as "enemies" and has made them sound less than human, Trumka noted. "In the short run, it may inspire passions and votes. But in the long run, it's toxic to the survival of rational discussion in our democracy. And it's not worthy of our great nation."
According to Politico, the use of anti-government rhetoric pushed on radio, television, and the Internet, along with threats of violence against members of Congress, jumped 300 percent in 2010.
Gerald McEntee, president of the American Federation of Municipal and County Employees, said public workers and union members know what it's like to be on the receiving end of anti-government attacks. He notes less than a year ago, an anti-tax extremist smashed his airplane into the IRS building in Austin, Texas, where more than 200 federal employees worked. Only last week, two mail-bombs were sent to government offices in Maryland where AFSCME members work to provide vital services, he said.
Said McEntee, "We urge everyone engaged in public debate to take concrete steps to ensure that our discourse remains civil and that nothing is said or done that might precipitate another attack on our democracy and the values we all cherish."
Meanwhile a moment of silence was led on Capitol Hill Monday by President Obama and First Lady Michelle Obama to pay tribute to the victims of Saturday's shooting.
Trumka says when there is talk of "target lists" illustrated by gun sights and when there's talk of "Second Amendment remedies" for political problems, such attributes should be condemned as dangerous and unacceptable by all across the political spectrum.
"Those of us in the public eye have a special responsibility not to employ violent rhetoric, because it can have dire consequences," said Trumka. "As leaders and activists, we have the responsibility to weigh our words carefully and to foster respect and understanding, not violence."
Photo: Onlookers pay tribute to Gabrielle Giffords at her Tucson office. She remains hospitalized in critical condition. Courtesy of Alexander Monarrez-Maldonado.