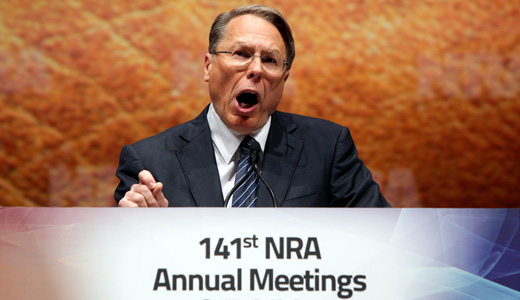 ST. LOUIS, Mo. – Semi-automatic weapons, silencers, night vision devices, scantily-clad women posing with guns and signing souvenir posters, people who seemed a bit too paranoid — or perhaps in need of some type of medication — good guys who might just be confused and Mitt Romney talking about his new path for America, it was all part of the 141st Annual Convention of the National Rifle Association held April 13-15. What a happening for the NRA! And they are considered to be the most influential lobbying group in the U.S.
For his part, Romney said, in a speech as lacking in substance as it was overflowing with broad platitudes, that "our economy is fueled by freedom," which the Obama administration, of course, is bent on destroying.
Romney was the keynote speaker at the NRA's Celebration of American Values Leadership Forum, which also included Newt Gingrich, Rick Santorum and Wisconsin Governor Scott Walker – among others.
Some participants were engaged in political discussion and attended workshops and seminars on "grassroots campaigning in a national election year" or "strategies for gun owners."
Most NRA members seemed to be at the convention, however, for less-political reasons. Many shopped in the exhibit hall, talked with other gun enthusiasts or attended workshops on "How to book a hunt of a lifetime," "How to appraise your firearms" or seminars on "Dog obedience 101."
James Harold Agne, an NRA member since 1966, talked with the People's World about the Trayvon Martin shooting in Florida. He said, George Zimmerman "has to take some kind of responsibility."
While Agne supports so-called "Stand Your Ground" laws, he added, "I would have stepped back" and removed myself from the situation. Agne's general sentiment was that Zimmerman was wrong in pursuing Martin after calling the police and being told to desist.
When asked "Why does the NRA support anti-union candidates when so-many NRA members are union members?" Agne said, "It's not that the NRA is anti-union. It's that the union bosses are anti-second amendment. They want to take away our guns."
While Agne – who isn't a hunter – seemed like a reasonable and nice guy, he was obviously very afraid of larger, misunderstood political forces that might some day, some-how destroy his freedom and take away his guns.
He was convinced, for example, that President Obama wants to "use the UN to have all arms removed from free people."
Referring to the Republican and Democratic Parties, Agne said, "One group believes in freedom. The other group wants to control people." Agne proudly wore the NRA's Convention Election Year button. It said, "All In!" and was meant to imply that NRA members should be active participants in this year's elections.
At the American Values Leadership Forum, Romney tapped into what seems to be an over-arching fear for many NRA members. He said, the Obama Administration has "assaulted our economic, religious and personal freedoms."
He added, the Affordable Care Act "violates the constitution" and if Obama wins a second term "he would be unrestrained to do what he wants."
Outside of the Convention center about a half-dozen union members and sportsmen protested Romney's visit to St. Louis.
Ed McNees, president of UAW Local 282 and an avid hunter, called Romney a "flip-flopper" and said, "he isn't in touch with union members."
Steve Johnson, an organizer with Teamsters Local 688 and former Marine, said, "Romney's anti-labor stance is an issue for me." Johnson said he was reluctant to join the NRA because of its support for anti-union candidates.
Republican presidential hopeful, Newt Gingrich, also addressed the Forum and stoked many participants fears when he said, "The NRA is too timid. The second amendment is an amendment for all mankind."
"A Gingrich presidency would submit to the UN the right to bear arms for every person in the world," Gingrich added.
The NRA Convention was largely male dominated with very few people of color attending. Right-wing shock-jock Glenn Beck addressed the Convention on Saturday, April 14, as did conservative rock guitarist Ted Nugent.
When asked about the nature of our democracy – with its checks-and-balances and limited powers granted to the executive branch – Agne said, "The best checks-and-balances are an armed population. I love freedom. That's the balance of power between the federal government and us."
Photo: Wayne LaPierre Jr., Executive Vice President and Chief Executive Officer of the National Rifle Association speaks at its members annual meeting during its national convention in St. Louis on April 14. LaPierre levied sharp criticism against the national media, accusing it of "sensational reporting from Florida." Christian Gooden/St. Louis Post-Dispatch/AP