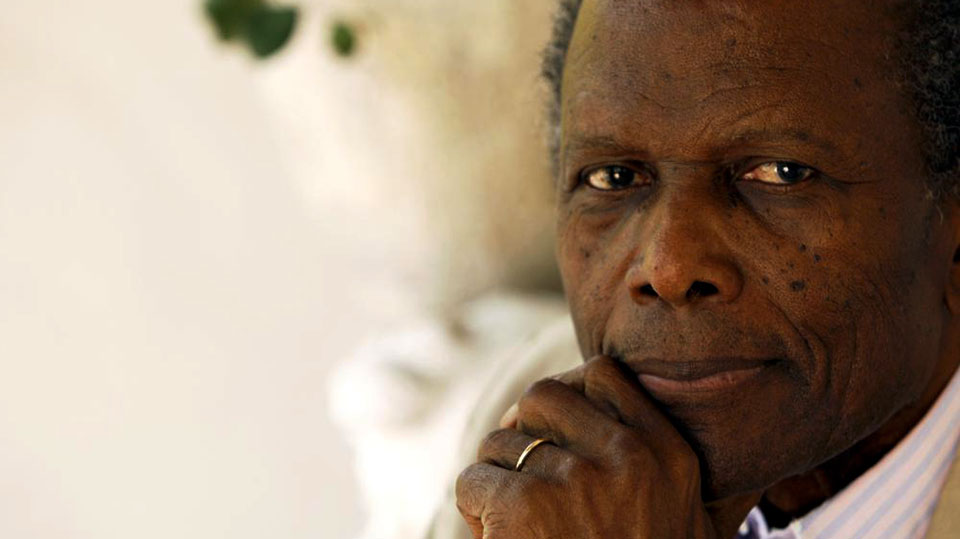 Sidney Poitier was the rare performer who really did change lives, who embodied possibilities once absent from the movies. His impact was as profound as Method acting or digital technology, his story inseparable from the story of the country he emigrated to as a teenager.
"What emerges on the screen reminds people of something in themselves, because I'm so many different things," he wrote in his memoir "The Measure of a Man," published in 2000. "I'm a network of primal feelings, instinctive emotions that have been wrestled with so long they're automatic."
Poitier made Hollywood history by breaking from the stereotypes, and American history by appearing in films during the 1950s and 1960s that paralleled the growth of the civil rights movement. As segregation laws were challenged and fell, Poitier was the performer to whom a cautious Hollywood turned for stories of progress, a bridge to the growing candor and variety of Black filmmaking today.
He was the escaped Black convict who befriends a racist white prisoner in "The Defiant Ones." He was the gracious office worker who falls in love with a blind white girl in "A Patch of Blue." He was the handyman in "Lilies of the Field" who builds a church for a group of nuns. In one of the great roles of stage or screen, he was the ambitious young man whose dreams clashed with those of other family members in Lorraine Hansberry's "A Raisin in the Sun."
Poitier not only upended the kinds of movies Hollywood made but how they were filmed. For decades, Black and white actors had been shot with similar lighting, leading to an unnatural glare in the faces of Black performers. On the 1967 production "In the Heat of the Night," cinematographer Haskell Wexler adjusted the lighting for Poitier so the actor's features were as clear as those of white cast members.
Poitier combined his extraordinary talents as an actor with his commitment to the struggle for civil rights, equality, and dignity for all Black Americans. He marched with Martin Luther King Jr., and fellow artists like Ossie Davis, Harry Belafonte, and Paul Newman, in the historic 1963 March on Washington for Jobs and Freedom. Films he starred in, like "The Defiant Ones" and "Raisin in the Sun," were often social commentaries on racism while Poitier infused his roles with a cool boil, always eloquent and dignified.
As Aram Goudsouzian, author of "Sidney Poitier," writes, "If Sidney Poitier had an acting trademark, it was the cool boil. In the movies, when injustice drove him to the brink, he became a pot of outrage on the verge of bubbling over. His eyes would blaze. His mahogany skin would tighten. His words would gush out in spasms of angry eloquence, carefully measured by grim, simmering pauses."
The slap
The Oscar-winning 1967 thriller "In The Heat of The Night," starred Poitier as a Black detective from Philadelphia who gets waylaid in a Mississippi town and teams up with a reactionary white police chief (Rod Steiger) to solve a murder.
If you've seen the movie, you know the moment. Poitier's Detective Virgil Tibbs and Steiger's Chief Bill Gillespie visit the home of Mr. Endicott, a racist white plantation owner and one of the town's most powerful citizens, to question him. When Endicott realizes Tibbs is treating him as a suspect, he's so offended that he slaps him.
Tibbs slaps him right back. Then he glares at him.
Endicott is shocked to his core. "There was a time," he says, holding a hand to his face, "I could have had you shot."
Born to Bahamian parents in Miami, Fla., while they were selling produce from their island farm, Poitier began life in humble working-class circumstances, which he never forgot. But through a unique combination of talent, tenacity, intelligence, hard work, and a touch of good luck, he became a legend in his own time, particularly for breaking down Hollywood's version of Jim Crow racism.
"Poitier was to Hollywood what Jackie Robinson was to major league baseball: simply put, the man who broke the color barrier," writes All Movie Guide writer Jason Ankeny. "An actor, director, and producer, he forever altered the racial perceptions long held by both motion picture audiences and executives, rising to superstar status in an industry forever dominated on both sides of the camera by whites while becoming the first African-American ever to take home an Oscar for Best Actor" for his role in Lilies of the Field.
Poitier ranks among the American Film Institute's top 25 Greatest Male Stars of All Time.
Tributes
Tributes to Sidney Poitier poured in from Hollywood and around the world following his death.
"For over 80 years, Sidney and I laughed, cried, and made as much mischief as we could. He was truly my brother and partner in trying to make this world a little better. He certainly made mine a whole lot better." — Actor Harry Belafonte, in a statement.
"It was a privilege to call Sidney Poitier my friend. He was a gentle man and opened doors for all of us that had been closed for years. God bless him and his family." — Denzel Washington, in a statement.
"Through his groundbreaking roles and singular talent, Sidney Poitier epitomized dignity and grace, revealing the power of movies to bring us closer together. He also opened doors for a generation of actors." — Former President Barack Obama, on Twitter.
"Sidney was my inspiration, my guiding light, my friend." — Actor Morgan Freeman, on Twitter.
"This is a big one. No words can describe how your work radically shifted my life. The dignity, normalcy, strength, excellence, and sheer electricity you brought to your roles showed us that we, as Black folks, mattered!!! It was an honor…" — Actor Viola Davis, on Instagram.
"Sidney was more than just one of the finest actors in our history. … With unflinching grandeur and poise — his singular warmth, depth, and stature on-screen — Sidney helped open the hearts of millions and changed the way America saw itself." — President Joe Biden, in a statement.
"If you wanted the sky I would write across the sky in letters that would soar a thousand feet high.: To Sir… with Love. Sir Sidney Poitier R.I.P. He showed us how to reach for the stars. — Actor and TV personality Whoopi Goldberg, on Twitter.
"Sidney Poitier, your last sunset with us is the dawn of many generations rising in the path of light you blazed. We will always hold you in our hearts and forever speak your name." — Director and actor Debbie Allen, on Twitter. 
"The last time I saw Sidney was at a golf course in LA. I saw him across the room and walked toward him with my hand out to shake his. Ignoring my hand, he opened both of his arms wide and embraced me warmly. Then he let me go and held me at arm's length staring me in my eyes and said in his signature cadence, 'I dig what you do, my man.' I almost fainted." — Actor Don Cheadle, in a statement.
"Sidney Poitier was a pioneer for artists of color everywhere. At 9, I read he imitated broadcasters since he was ridiculed for his accent. For the next 10 yrs. I did the same to overcome my own speech impediment. I owe my voice to him. Never EVER doubt that representation matters. Rest in power titan." — Poet Amanda Gorman, on Facebook.
"One of the greatest actors of his generation. We all have our Poitier era. Growing up in the '70s I'd have to say that maybe 'Uptown Saturday Night' was the first movie I ever watched. … Rest in peace. And thank you." — Musician Questlove, on Instagram.
"He single-handedly changed the face of the Leading Man. I had the honor to thank him in person and, in his kindness and grace, he said, "You're a leading man, Lou, because you're a good actor." — Actor Lou Diamond Phillips, on Twitter.
"Sidney Poitier is quite literally the reason why I wanted to become an artist. … There are very few people that I quake in the presence of. Rest easy, GOAT. " — actor/writer/director Keith Powell, on Twitter.
"Stanley Kramer and Sidney Poitier had a long and enduring collaboration and loving friendship. They made groundbreaking films together fiercely and passionately advocating for civil rights. The essence of Sidney's extraordinary gifts, as actor, director, writer, visionary, family man, and friend all embodied his remarkable life. Sidney Poitier's work will continue to raise the bar to levels that will forever enrich the future of the art of acting and filmmaking throughout the world." — The family of "Guess Who's Coming to Dinner" and "Defiant Ones" director Stanley Kramer, in a statement.
Hillel Italie of Associated Press, and Teresa Albano and Barbara Russum of People's World contributed to this article.