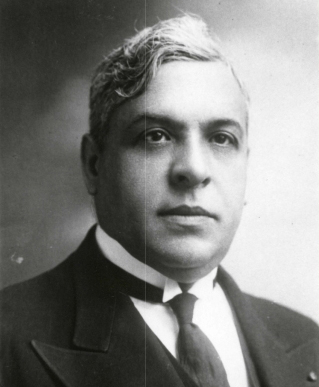 LOS ANGELES – Ever hear of Aristides de Sousa Mendes?
I didn't think so.
But more and more, as time goes on, you will.
Five years ago the newly formed Sousa Mendes Foundation, dedicated to honoring the memory of this extraordinary man, commissioned Connecticut composer Neely Bruce to write an oratorio about the Portuguese rescuer. Bruce agreed, at no fee, but asking only for the commitment to a performance of the work. That commitment was fulfilled to great acclaim on Jan. 24.
A well attended Sunday afternoon performance of Bruce's oratorio at the American Jewish University celebrated the legacy of Aristides de Sousa Mendes, the man whom Mário Soares, former president and prime minister of Portugal following the 1974 Carnation Revolution, called "Portugal's greatest hero of the twentieth century." (Soares, still living at 91, was a one-time Communist, later Socialist, and still active in global politics.) The occasion marked this year's International Holocaust Remembrance Day, commemorated on the anniversary of the liberation of Auschwitz in 1945.
Sousa Mendes was a career diplomat who had served in numerous locales around the world. In 1940 he found himself in Bordeaux, in southern France. Thousands of desperate refugees from Central Europe fleeing from the Nazis flooded into the area begging for visas to Portugal, from whence they could escape to safer havens.
Officially neutral, Portugal at that time was unofficially pro-Hitler. Dictator António de Oliveira Salazar issued a directive called "Circular 14," which forbade Portuguese diplomats to issue visas to such undesirables. But stricken by conscience, Sousa Mendes, recruiting his family to help, wrote out some 30,000 visas in a few weeks' time, defying his own government's explicit orders. About a third of them went to Jews, including Hans and Margret Rey, later authors/illustrators of Curious George. Among the non-Jews were the artist Salvador Dalí, Otto von Habsburg and family, and the Grand Duchess Charlotte of Luxembourg.
Upon his recall to Portugal, Sousa Mendes was fired, disgraced, and blacklisted for the rest of his life. Even though he had been a personal friend of Salazar, the dictator would never forgive the breach of protocol. In 1954 Sousa Mendes died a pauper, and his extensive family suffered unemployment and exile.
Sousa Mendes declared, "I would rather stand with God against Man than with Man against God." Holocaust historian Yehudi Bauer described the diplomat's action as "perhaps the largest rescue action by a single individual during the Holocaust." The Portuguese hero stands alongside the perhaps slightly better known Japanese diplomat Chiune Sugihara, who performed a similar act of issuing visas from his post in Kaunas, Lithuania (and who was also disgraced at home for the rest of his life), and the famous Oskar Schindler, who, after all, profited from his war matériel factory while keeping his Jewish workforce employed.
In 1966 loyalists to the diplomat's memory got Sousa Mendes declared a "Righteous Among the Nations" by the Holocaust memorial in Israel, Yad Vashem, and gradually the campaign to restore his name took on urgency.
Aristides the oratorio
Bruce's "dramatic oratorio in twenty tableaux," "Circular 14: The Apotheosis of Aristides," is conceived on a grand scale at almost two hours in length, performed with an intermission. It needs such length and breadth to explore what can only be described as the story of a martyrdom. One can compare it to the great masterpieces in this form by Handel ("Messiah"), Bach ("The St. Matthew Passion") and Mendelssohn ("Elijah"), and in the 20th century Sergei Prokofiev ("Alexander Nevsky"), Michael Tippett ("A Child of Our Time") and William Walton ("Beshazzar's Feast").
An oratorio is a dramatic text telling a story, but in concert, not staged with the traditional elements of costume, sets, lighting, and acting. Yet I could surely not have been the only listener to wonder, "Why not an opera?" It seemed to call out for a staged representation, which indeed has happened with some of those great oratorios of the classical canon. (This spring the Los Angeles Master Chorale will offer a staged version of Handel's "Alexander's Feast.")
"Circular 14" contains music of great variety and often of unearthly transcendence. We hear salon music as the Sousa Mendes children perform a little house concert to welcome the diplomat back home from a diplomatic trip. We hear Aristides' fond recollections of his postings in waltz time, we hear the variegated cries of the refugees in despairing sonorities (I was reminded of Gian Carlo Menotti's opera "The Consul"), a grand fugal procession of names of people saved by the precious visas, folk music from Portugal and France, a lyric interlude capturing the family's return drive home to Portugal.
Bruce's most powerful scenes take place in the second part: a chilling duet between two rival tenors, Sousa Mendes and the unyielding Salazar in which the dictator reveals that he is the Portuguese state, i.e., there are no legitimate civil institutions the demoted diplomat can appeal to; a stunning modern polytonal church liturgy for the death of the first wife Angelina; a bravura coloratura aria for the much younger, vivacious second wife Andrée; and an effective extended scene involving Aristides and César, Andrée, the son Pedro Nuno, Rabbi Kruger and chorus.
Bruce's piano perforce had to fill in for the colors and timbres in the more lush orchestral parts he has written for a larger production of the oratorio. Fortunately, he is an expressive, communicative performer. The rich Portuguese musical tradition was given some due, but the single Portuguese guitar that we heard was not given the space, nor the vernacular writing, to allow it to shine.
The character of the Polish Rabbi Kruger could have been given a more Jewish musical voice. The lack of clear differentiation of musical vocabularies seemed particularly striking in a first-half duet between him and Sousa Mendes.
Legendary Portuguese hospitality?
The libretto, by the composer, serves to tell the story, but in its earnestness does not always rise to memorable poetic heights. Sousa Mendes explains his actions recalling, "For a thousand years our country has sheltered the homeless and honored the refugee. Portuguese hospitality is legendary." And in his scene with Salazar, he repeats this tic of received wisdom: "Our people have obeyed the laws of hospitality for all of recorded history."
Now this may well have been his rather aristocratic and self-delusional understanding of his nation's past. But there is that little thing of the Inquisition and the old Catholic habit of burning up Jews and heretics in an auto da fé once in a while (the term "auto da fé" is Portuguese, of course), not to mention the expulsion of Jews and Moors. That flagrant misstatement cannot be allowed to stand. In fact, it could be turned into a plot point: Perhaps Sousa Mendes acted as he did in part out of remorse for his country's past treatment of "the other."
Sousa Mendes was apparently an old-school kind of gentleman who grew up at a time when Portugal still had a royal family. He was once recalled from his post in Brazil when at an elegant banquet he made the mistake of raising a toast "To the Portuguese monarchy!" But when the Republic turned fascist under Salazar, Sousa Mendes obviously made his accommodation and continued to serve his country despite the oppression at home.
And then, too, there's the matter of the far-flung Portuguese colonies in Africa and Asia, to which there's no reference (and where the Church also extended the arm of the Inquisition). Perhaps one cannot expect this great humanitarian to have opposed his nation's colonial project (how many English or French at that time opposed their nations' colonialism?), but it's unseemly to overlook this part of the Portuguese conundrum from a contemporary vantage point. After all, the fact that eventually the Portuguese people came around to rehabilitating Sousa Mendes owes to their having overthrown fascism, abandoned the colonies, and restored democratic norms.
Much is made in "Circular 14" about what Sousa Mendes calls "one of my favorite places," the city of San Francisco, where he was stationed in the 1920s. In fact, several of their children were born in California during those years. The oratorio includes prayers to St. Francis more than once. Significantly, both San Francisco and Lisbon are located on the western edge of their respective continents, a locus where drifters and refugees often end up, and a launching place for the continuing voyage. Many of the Sousa Mendes grandchildren wound up in California.
What of the future?
Characters in "Circular 14" include Sousa Mendes himself (dramatic tenor Robert MacNeil), his twin brother César de Sousa Mendes – also a diplomat, stationed in Warsaw (actor Michael Gill, in a speaking role), the fascist dictator Salazar (lyric tenor Ashley Faatoalia), the Polish Rabbi Chaim Kruger (bass-baritone Stephan Kirchgraber), Sousa Mendes' first wife Angelina (soprano Marina Harris), the second wife Andrée Cibial (coloratura soprano Katherine Giaquinto), a chorus of the 14 Sousa Mendes children with soloists Jonathan Frias, E. Scott Levin and Ariel Pisturino, and a larger chorus of refugees (The Donald Brinegar Singers).
Donald Brinegar conducted the entire ensemble, which also included the composer Neely Bruce at the piano, Pedro da Silva on Portuguese guitar, Cameron O'Connor on Spanish and electric guitars, and John Krovoza on cello.
The Los Angeles Museum of the Holocaust in Pan Pacific Park (LAMOTH) is currently displaying "Visas to Freedom: Aristides de Sousa Mendes and the Refugees of World War II," artifacts from the Sousa Mendes family as well as families that survived thanks to the diplomat's help, which have been loaned to LAMOTH by the Sousa Mendes Foundation and Sousa Mendes' grandson. The exhibition tells the broad story of Sousa Mendes's heroic actions while also highlighting his multiple ties to the State of California. The exhibit is on view until March 1. More information can be found here. The Sousa Mendes Foundation aims to turn Casa do Passal, the family home in the town Cabanas de Viriato in Portugal, into a museum and site of conscience for future generations.
At the premiere the contributions of retired Congressman Tony Coelho, who long represented California's Central Valley, were recognized, and Coelho was on hand to receive an award from the Sousa Mendes Foundation. Coelho was the only Congress member of Portuguese descent, and for years he carried the torch for Sousa Mendes' cause. He revealed that even once democracy was restored the bureaucracy balked at honoring Sousa Mendes because they believed it would set a poor precedent to lift up the actions of a lawbreaker. But Coelho's hints about their attitude potentially affecting foreign aid did the trick, and the Portuguese managed to come to terms amicably enough with their own history.
As arduous as it is to get a huge work such as this off the ground (thanks in this case to producer Marilyn Ziering), the greater challenge will be to secure a second and later productions. We few hundred on Jan. 24, 2016, may have experienced a once-in-a-lifetime event. But I hope not. There are feelers out for the fully orchestrated version to be performed in Salt Lake City and in Lisbon. The very last consoling words of the oratorio, derived from Scripture, are "He watches over his holy ones."
But will He watch over "Circular 14?"
Photo: Aristides de Sousa Mendes.