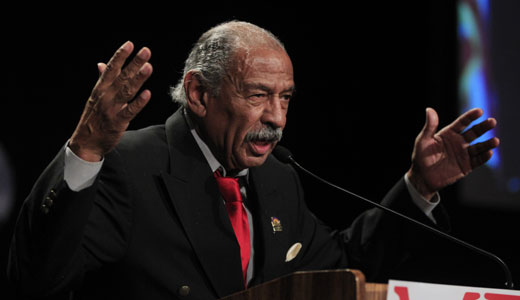 CHICAGO – Saying that President Barack Obama's 2010 health care revision law doesn't go far enough to eliminate the main problems with the U.S. health care system – its high cost and high profits for insurers – some 200 union advocates of single-payer government-run national health care met in Chicago in mid-January to plan their next moves.
But how far their campaign will proceed, or whether it will get official organized labor support, is yet to be determined. Their group, www.unionsforsinglepayer.com, asked the AFL-CIO Executive Council last February for a $20,000 grant, plus publicity for the cause – and got neither.
During controversy around Obama's health care law, 21 unions, led by National Nurses United (NNU) and the Steelworkers, campaigned for Medicare for All (HR676). That single-payer government-run health care bill would abolish the insurers, their high co-pays and premiums, denial of care and 88,000 annual deaths such denial causes, according to the Harvard Medical Journal. Members of 50 unions were in Chicago.
But most of Congress ignored the unionists' single-payer campaign. And single-payer's weaker cousin, the public option, ended up excluded from the final bill.
That history didn't subdue the delegates and speakers at the Chicago confab.
"With government officials from both major parties contemplating cuts in Medicare as part of a 'grand bargain,' delegates resolved to stand up to any cuts in this cornerstone social insurance program," the group said.
They also heard stories about grass-roots organizing to garner public support for three recent successes: The recent Chicago teachers' strike, a win in a California tax hike referendum and defeat of a Right Wing initiative to throw unionists out of political giving in that same state.
Chicago Teachers Union President Karen Lewis drew parallels between the struggles for quality public education and quality universal health care.
The teachers "confronted an arrogant and entrenched political machine headed by Rahm Emanuel," the single-payer group reported. "They stood firm against the bipartisan steamroller that blames public workers for the fiscal crisis and teachers for the failures of our underfunded educational system." The CTU also won by strong community mobilization in back of the teachers' campaign for improved schools.
"Their victory was a model of community outreach and member-driven activism. These are the organizing principles that labor must adopt if we are to lead the way to winning single-payer, Medicare for All for everyone in America," the conference delegates decided. The unionists will emphasize the importance of building coalitions with medical providers, community groups and the disabled.
Veteran Rep. John Conyers, D-Mich., vowed he would again push HR676, drawing a standing ovation. "Health care is a right, not a privilege," he said.
"We don't have a budget crisis; we have a jobs and inequality crisis," said Washington State Labor Council President Jeff Johnson. "We could solve our fiscal problems if we cut out private insurance and pay far less for health care like any other industrial country."
Photo: Rep. John Conyers, D-Mich., has reintroduced a bill that would create a unified single-payer health insurance program across the nation. Carlos Osorio/AP