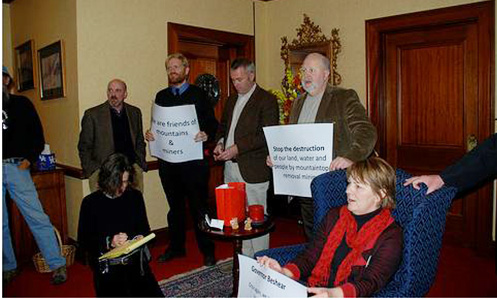 FRANKFORT, Ky. – Several recent events combine to demonstrate the power of coal over this state, while also highlighting Kentuckians actively standing against it.
On February 14, Wendell Berry, famous Kentucky author and poet, with 13 others, emerged from a four-day occupation of the governor's office. Their goal was to conduct a real conversation with Gov. Steve Beshear, a Democrat, about the damage caused by mountaintop removal mining in Kentucky. On the previous Friday, Beshear held fast to his pro-coal positions, but on Monday morning, after the Feb. 11-14 sit-in, he promised to travel to Eastern Kentucky within 30 days and survey damage from mountaintop removal personally.
Stanley Sturgill, retired underground coal miner and mine inspector, was among those who camped in the governor's office. He said his main concerns were stopping mountaintop removal, dismay over the governor's lawsuit against the federal Environmental Protection Agency, and "getting some of these mines closed that don't follow the rules and regulations."
Sturgill said he was worried about a "strong pattern of violations" that will "lead to more tragedies like Upper Big Branch." An explosion at the Upper Big Branch mine in West Virginia killed 29 miners on April 5, 2010.
The Frankfort 14 (who called themselves "Kentucky Rising") were greeted with enthusiasm by over 1,000 protesters who had gathered outside the Capitol for "I Love Mountains Day," sponsored by the citizen activist group Kentuckians for the Commonwealth.
Wendell Berry, Stanley Sturgill and their fellow Kentucky citizens have a steep road ahead in their efforts to minimize environmental damage from mountaintop removal. All the powers of Commonwealth and coal have allied themselves to preserve business as usual.
The University of Kentucky in Lexington recently accepted large donations from coal companies to build a new dorm for its basketball team. The building is named Wildcat Coal Lodge and, according to the terms of the agreement, must set up a display of the history of coal in Kentucky that is acceptable to the donors. In protest, Berry has removed his papers from the UK archives.
Gov. Beshear, in his State of the Commonwealth address, said: "Coal provides 90 percent of our electricity and – because our rates are low – has helped us build a robust manufacturing industry. Washington bureaucrats [i.e.: the EPA] continue to try to impose arbitrary and unreasonable regulations on the mining of coal. To them I say 'Get off our backs!'"
The Kentucky House Natural Resources and Environment Committee, led by Rep. Jim Gooch, a Democrat, unanimously approved a bill last week to "exempt coal mines and coal alteration facilities that mine or alter coal in Kentucky for use exclusively within the Commonwealth from requirements of the Clean Water Act."
The state Senate Natural Resources and Energy Committee later unanimously approved a "Joint resolution declaring Kentucky a sanctuary state from the regulatory overreach of the United States Environmental Protection Agency against coal operators and the coal industry in Kentucky." The legal authority of such a resolution is unclear, but it also prohibits "enforcement of federal conductivity standards" and prohibits "collection of fines and penalties for standards in excess of federal requirements." Conductivity is a measurement of pollutants in the water around mine operations.
While citizens work to protect the vital resources of Kentucky – the health of her mountains and her citizens – the "leaders" continue business as usual: protecting the coal business from regulation.
Photo: Kentuckians occupy the office of Gov. Steve Beshear this past weekend. Stanley Sturgill is standing at the right. Kentuckians for the Commonwealth