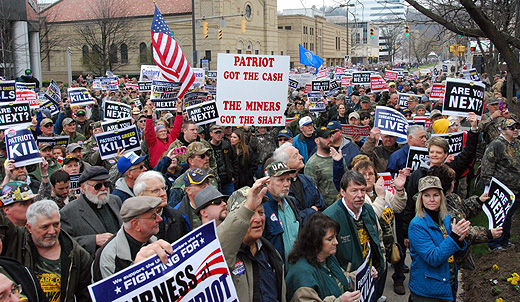 CHARLESTON, W.Va.-Sixteen labor leaders were arrested at a peaceful sit-in here yesterday after 11,000 active and retired union miners marched on the offices of Patriot Coal headquarters at Laidley Tower on Lee Street.
The march, the rally and the sit-in, organized by the United Mine Workers of America, was in support of the union's Fairness at Patriot campaign to save health care for retired miners and win improvements in wages, benefits and working conditions for miners now on the job.
Carrying signs that read, "Patriot got the cash, the miners got the shaft," thousands packed into and overflowed the Charleston Civic Center. Miners came by the busload from Indiana, Illinois, Kentucky, Pennsylvania, Ohio, Virginia and West Virginia to join the massive community and labor mobilization.
Commenting on the arrests of so many leaders and members of UMWA locals, Phil Smith, the union's communications director, said, "for us, in this union, we have always been willing to do whatever it takes."
Patriot Coal was spun off from St. Louis-based Peabody Energy in 2007, with 43 percent of Peabody's pension and health care liabilities, but just 11 percent of its productive assets. Patriot also later assumed pension and healthcare obligations for retired union members who had worked for Arch Coal, which had previously shed its liabilities in a similar fashion as Peabody.
Using all of this maneuvering as an excuse, in June of 2012 Patriot filed for reorganization under U.S. bankruptcy law. The company is seeking court approval to reduce or eliminate health care coverage for retired miners, and to slash wages, health care, pensions and working conditions of active mine workers.
"This is a crime," declared UMWA President Cecil Roberts. "We've been robbed, tricked and lied to. This cannot stand – and with thousands of us from all over the country marching today and keeping us in this fight tomorrow, it will not stand."
Among those arrested yesterday was Shirley Inman, a retired miner whose health care benefits are threatened by the spin-off scheme. "I never worked a day for Patriot Coal, " Inman explained. "I don't care what the corporate name is, those executives made us a promise: We'd mine their coal, and in exchange we'd get good health care while we worked and after we retired. I kept my promise; they should keep theirs."
"In America, our word is our bond," said Richard Trumka, president of the AFL-CIO. "Peabody and Arch and Patriot, they want to just take the money and run. Not this time, and not these workers. We won't allow them to take the money and run without taking the workers with them. You can't be a 'friend of coal' unless you're a friend of coal miners."
Video: Fairness At Patriot: It's Everyone's Fight (article continues after video)
With the exceptions of Father John Rausch, director of the Catholic Committee on Appalachia, the Rev. Donald Prange of St. James United Church of Christ in Lovettsville, Va. and the Rev. James Lewis, an Episcopal priest, those arrested were union members and prominent labor leaders from all over the mid-Atlantic and Southeast regions. They included: Cecil Roberts, International President, UMWA; Dan Kane, International Secretary-Treasurer, UMWA, Ken Perdue, President, West Virginia AFL-CIO; Bill Londrigan, President, Kentucky AFL-CIO; Doris Crousse-Mays, President, Virginia AFL-CIO; John Cox, UMWA Local 9177; Ricky Lowe, UMWA Local 5958; Rick Ryan, UMWA Local 2286; Jody Hogge, UMWA Local 9819; Shirley Inman, UMWA Local 2286; Anita Wade, UMWA Local 2286; Cliff Tenant, UMWA Local 4047; John Palmer, President, UMWA Local 1570.
Photo: Fairness at Patriot Facebook page