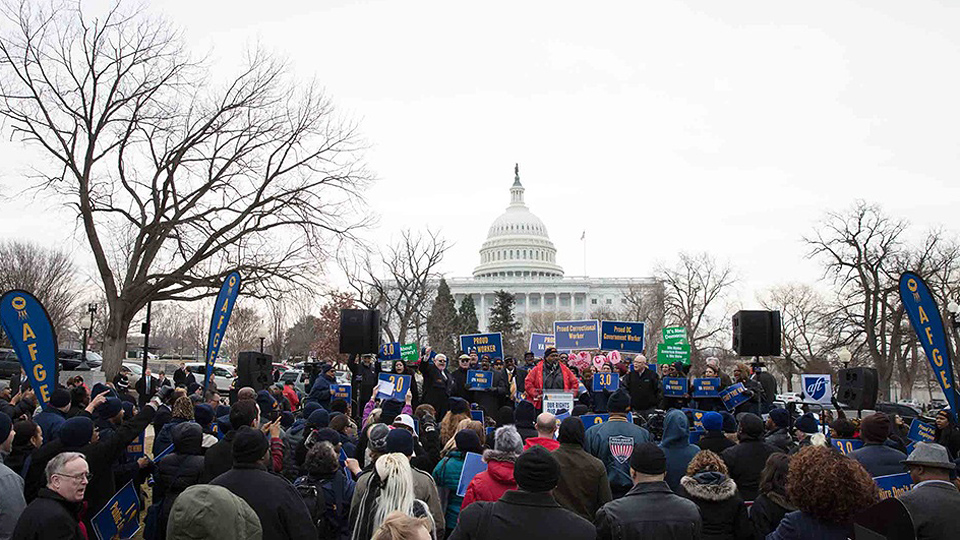 WASHINGTON—Recovery from GOP President Donald Trump's 35-day shutdown and lockout of almost one-third of the federal workforce – including people who toil for nine Cabinet departments and many smaller agencies – will be long and slow for both them and the country, affected workers predict.
And that assumes Trump doesn't do it again.
The workers, assembled for a Feb. 14 telephone press conference by their union, the Government Employees (AFGE), gave those gloomy predictions in the face of Trump's lack of commitment to signing a spending bill to keep those agencies going through the end of the fiscal year, Sept. 30.
That came one day after AFGE members, with AFL-CIO support, staged a silent protest in the U.S. Senate's Hart Office Building to get solons to override Trump's stand. "Our top priority is and will always be the more than one million hard-working federal workers and contractors who are still dealing with difficulties from the first shutdown," AFL-CIO Secretary-Treasurer Liz Shuler said. AFGE is the largest federal workers union.
"We won't allow the scapegoating of immigrants to fuel this manufactured crisis. We all deserve an open and functioning government so we will continue to rally, march, protest and make our voices heard until all federal workers and contractors know they can go to work, be paid fairly and treated with respect."
Trump balked because lawmakers, again, refused to give him money for his "great, big, beautiful" Mexican Wall along the entire 2,000-mile U.S.-Mexico border. The most he'll get, from $1.4 billion for "enhanced security" there, is for 55 miles of metal barriers in Texas.
Many foes of the wall call it racist, showing Trump's hatred and that of his base, towards anyone Latino, black or brown. Others say it wouldn't work since most of the migration Trump screams about comes through designated border crossings, such as at El Paso, Texas.
Even if Trump lets the 800,000 workers hurt by his shutdown/lockout work through the rest of this fiscal year, many were and are still hurt, fiscally, physically and psychologically, by his gleeful imposition of the lockout/shutdown, starting at midnight last Dec. 21.
The fiscal impact is tangible: Missed paychecks for the workers, many of whom live payday to payday. Despite administration promises, some haven't been paid yet, they said.
The workers said missed paychecks produced missed medical appointments for kids, repossessed cars, workers standing in food pantry lines, renters falling behind and – in at least one airport screener's case – living in his car, because if he drove to home and back, there wouldn't be enough money for both gas for the car and meals for his family.
Those were among the 800,000 unpaid workers. Trump called about half of them essential and forced to toil for five weeks without pay. He locked out the rest.
At that, they're better off than contract workers – fast-food workers in malls in federal buildings, cleaners and janitors and child care workers among them. Those 500,000-plus workers won't get paid at all. The money bill Congress sent to Trump, which he says he'll reluctantly sign, doesn't cover them.
But the U.S. people the workers serve are getting hurt, too, the workers said on the AFGE telephone press conference.
"The Environmental Protection Agency likes to promote voluntary compliance" with anti-pollution and pro-environmental rules "by inspecting contamination," issuing cleanup orders, and then working with violators to ensure it doesn't happen again, said Gary Morsley, president of AFGE Council 238, which represents 8,000 EPA workers.
"We are effectively the police on the beat," he explained. "In 2017, we did 225 inspections every week. That means 900 places weren't inspected during the shutdown. So violations could occur, and we couldn't work with them to bring them back into compliance." The result, he said, is dirtier air and water and possibly chemically contaminated soil.
"The American people, as well as my co-workers, are going to suffer," said Freda McDonald, an AFGE Vice President whose local represents workers at the Federal Emergency Management Agency. As a headquarters staffer, she was one of the hundreds of thousands whom Trump locked out.
The impact on everyone, she said, comes because FEMA usually uses the winter to prepare for coming disasters, notably hurricane season. It trains and equips first responders, sets up ways to coordinate disaster response and generally gets ready. The shutdown robs FEMA of its prep time.
"And there's a trickle-down effect, too," she said. "Doctors lose patients and kids lose care because families can't take sick kids to the doctor because the (federal) employees can't afford it, for example." Even cab drivers lost fares: Workers who ordinarily would use them for business trips, couldn't.
Temporary funding for the agencies Trump shut ran out at midnight Feb. 15. Congress sent him new legislation providing money, at last year's levels, for those agencies – but he balked again.
The president later signaled, grumpily, that he would sign it – and then declare "a national emergency" to grab the rest of the $5.7 billion he wants for his Mexican Wall from the Defense Department and other agencies. That drew protests from both parties.
Congress's passage of the funding bill, which also includes a 1.9 percent pay raise, retroactive to Jan. 1, for all two million federal workers, drew union leaders' praise.
"To say federal employees are relieved is an understatement," Treasury Employees President Tony Reardon said. "So far, 2019 has not been kind to our federal workforce, but this bipartisan compromise funding package is a refreshing turnabout that gives their agencies stable funding and their paycheck a modest bump."
What the workers really want is to end the uncertainty and pain Trump caused them.
"The president is part of the problem," said Steve Reeves, president of AFGE Local 4060, which represents another segment of FEMA's workforce. "If the president is not for this" new funding bill, "we need Mitch McConnell to step up and do his job" and marshal votes to override a Trump veto. McConnell, a Kentucky Republican and Senate majority leader, has said he would not pass any legislation Trump won't sign.