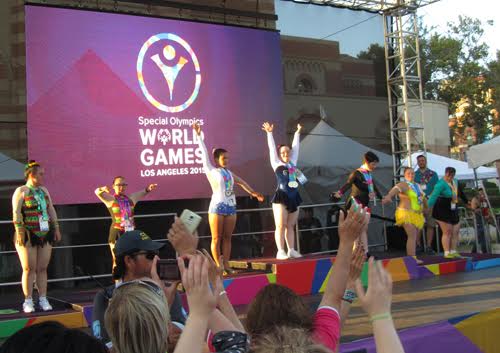 LOS ANGELES – From July 25 to August 2, the greater Los Angeles metropolis has been rooting for some very special athletes: Around 6,500 of them, from 165 countries, competing during the 2015 Special Olympics World Games.
Strolling from event to event through the crowds, I couldn't help but stop some of the athletes with their colorful team outfits. Where are you from? Ecuador? Viva Correa! Venezuela? Viva el movimiento bolivariano! I saw some beautiful young Cuban athletes – Cuba sent 16 to the Games. Bienvenidos, I said. Sinceramente, bienvenidos a los Estados Unidos. How happy they were to be playing volleyball on the sands of Alamitos Beach in nearby Long Beach. Teams came from tiny Gibraltar, the Isle of Man, San Marino, and from the athletic powerhouses of China, Russia, the Nordic countries, and of course from around the U.S.
One blogger, Elizabeth Ippolito, related her conversation with Olympic legend Rafer Johnson. When Johnson was awarding medals at a Special Olympics track and field meet in Arizona some years back, he witnessed a remarkable, transformative moment in the life of one athlete. Here's how Rafer tells it:
"After receiving her medal, the young lady that I presented the medal to waved across the field to her family and said, 'Look Mom, look Dad, I won!' She was crying and her family was crying, so I asked her to take me over to meet her family.
"When we got there, she introduced me to each member of her family. And as she said each name, each person began to sob. These were more than tears of joy. Something more was going on.
"So I turned to her mother and said, 'I can understand how you can be so excited, having a child do as well as she did. But could you tell me a little more about what's happening?'
"It was then that I learned what made that moment so remarkable. It was the first time they had ever heard their daughter speak. The first time they had heard her say their names. It was truly a remarkable moment."
"Amazing things happen," Elizabeth says, "when you're given the opportunity to be the best you can be."
That was, of course, a story not replicated on a daily basis at the L.A. World Games, so far as I know, though surely there must have been some little miracles. I did hear one affecting story from a Dutch parent of a roller skater whom I happened to be seated next to. That morning, she said, the announcer said over the P.A. that the next contestant gets very distracted by too much noise and won't be able to complete his routine, so please, everyone, keep the shouting and cheers down until he's finished, okay? And the audience fell into a deep, respectful hush, and the boy did just fine.
The Special Olympics was founded in 1968 by Eunice Kennedy Shriver, to "create a world that is not dominated by those who are excluded but by those who are included." Special Olympics has 4.4 million athletes involved around the world, and serves a wide range of people with intellectual disabilities. Mostly the athletes are young, but some middle-aged contestants are participating as well in certain events.
The Biennial World Games are the flagship event of the Special Olympics. The 2015 Games is the biggest event hosted in Los Angeles since the 1984 Olympic Games. It is the world's largest sports and humanitarian event this year.
Competition is taking place in 25 events at four main hubs: University of Southern California (USC), University of California Los Angeles (UCLA), Long Beach, and Los Angeles Convention Center. All competitions are free and open to the public.
The sports include: aquatic, badminton, basketball, beach volleyball, bocce, bowling, cycling, equestrian, golf, gymnastics, half marathon, handball (a team sport fusing soccer and basketball), judo, kayaking, open-water swimming, power lifting, roller skating, sailing, soccer, softball, table tennis, tennis, track and field, triathlon, and volleyball.
No one could possibly take it all in; I watched some roller skating, handball, table tennis, gymnastics, and attended several of the awards ceremonies.
As many as 100 towns across Southern California took part in the Host Town Program before the games, hosting special events for the athletes and giving them a taste of Southern California culture.
Stevie Wonder, Avril Lavigne, and even Michelle Obama, along with many other celebrities, took the stage at Opening Ceremonies to welcome the real stars this week: the World Games athletes! The Los Angeles Memorial Coliseum was sold out for the event.
The 6,500 athletes are accompanied by their 2,000 coaches, along with 30,000 volunteers and an anticipated 500,000 spectators in attendance. Athletes are housed at UCLA and USC.
I can report with all honesty that at least half the time, as I attended events and watched these dedicated, hard-working athletes compete for their medals, I had tears in my eyes. Not just for the courageous competitors, and not only out of gratitude for their coaches and trainers. Not only out of appreciation for these thousands of family members who came so far and at such great personal sacrifice to support their children and loved ones. And not only for all those who I knew could not make it because of the expense and the time off. Nor for all those back home as shutaways, as pariahs, as people made useless not by their abilities but by prejudice, shame, poverty and doubt.
I cried joyously thinking, This is one of the few places I've ever experienced, on such a mass scale, a feeling of so many people pouring out so much unconditional love, so much earnest, heartfelt devotion to see every human being of whatever their capacity, be brave, do their best, and be encouraged for it.
For these moments and days, I left my cynicism behind, my skepticism about the motivations of Coca Cola and the Bank of America and all the other corporate sponsors. I tried not to think about how limited the sports facilities must be for so many of them back home in their developing countries. All I could see was athletes and appreciative audiences here and now, bound up as one, their arms thrusting to the skies each time the medalists' names were called:
"In the spirit of the Special Olympics, let's all reach up, L.A."
This site will take you to the complete schedule of events.
Photo: Eric Gordon/PW