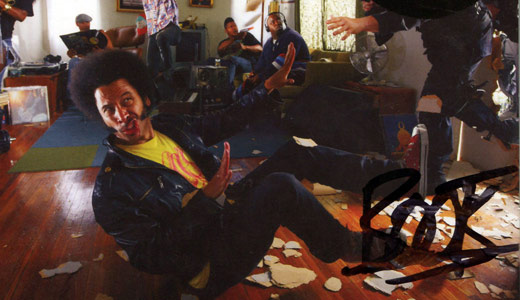 During the annual consumer orgy I call Capitalistmas, critics are assigned the task of rating the cultural product of the closing calendar year. This functions to stimulate the economy as it inspires customers to go out and move end-of-year inventory by purchasing items to give as gifts in a stressful, environmentally destructive ritual of commodity potlatch. But crude economic analysis aside, now that it's too late to grease the skids of commerce, it is time to look back at 2012's best achievements in music.
I'm probably not the most reliable critic to opine on this topic, since I only listened to one album released this year. Fortunately, it was on at least one other critic's list. But more on that later.
With the Internet, anyone can formulate his or her own Top 10 Albums list – without even listening to a single song. Simply consult dependable sources such as: big circulation publications (People magazine, Rolling Stone, New York Times), hipster public radio DJs, websites that track sales (Billboard, Walmart.com), and websites with lists of links that lead to more lists of links (BestEverAlbums.com, AlbumoftheYear.org: Pitchfork's Best Albums) …
Hopefully, the annual Top 10 List itself will be made obsolete altogether by technologically- and socially-driven changes in the culture "market." Social media, Internet file sharing, independent record stores, and public institutions such as public radio, museums, and libraries are ensuring that people's music choices are not completely dominated by the annual commercial offerings of a few big record companies and chain stores.
From my collected Top 10 Lists, I distilled a Top 10 Albums Meta List. The albums containing my favorite (Korean hip hop artist PSY's tongue-in-cheek paean to Seoul's rising bourgeoisie, "Gangnam Style") and least favorite (Carly Rae Jepsen's cloyingly sexist "Call Me Maybe") singles didn't make the list. Although both became the compulsory hits of 2012, they're also (fairly or not) considered "novelty songs" that didn't translate into album success.
Top 10 Albums of 2012 Meta List:
1. Kendrick Lamar – good kid, m.A.A.d city
Hard and heavy West Coast gangsta rapper, and heir apparent of Dr. Dre., Lamar flows from thug hedonism with a conscience – "Swimming Pools (Drank)," to the spacey, pitch-black "m.A.A.d city (feat. MC Eiht)."
2. Frank Ocean – Channel Orange
Thin, spare, laid back '70s groove; sort of like a new school Common to Kendrick Lamar's Dr. Dre.
3. Taylor Swift – Red
Continuing the 2012 theme of nostalgia for things that aren't that old, the embittered adolescent breakup ballad pioneered by Kelly Clarkson works better in Swift's pop-country format. The joyful, liberatory "We are never ever getting back together" contains a nice bit of self-deprecating irony: "find some peace of mind in an indie record that's way cooler than mine."
4. One Direction – Up All Night
This boy band created by Simon Cowell features flirtatious, esteem-building boyfriend music: "What makes you beautiful" is that "you don't know you're beautiful."
5. Now That's What I Call Music vols. 43 (feat. One Direction and Carly Rae Jepsen) and 44 (feat. Justin Bieber and PSY). Indispensable if you're curious about what the masses are listening to.
6. Fiona Apple – The Idler Wheel is Wiser than the Driver of the Screw and Whipping Cords Will Serve You More Than Ropes Will Ever Do
The sexy "Hot Knife" proves that this Indie balladeer can still deliver a post-modern folk song.
7. Tame Impala – Lonerism
Like a noisier, trippier Beatles.
8. Grizzly Bear – Shields
A cleaner, mellower '70s rock than Japandroids.
9. Japandroids – Celebration Rock
Fun, blaring throwback rockers.
10. Poolside – Pacific Standard Time
Disco handclaps and high-pitched vocals make for an aquamarine swimming pool glow.
My personal Best Album of 2012, The Coup's "Sorry to Bother You," sadly did not make my own list. It landed on only one other critic's list (in Mother Jones magazine, at that.)
Boots Riley delivers his most mixed-up hip hop extravaganza to date, ranging from a Sly & the Family Stone meets Schoolhouse Rock jam ("Magic Clap") to a "London Calling"-era Clash punkout – with kazoos ("Parent's Cocaine.") Boots' experimental cross-fertilization of hip hop and rock works best in the swirling "Long Island Iced Tea, Neat." A brief sample of Boots' dialectical poetics:
"We are only a fetus, we are modeling the shape
We gon make a masterpiece out of all the mistakes"
Photo: Author's copy of The Coup's "Sorry to Bother You," autographed by Boots RIley. (Chris Elliott/PW)