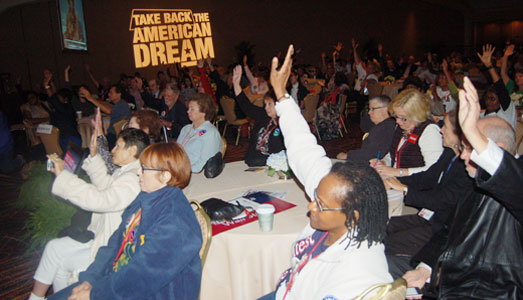 WASHINGTON – The message was loud and clear here at the Take Back the American Dream conference earlier this week: Jobs not cuts! Organizers of the Oct. 3-5 meeting say this struggle is the fight of people's lives. It's a patriotic fight for American democracy and now is the time to act, they declared.
Several members of the Congressional Progressive Caucus made appearances during the conference. Among them was Rep. Barbara Lee, D-Calif.
"We're here to sound the alarm and beat the drum of justice," she said. "The progressive movement is really the mainstream movement and we speak for the majority. This movement is powerful and aims to give voice to the voiceless."
Lee said she believes in the American dream. But that dream has turned into a nightmare for so many people, she said, adding the number of people unemployed and struggling, especially minority communities, is a moral disgrace.
"The tea party is playing a very dangerous game with our democracy and we have to ensure we do everything to take it back," said Lee. "They want to leave us out in the cold." The reign of right-wing extremism in Congress must be defeated, she added, "because the jobs crisis is a national emergency."
A federally funded jobs program could be enacted if we ended the wars abroad, especially in Afghanistan, now the longest war in U.S. history, Lee said. She called for slashing the pentagon budget, ending tax cuts for the rich and extending unemployment benefits for people in desperate need.
Fighting for jobs and against cuts, including the fight to preserve Social Security and Medicare, were reoccurring themes for members of Congress speaking here. President Obama's American Jobs Act, if passed by Congress, would be a major step forward, with many saying it would begin to reduce the millions of Americans unemployed and living in poverty.
Congressman Barney Frank, D-Mass., also highlighted cutting military spending.
"There is no way to have a long-term deficit reduction plan without a major reduction in our military spending," explained Frank. "We have a $650 billion military budget now per year. It's over-spent. We are substantially over-committed. The problem is we have acted now for 60 years as the 'protectors' to promote stability in the world."
"The biggest chunk from scaling back must come from cutting military spending," he said. "We can put that money in much needed job creation. We can be a stronger, better, and a healthier country because of it."
Frank also called Social Security and Medicare two of this country's greatest accomplishments ever produced.
Leo Gerard, president of the United Steelworkers union, noted that in the last 10 years we have lost over 58,000 factories in the U.S.
"We have to understand the only way we can create wealth is by hard work. Once we recognize the challenge than we have to start making things again to create that wealth," Gerard said. "We have to push local, state and national elected officials to advocate for a manufacturing strategy. There is no way out of this problem without one. We need to build the infrastructure of this country. We need to modernize our schools. And it's time we quit blaming workers. We need to advocate for a manufacturing base that produces American-made products and puts people back to work."
Young activists and student leaders were a strong presence at the three-day conference and highlighted the many issues regarding their future.
Erica Williams with Citizen Engagement Laboratory was a panelist during one of the plenary sessions. She lamented the fact that young people these days grow up not expecting to go to college.
"Young people who can afford to go to college cannot find jobs after graduation. This is what youth face growing up today," she said. "We are in a moment where we actually have to rescue our democracy."
"America's democracy is under siege," she said. "Voter suppression is real. It's not voter ID, it's voter suppression. And we are fighting back. We have to get out in the streets and make our voice heard. People are fundamentally trying to take away our power and the underlining themes in America's social contract."
Describing the role of activists, she said, "We don't just give people power, we help people find the power together in order to create the conditions for real change."
That power, she said, exists in people's ability to vote and press elected leaders to create jobs, create a fair taxation system and to save America's safety net.
Photo: Thousands of activists meet in Washington D.C. during the Take Back the American Dream conference. Pepe Lozano/PW.