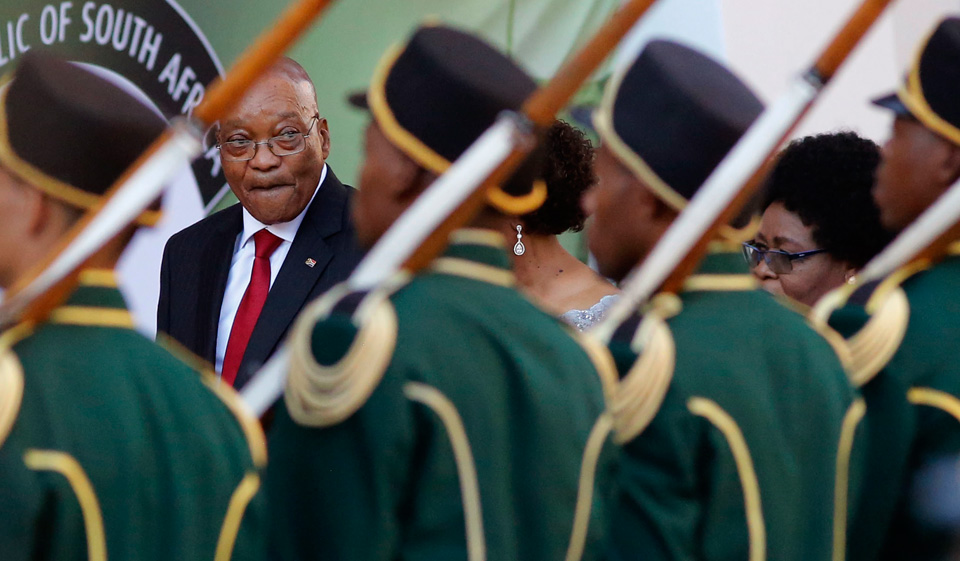 A spokesperson for the South African Communist Party (SACP) branded top leaders of the country's governing African National Congress (ANC) "rotten to the core" yesterday, indicating the growing likelihood of a split in the movement that liberated South Africa from apartheid.
Speaking to the City Press newspaper, the SACP's second deputy general secretary Solly Mapaila laid into President Jacob Zuma's government over a recent crisis concerning corruption in the payment of social assistance benefits.
"We find it difficult to be led by people of absolute decadence who are rotten to the core and are not willing to change their ways," he stormed ahead of a crunch bilateral meeting between the SACP and ANC.
"That completely obliterates all the values of our revolutionary movement."
The latest crisis erupted last month when it emerged that the Social Development Ministry had done nothing to find a new contractor to replace private company Cash Paymaster Services (CPS) which administers the payment of social assistance benefits on the government's behalf.
The South African Social Security Agency (SASSA), a subsidiary of the Social Development Ministry, pays some 141 billion rand ($10.7 billion USD) annually to 17 million recipients under its social grants system. Beneficiaries, which include millions of pensioners, war veterans, children, and disabled, feared their payments would not be made after CPS' contract expiration date of March 31.
SASSA was ordered to find a replacement for CPS after the Constitutional Court ruled in 2014 that the tendering process for awarding the company the contract had been unlawful. CPS' winning of the tender in 2012 was surrounded by accusations of bribery and kick-backs.
The Constitutional Court gave Social Development Minister Bathabile Dlamini until today to answer a series of questions, including why she objected to monitoring and replacing the CPS contract. She has not responded to the court's inquiry, but instead announced the renewal of CPS' services for a further two years.
In addition to the dodgy tendering process, CPS has raised public uproar over benefits irregularities. After it assumed operation of benefits payout, recipients around the country started to complain that "deductions" for a variety of services they had not requested started to disappear from their bank accounts.
Stories emerged of people who owned no phones being charged for cell phone minutes and those whose homes have no power seeing electricity costs deducted from their accounts. Investigations by civil society organizations and academics discovered a "techno-financial system designed to profit from social grant distribution." Beneficiaries private information had been shared with third-party marketers and merchants by CPS.
By not acting to secure a replacement payment provider or set up an in-house distribution system by the April 1 deadline – even with years of advance notice – critics predicted that Dlamini and her ministry were virtually guaranteeing the renewal of CPS' contract, contrary to the order of the Constitutional Court. On March 6, that is what happened.
Mapaila indicated in his remarks to the press that SACP would join the growing calls to dump Dlamini. The revolutionary union federation COSATU (Congress of South African Trade Unions) and other ANC allies called for her to go last week. COSATU is the other member of the tripartite alliance that includes the ANC and SACP which vanquished white racist rule in South Africa.
COSATU's secretary-general, Bheki Ntshalintshali, called on South African president and ANC head Jacob Zuma to intervene and sack Dlamini. He said the incident surrounding CPS was due not only to "administrative bungling, but a political goal that smells of corruption."
Dlamini's ministry has come under fire in the past over allegations of massive waste of public resources on travel, food, and other allowances for its employees. In 2006, she was among 14 MPs who plead guilty to theft and fraud charges related to abuse of parliamentary travel vouchers. Her plea bargain spared Dlamini from prison, but cost her a significant fine.
Mapaila accused Zuma of protecting Dlamini. He demanded the ANC get rid "of this corrupt lot" whom he accused of "looting."
"It is clear that [Zuma] would not decide against his friends that are campaigning for him and doing all of these wrong things in his name," he said.
As the ANC prepared to release public discussion documents for its upcoming policy conference this summer, Mapaila claimed the prospect of the Communist Party splitting from its alliance with the ANC and standing separately in elections "is almost a fait accompli…but the congress still has to decide."
"We should not be a subsidiary of another party," he said. "Otherwise, a faction that has captured the ANC thinks that it is the one in alliance with us," he added, without naming that faction's members.
"The ANC must never think that it is the god of the revolution… We cannot take collective responsibility while there is one side that keeps doing things wrong," he concluded.
This article combines material from a story by James Tweedie published in Morning Star with supplementary material from other wire services.