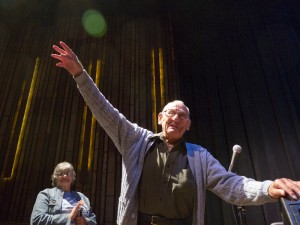 As I painstakingly guided my car up the steep and narrow driveway to Del Berg's house in the Sierra Nevada foothills of California, I couldn't spare a sideways glance to take in the canyon vista opening up beneath me.
Not until I got into his house, which he'd built himself some decades ago, did I catch a glimpse of the impressive landscape spread beneath us.
But scenery was least of the broad vistas I took in on my visit. What really moved me was the vista of Del's life, more than 70 years of struggle for justice for the working class.
I and my friend Juan had scheduled this visit with the idea of interviewing Del about his service in the famed Abraham Lincoln Brigade, a battalion of U.S. volunteers who went to Spain in 1937-38 to help the Spanish people in their fight against a Fascist takeover of their country. Tragically, Franco's fascist forces, aided both by weapons and troops from Nazi Germany and fascist Italy and by a hypocritical "non-intervention" policy by the Western capitalist powers, prevailed in 1939; but the "Lincolns" and the rest of the International Brigades won themselves an immortal place in history.
At last report, Del is one of only two surviving veterans of the Lincoln Brigade.
When we started to converse, however, Del proved to be far more interested in current struggles. He insisted that Juan, who is chairperson of the California district of the Communist Party USA, fill him in on what the Party is doing and on the situation of labor nationally.
He particularly wanted to know what had happened at the last AFL-CIO convention.
His was no academic interest. Del's not on the sidelines; although he can no longer drive, he writes letters and keeps in touch with a network of progressive friends that he's built up in his corner of California. On his wall hangs a plaque from the Tuolumne County Citizens for Peace that reads, "Recognizing 70 years of dedication to peace and justice issues." In addition to his labor contacts, he helped organize and remains in touch with the Alliance of Retired Americans in Stockton.
Del worked with Delores Huerta to organize farmworkers in his area. He recounted with pride how just a few days before, at a Martin Luther King Jr. Day celebration in Sonora, the legendary labor leader had stepped down from the stage to embrace him.
And now Del is looking forward to circulating the discussion documents for the upcoming National Convention of the CPUSA among his progressive friends. Juan and I urged him to contribute his insights to the convention discussion.
Del's involvement with the Communist movement goes back to before his time in Spain. After a brief stint in the Oregon National Guard, where he got military experience that served him as a Brigadista, he became involved with the Young Communist League in Los Angeles-in part because the YCL could help him get to Spain. "Everybody was concerned about Spain," Del says to explain his decision. "I had a feeling that I was as responsible as anyone else, I should go." He still bears bits of shrapnel in his body that he received from fascist bombs near Valencia.
Del served in the U.S. military in World War II but was discharged early because of his injuries from Spain. Immediately on returning to the U.S., he joined the Communist Party. He has remained an activist ever since and has built a network of friends and supporters throughout a part of the state not known for progressive activism.
We made our way back down his driveway knowing that Del would remain in the thick of the struggle. No mountain is too tough for a person with a fighting spirit like his.
Photo: Del Berg at the 2012 Bay Area ALBA (Abraham Lincoln Brigade Archives) event. Photo Richard Bermack. The Volunteer.