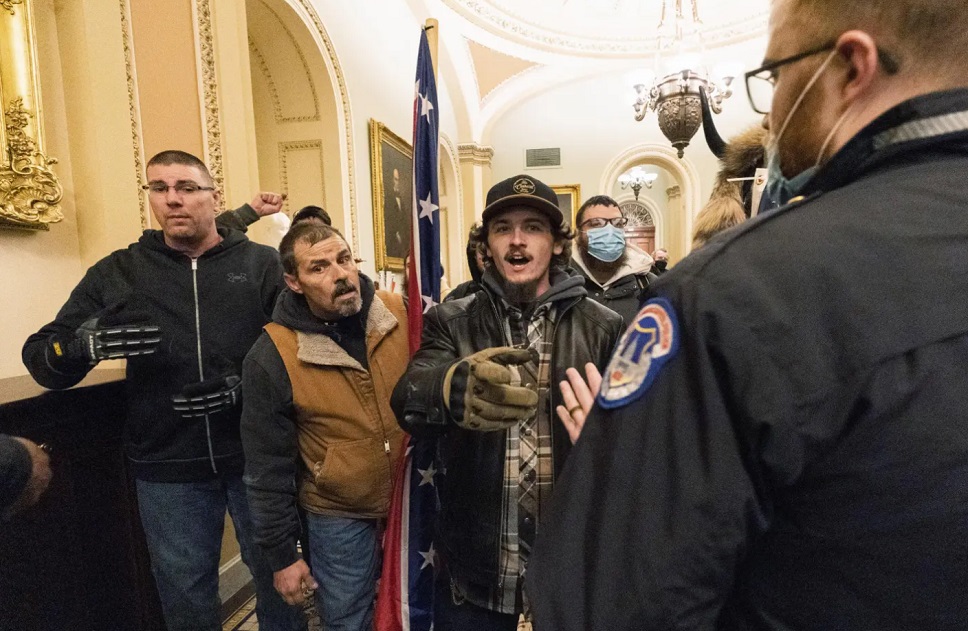 WASHINGTON—Former Republican Oval Office occupant Donald Trump should be prosecuted for inciting, aiding, and abetting an insurrection against his own government, a panel of seven expert former prosecutors and defense lawyers says.
In a 254-page draft model prosecution memo, the panel invokes a statute that hasn't been used since it was aimed at Confederate leaders just after the Civil War. But the Trump case involving the invasion and attempted coup d'état at the U.S. Capitol on Jan. 6, 2021, is that serious, they add.
Their memo, like those prosecutors assemble before deciding on whether to go to trial and what charges are likely to produce convictions, was released July 13. The same day, Jack Smith, the Justice Department's Special Counsel, vigorously opposed Trump in another prosecution.
In that battle, already begun in federal court in Florida, Smith's blistering reply said Trump's demand to indefinitely postpone his trial for stealing top secret papers from the White House—including a Pentagon plan for war against Iran—was patently ridiculous.
"There is no basis in law or fact for proceeding in such an indeterminate and open-ended fashion, and the defendants," Trump and aide Walt Nauta, "provide none," said Smith. Both face at least 37 counts of violating the Espionage Act. And an indefinite postponement would violate the federal Speedy Trials Act, Smith added. Jury selection in the stolen papers case is now scheduled for December.
Both the trial in Florida and the roadmap to Smith's further actions about Trump's actions and inactions during the insurrection will crash into the already-begun 2024 presidential campaign.
There, former White House denizen Trump leads the Republican field, most of them Trump policy clones but without his legal and personal baggage. Still, if U.S. District Judge Aileen Cannon sticks to the schedule, Trump would wind up in the dock at the same time he's on the campaign trail.
That trial has already been delayed until at least December, to allow Trump and his lawyers time to review evidence Smith and his prosecution team have gathered. That evidence includes truthful grand jury statements from former top Trump officials, under oath, contradicting the lies they told to Trump's face in and after he left the White House.
The model prosecution memo, posted on JustSecurity.org, is unofficial. But, using publicly available evidence, much of it from the special U.S. House committee that spent two years investigating the Jan. 6, 2021 invasion, insurrection, and attempted coup d'état at the U.S. Capitol, it provides a roadmap for where Smith's investigation is likely going.
"Our memo follows a common DOJ practice," the authors explain. "Prior to indicting a case, prosecutors prepare a memo that lays out admissible evidence, possible charges, and legal issues.
"This document provides a basis for prosecutors handling the case and their supervisors to assess whether the case meets the standard set forth in the Principles of federal prosecution, which permit charges only when there is 'evidence sufficient to obtain and sustain a conviction.'"
Insurrection has never been used for prosecution since the Civil War, the panel's memo says. But in Trump's case, their memo contends, the statute warrants it.
Trump had three plans to overthrow the results of the 2020 presidential election and thus continue occupying the White House, their action memo says. One was to create slates of fake electors from key swing states of Arizona, Pennsylvania, Wisconsin, Michigan, Nevada, and Georgia.
Trump's foe, Democratic nominee Joe Biden, legitimately won all of those states in close races. Trump also planned a fake slate in New Mexico, which Biden took handily. The fake electors were an illegal "conspiracy to defraud the United States," the action memo says.
That fake elector plan included Trump's infamous phone call to Georgia Secretary of State Brad Raffensperger to "find" 11,780 more popular votes for Trump there, thus stealing the state for him. It also included threats of violence against local elections officials in Georgia and Michigan and against Michigan Secretary of State Jocelyn Benson.
The key insurrection count would be based on Trump's call to his rabid right-wing supporters to come to Washington on Jan. 6—"It will be wild!"—plus his incendiary speech to thousands of them that morning, ordering them to march on the Capitol. Many were armed, and he knew it, the memo says.
"This is a charge DOJ will use only with extreme caution," the memo writers say. "We believe there is sufficient evidence to pursue it."
Aiding and abetting the insurrection would be based on Trump sitting by and doing nothing for 187 minutes while his troops trashed the Capitol and threatened its occupants with bodily harm or worse.
Seven police officers died as a result and the Trumpites pursued Vice President Mike Pence and House Speaker Nancy Pelosi, D-Calif. Another count, of obstructing justice, would be based on Trump's unsuccessful efforts to get Pence to toss the swing states' real electoral votes, all for Biden, the memo said.
Obstructing government operations would be Trump's scheme to delay or deny the January 6 count of electoral votes that ultimately awarded Biden the presidency over Trump. That includes Trump's demand to his Vice President, Mike Pence, to refuse to accept the legitimate Biden votes from the key swing states.
Relying heavily on evidence Smith's own probers gathered, but also material from last year's House Select Committee investigating Jan. 6, it makes the case—as that panel's video did—that Trump not only ordered the insurrectionists but then, by doing nothing for 187 minutes of invasion, abetted it by not stopping it when one word from him could have done so.
"Rather than send his supporters home once he became aware of the violence, Trump continued to fan the flame and let it rage on," their memo says. "He sent out a tweet egging on the violence at 2:24 p.m. blaming Pence for not doing what Trump wanted him to do, all while knowing that the mob was 'literally calling for the vice president to be effing hung,' as one congressional witness testified.
"And for 187 minutes while the violence raged, Trump stood back and sat by, watching cable news in the White House—even as members of his team implored him to issue a statement calling the violence off and for the rioters to leave the building. Finally, at 4:17 p.m., Trump posted a video asking his supporters to go home, telling them 'We love you. You're very special…I know how you feel, but go home, and go home in peace.'
"But by then, the damage had been done: The Capitol building had been defaced; police officers had been brutalized; and the meeting of Congress had been disrupted, with members hiding for their lives while law enforcement worked to quell the chaos and violence. It was not until 9:00 p.m. that the House was brought back in session for the counting to continue. At 3:42 a.m. the next morning, Pence certified Biden as the winner of the election."
When they examined how Trump might defend himself against such charges, the authors come up empty-handed, concluding there is no way the former president's lawyers will be able to claim he was acting in good faith and legitimately believed the vote count in the various states may have been inaccurate.
"They all knew Trump had lost the election in each of the states that submitted phony electoral certificates—and they knew the express purpose of submitting those electoral certificates was to overturn a lawful election," they wrote. "The central plotters…expressly acknowledged that the scheme was unlawful."
Even without the secret grand jury testimony given by Pence and others, the Just Security analysts believe Smith's case will likely be devastating for Trump. The piles of evidence they accumulate in their model prosecution memo make it practically inconceivable that Smith won't bring an insurrection indictment.
We hope you appreciated this article. At 

People's World

, we believe news and information should be free and accessible to all, but we need your help. Our journalism is free of corporate influence and paywalls because we are totally reader-supported. Only you, our readers and supporters, make this possible. If you enjoy reading 

People's World

 and the stories we bring you, please 

support our work by donating or becoming a monthly sustainer today

. Thank you!