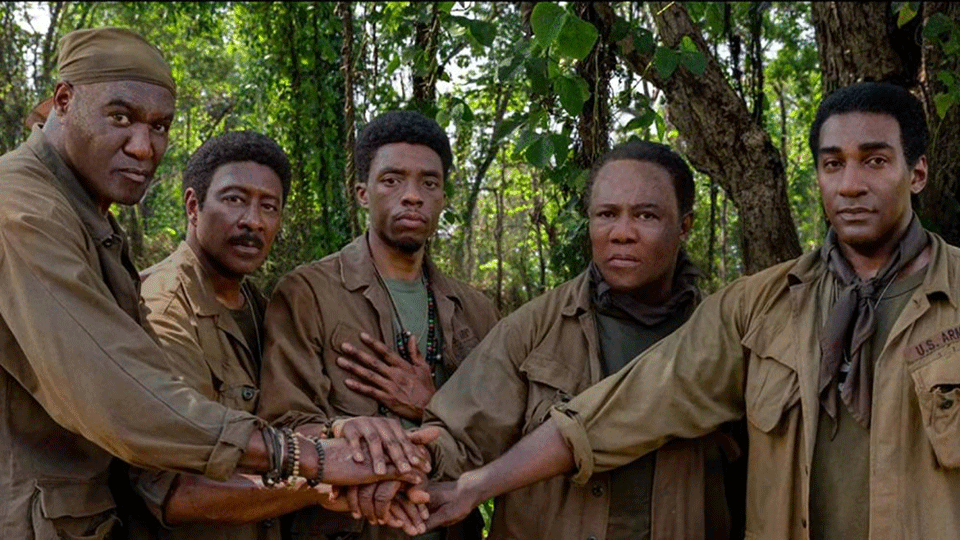 War is hell.
War never really ends.
And if, as a civilian observer, you find it important to experience the realities and complexities of war and racism, then Spike Lee's latest film Da 5 Bloods is required watching.
But be warned, it will not be an easy viewing: There will be discomfort, anger, and tears.
Following the 2018 theatrical release of Black KkKlansman, Lee brings us Da 5 Bloods in equal parts comedy, documentary, crime heist adventure, and bloody action flick, reminiscent of the 1980s—a point the four lead characters make sure to bring up.
From the comfort of a couch, we follow four Black Vietnam War veterans (Delroy Lindo, Clarke Peters, Norm Lewis, and Isiah Whitlock, Jr.) who served in the same platoon. Now they share similar amounts of trauma as they return to Vietnam in a bid to find the remains of their firebrand platoon leader (Chadwick Boseman in an extended cameo) and the bit of fortune and glory owed to them…so to speak.
Throughout the 158-minute run of this epic tale, the main focus stays rooted in the conversations and interactions of these four war buddies as they discuss everything from the glorification of war, their anger at society for whitewashing the role of Black soldiers in Vietnam, and the post-war irony of being disenfranchised back home while fighting for "freedom."
Of particular note is the standout performance by Lindo (Paul), who perfectly embodies a fractured human being, uncertain of what to believe, constantly haunted by the sins of past and present. With feelings of regret and failure, Lindo offers an apt characterization of many Vietnam veterans and their struggle to ask for help and forgiveness.
Lindo's performance is ably complemented by Peters as Otis, a rock of support, comfort, and affection balancing out the tempestuous emotions of Lindo's Paul. We witness a brilliant exposition of how two best friends could end up on opposite ends of life.
Lee uses the character of Paul, our troubled soul, as a Trump-supporting, MAGA hat-wearing member of the forgotten generation Donald Trump pledged to help during his 2016 presidential campaign.
His friends, in particular Otis, treat his newfound political views with scorn and also a bit of disgruntled sympathy.
Lee's use of the MAGA trope forces us to explore the reasoning behind the "Why Donald Trump?" questions currently being asked nationwide around dinner tables.
Lee pulls no punches as to where he, or the film, stands politically—and it's not with Trump. But it made me reflect on how I've dealt with Trump-supporting friends and family members, and if that "disgruntled sympathy" did more harm than good.
It leaves us asking: Where do we draw the moral line in the sand?
When I was a kid in the Marines, I remember the first place I saw the WHITE ONLY, COLORED ONLY signs. They were on the wall in this train station in Rocky Mountain, North Carolina.… I'll never forget seeing them, never. We all had our green Marine Corps uniforms on, but the colored kids had to go one way while the white kids could go the other way. All of us probably ended up in Vietnam. I know I did. I don't know whose freedom I was fighting for, but I know whose freedom I won, and that was mine. — Corporal Albert French
Similar questions are asked within the flashback sequences. But don't worry, there are no de-aging CGI effects!
Transitions between past and present are achieved with a simple camera format change, from the standard digital 35mm to the 16mm format most widely used at the time to record the war.
From a visual perspective, it adds gritty historical weight to the scenery and syncs up well with the use of actual newsreel clips taken during the fighting.
Of course, as mentioned earlier, it's a hard watch and comes with a trigger warning, though the bloodshed doesn't approach the Quentin Tarantino style of over-the-top glorified violence. Where Tarantino focuses on the actual color of blood, Lee instead uses various jarring camera angles, unexpected zooms into the conflict, and random first-person points of view.
The result is an unsettling feeling coupled with an honest depiction of the pain and death.
With exceptional acting from main and supporting characters, a brilliant storyline, and great camera work, Lee has created a grand epic, unafraid of critics or reviews, asserting the truth, reclaiming the narrative surrounding Black soldiers in Vietnam.
Da 5 Bloods is now streaming on Netflix, and you can watch the trailer here.