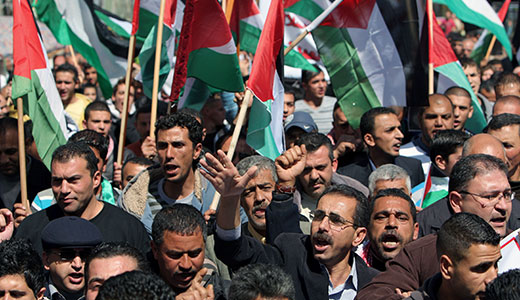 Palestinian President Mahmoud Abbas announced yesterday he will go to Gaza next week for unity talks with Hamas leaders. His announcement came in response to an invitation issued Tuesday by Hamas leader Ismail Haniyeh in a television broadcast in Gaza. Both moves came after mass demonstrations by Palestinian young people Tuesday in both Gaza and the West Bank, calling for an end to the split in the Palestinian movement.
If Palestinian leaders do agree to reunify, it could be a game-changer for the stalled Israeli-Palestinian talks on a two-state solution to the 60-plus-year conflict.
Some 300,000 largely young Palestinians demonstrated in Gaza on Tuesday, March 15, and about 3,000 in the West Bank city of Ramallah, calling for an end to division in the Palestinian movement, the independent Palestinian Ma'an news agency reported. Rallies were also held in other West Bank cities. The actions were organized by the March 15 Coalition, a group of about a dozen youth organizations in the West Bank and Gaza that is leading the simultaneous protests.
Ma'an reported that 10 hunger strikers and 20 supporters camped out overnight Tuesday in the center of Ramallah, where Palestinian Authority offices are located, waking Wednesday morning to prepare for continued protests.
Organizers of the March 15 Coalition had said Wednesday morning that the hunger strikers would not eat until concrete steps had been taken to end the division, Ma'an reported.
Strikers told the news agency that they wanted to see an end to "media incitement," and a release of all political prisoners by both Abbas' Fatah party and Hamas before they would eat. They would not leave the square until unity had been achieved, they added.
But later on Wednesday, they said they would suspend the hunger strike for three days, starting today, as Abbas and Hamas leaders prepared to meet in Gaza. But the youth activists said they would continue their unity calls with a sit-in in Ramallah.
In Gaza City, organizers released a statement late on Tuesday thanking the estimated 300,000 who participated in the protests "on the first day of the Movement's campaign towards ending the despicable Palestinian-Palestinian split," Ma'an reported.
The organizers said the demonstrations were "only the start of [the] campaign which will continue until the Palestinian split is over." They said they would announce new "peaceful activities" in the coming days.
Organizers insist that their movement is nonpartisan. They condemned attempts to hijack the protests by political parties, with some 200 Hamas demonstrators crashing the Gaza City protest early in the day, and Fatah members and others setting up loudspeakers in Manara to broadcast their own slogans.
In Gaza, March 15 Coalition organizers said hundreds of police and internal security members attacked protesters with batons "without any warning or justification, causing injury to dozens of civilians, journalists and human rights defenders." They said dozens of peaceful protesters were arrested. Reporters were also attacked by Hamas security forces, with the Foreign Press Association, based in the region, charging that "police brutally attacked photographers and cameramen, beating them, breaking equipment and confiscating photos and video footage."
In Ramallah, at least 20 people were reported injured by security forces, with six taken away in ambulances, as demonstrators were told to go home.
Before the demonstrations, March 15 Coalition organizer Hassan Farahat told the Palestine News Network that he was in charge of a planning committee whose job was "to make sure all participants carry the Palestinian flag only." He said, "People are sick and tired of the Hamas-Fatah division, so we will continue to protest until national unity is achieved."
With U.S. policy on the Israeli-Palestinian situation apparently paralyzed, and the Israeli government almost totally isolated and in the grip of right-wing extremism, a reunified Palestinian leadership could give new momentum and even new moral authority to the Palestinian struggle for statehood. The new grassroots Palestinian youth movement, inspired by those in Tunisia and Egypt, using Faceook as one of its organizing tools, could spur action where local and world political leaders have failed.
Photo: Demonstrators wave Palestinian flags during a rally in the West Bank city of Jenin, March 15, calling for reconciliation between Hamas and Fatah. (AP /Mohammed Ballas)