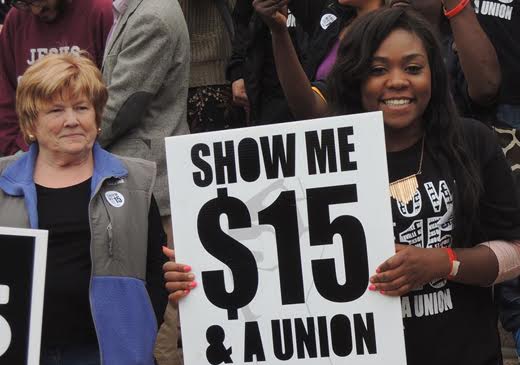 ST. LOUIS (PAI) — Obstacles to raising St. Louis' minimum wage to $15 an hour snowballed in early July, leaving supporters concerned that the once hope-filled proposal is now on indefinite delay.
One obstacle arose in the Democratic-run City Council, while another threat looms in the GOP-dominated state legislature.
The moves are important because St. Louis has a chance to join an increasing number of cities and states whose activists, unionists and leaders, fed up with dysfunction and gridlock in the nation's capital, have raised their own minimum wages without waiting for the feds to do so. The U.S. minimum wage has been stuck at $7.25 hourly for almost a decade.
In St. Louis, Alderman Joe Vaccaro, acting chairman of the Ways and Means Committee, announced on July 3 that he was canceling further hearings on raising the wage, saying he had not been able to build a consensus.
Vaccaro also called on Gov. Jay Nixon (D) to veto newly passed state legislation that would bar cities from raising the wage on their own. That measure would go into effect on August 28 if it is signed.
"I'm not caving in to anybody, but I need time to do this," Vaccaro said. "We could have meetings from now to eternity. I tried to get something on the books. The governor needs to veto that thing."
Mayor Francis Slay and Alderman Shane Cohn, both Democrats, three weeks earlier had proposed raising the city's current $7.65 minimum wage to $15 in steps by the year 2020, with the first step being $10. The proposal found much support among working residents and unions but was hotly opposed by city employers, notably restaurants.
Vaccaro's role increased when the city Ways and Means chairman, Steve Conway, stepped aside from the issue because he is chief financial officer for Imo's, a restaurant chain that would be affected.
Vaccaro said Friday he has been under severe pressure from both sides but has not been able to find the votes to pass a proposal that reaches $15, even gradually. He earlier proposed an alternate measure in which the wage would reach $10.10 by 2020, which raise supporters found unacceptable.
On July3, he said there just wasn't enough time.
"Why didn't they give us this bill six months ago when we would have time to get something done?" he asked. "If we can get the governor to veto it, I can figure something out."
A leading supporter of the higher wage cause, Lara Granich, director of Missouri Jobs with Justice, was shocked and surprised by Vaccaro's sudden decision to halt further action.
"We were in negotiations," she said. "People were getting this done, doing really good work toward finding something that everyone could live with."
Granich believes the Board of Aldermen was getting close to being able to pass a plan reaching $15. "I think we've got the votes for a lot more than $10.10," she said. "It's got to be higher than $10 – that's what Walmart's paying. This is not irreversible."
The higher-wage cause had already been dealt a serious blow early in the week when St. Louis County Executive Steve Stenger said the county could not follow the city's lead on the issue, citing a legal argument that the county government can't make that decision for its many municipalities.
Stenger said the county could set the wage only for its unincorporated areas, potentially resulting in a patchwork of cities with a lower minimum wage and unincorporated zones with a higher one, which he called a "messy situation."
Stenger said he still supports raising wages for working families, but he called on the legislature to take statewide action. The legislature is apparently doing so – in the other direction, banning local minimum wage hikes.
Granich noted individual municipalities in the county could follow the city's lead in raising their minimum wages, which could render Stenger's objection a moot point. "We don't think that this should be a stumbling block," she said. But softening the proposal to stretch the time-line may be necessary to get a bill passed, she admitted.
"We would love to see them stay with the original schedule, but they were really working hard to find a way move this forward," she said.
Cohn also introduced a substitute bill to soften his original proposal. In his new bill, it would take until 2024 for wages to reach $15 an hour, and the initial increase upon signing would be to $8.25 an hour instead of the proposed $10. It would then go up 75 cents a year until reaching $15. By 2019, the minimum wage would still be $11.50.
Cohn's revised bill expands exemptions, such as those for non-profit groups and home health care. Businesses with 15 or fewer employers or less than $500,000 a year in sales would also be exempt.
Meanwhile, the GOP majority in the legislature is pushing HB722, to ban cities and counties from raising the minimum wage on their own. Columbia City Manager Mike Matthes calls the legislation by its true name – "incredibly totalitarian." The Labor Tribune, local officials and unionists are all urging Nixon to veto the bill.
Photo: Labor Tribune, Facebook. Standing up for economic justice makes you smile