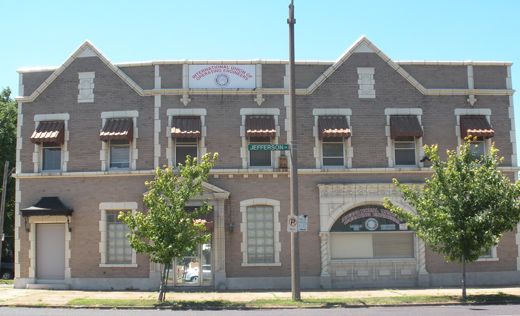 ST. LOUIS – Let's start this off with a question: What do you get when you mix Motown music and activism? 

Answer: The St. Louis Workers' Education Society.
On Friday, Mar. 27th, the St. Louis Workers' Education Society, a 501(c)3 non-profit, opened its doors and welcomed organizers, activists and community organizations to its first annual 'Open House' fundraiser.
The event was held at the society's headquarters, a beautiful, 10,000-square-foot community center, formerly the home of the Operating Engineers' International Union, Local 148.
Starting at about 6 p.m., the lively, diverse (young, old, black, white, gay, straight) crowd inside the hall socialized, and spent their Friday evening laughing, drinking, eating and chatting with friends old and new. It was the people that created such a wonderful collective space, full of energy and passion, all made possible by a people's organization, the St. Louis Workers Education Society.
As I walked around the tables I heard conversations focused on building the labor movement, revitalizing the community, increasing voter turnout, promoting growth of progressive small businesses, and fighting for $15 and a union.
"This isn't just a building," commented Rasheen Aldridge, the youngest member of Missouri Gov. Nixon's appointed Ferguson Commission and director of Young Activists United Director-STL. "This is a movement!"
Aldridge also serves on the St. Louis Workers' Education Society advisory board.
As the evening continued, Cara Spencer, the then-20th Ward Aldermanic candidate who recently trounced a 20-year incumbent, joined in for the festivities and got to know some of her future constituents.
She connected with like-minded progressive individuals, while highlighting the important role the society's building, and the people within its walls, play in making real change in St. Louis City politics.
As 9 p.m. approached, the sounds of Motown filled the air, as Precision took the stage and performed classic soul and r&b. Some people danced and clapped to the rhythm. Others sang along and enjoyed the opportunity to let loose, while enjoying a glass of wine or a beer.
As the evening came to a close, the society's president, Tony Pecinovsky, thanked everyone for attending and urged all to donate generously. "Our work depends on you," he said. "We depend on you to keep this building running. Your support so far has been truly humbling. You make it possible for us to do the people's work."
After the doors shut for Friday evening, it was only a matter of hours before the society's supporters and members would awake and walk through those doors again, and convene an exciting day of workshops, discussion and trainings.
With the smell of coffee rising up from from their cups,  25 supporters – all labor and community leaders – gathered around a horseshoe-shaped conference table, commented on the wonderful night before and reflected on the societys mission:

 The St. Louis Workers' Education Society works to facilitate community education with St. Louis residents, especially communities of color, women and youth, effectively communicating community needs, identifying and training community leaders and generating greater community involvement in issues of community concern.
StLWES focuses on worker-education campaigns, partnering with local union and community organizations, to build a permanent culture of worker-education in St. Louis with a focus on communities of color, women and youth.
We started the day with a rousing political discussion addressing racism in the wake of the killing of Mike Brown in Ferguson, Mo. and the community's response. Attention was placed on how best to combat systemic racism and sexism, and how to build diversity within the skilled trades – another of StLWES's goals.
For two hours participants discussed problems, solutions and emerging trends, all with an eye towards progressive change – change that challenges corporate, entrenched power – specifically in Wards 9 and 20, StLWES's target neighbourhoods.
At around 11 a.m. State Representative, Clem Smith (D-85), gave an informative presentation on the issues working families faces in Jefferson City, Mo's state capital. Rep. Smith, who is also a member of the International Association of Machinists (IAM), explained that the State Legislature is dominated by far-right-wing pro-business, anti-worker politicians. Since 2010, he has fought back against so-called "right to work" and other anti-union legislation.
"Year after year right-wing lawmakers do everything possible to try and strip the working people of their rights" he said. "They want to make it harder to vote, to gain access to affordable healthcare, to join a union and earn a living wage. All they care about is profits and serving their corporate masters."
Working right through lunch, participants spent the rest of the afternoon brainstorming steps each could take to lay a stronger progressive foundation – not only for StLWES, but for the larger progressive, pro-labor community.
Voter registration and engagement, promoting the 'Fight for $15 and A Union,' building a StLWES library and public computer lab, and providing more space to other grassroots organizations were just some of the ideas discussed at the retreat.
All agreed that the StLWES building "creates a place for our voices to be heard," as a local fast-food organizer put it. "StLWES challenges us and forces us to think of new ideas and approaches to building the movement for social and economic justice and workers' rights for the long hall," added a local Jobs with Justice leader. "The Workers' Education Society gives us, the community, the tools and resources needed to grow and win," added a local small business owner.
After a successful 'open house' and an engaging, thoughtful, powerful 'people's retreat,' the St. Louis Workers' Education Society is poised to have a major impact on the city of St. Louis. Go to http://www.workerseducationsociety.org to find out more or make a donation.
Photo: Workers Education Society building.  |  Tony Pecinovsky/PW