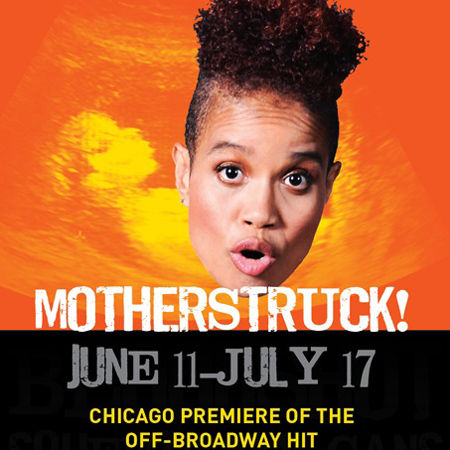 CHICAGO- on Tuesday June 14th Staceyann Chin, lesbian spoken word activist and poet, starred in the first official Chicago performance for her one-woman show MotherStruck! Written and performed by Chin, co-produced by Rosie O'Donnell, Robert Dragotta and Culture Project, Motherstruck! was originally directed by Emmy, Tony and Grammy Award-winner Cynthia Nixon.
Motherstruck! is centered around Chin's own experiences a single lesbian mother in New York City. She takes the audience into a journey of her personal growth as we relive her heartbreaks and victories through narrative storytelling. Chin speaks in detail on a number of personal experiences, from the fragmented relationship with her aunt, to her struggle to get pregnant through artificial insemination. Chin is both electrifying and soothing in her presence, as she radiates of bold and vibrant confidence, whisking the audience along for the ride.
In what some would consider controversial moments of intimacy, Chin launches the show by reeling the audience into the dynamics of her polyamorous lifestyle. She talks about living in a loving and nurturing home with a husband, girlfriend, and mother-in-law. She draws a stark contrast to the conservative environment she grew up in her home country of Jamaica. Motherstruck! explores themes of womanhood, sexuality, as well as the complicated, and sometimes scary, reality of intersectional feminism.
Chin is not only a wonderful story teller, but occupies space in the most precise and intentional manner; often leaping from the darkest forgotten corners of the audience. Chin brings forth both tears of laughter and pain from every individual in the audience. Her presence has all the tenacity and power of a hurricane. Chin is truly a force of nature.
On a wider professional scope, Chin has done everything from Def Jam Poetry performances to "living room protest" with her young daughter. She was the recipient of the 2007 Power of the Voice Award from The Human Rights Campaign, the 2008 Safe Haven Award from Immigration Equality, the 2008 Honors from the Lesbian AIDS Project, the 2009 New York State Senate Award and the 2013 American Heritage Award from American Immigration Council. Most recently, however, she graced crowds with her presence for the Orlando vigil service at the Center on Halsted in Chicago. Her words rang powerfully across the sea of people: "If there was ever a year to wave that rainbow flag – if there was ever a year to wave that rainbow flag – this is it."
Motherstruck! Is now playing at the Greenhouse Theater Center's "Solo Celebration" 2257 N Lincoln Ave. The performance schedule for Motherstruck! is as follows: Wednesdays – Sundays at 7:30p.m. and Saturdays and Sundays at 2 p.m. Flex passes to the Solo Celebration! series, which offers admissions to five plays at a discounted rate, are now on sale. Single tickets range in price from $32 – $48 . Flex passes and tickets can be purchased by contacting the box office at 773-404-7336 or by visiting greenhousetheater.org.
Photo: CultureProject.org