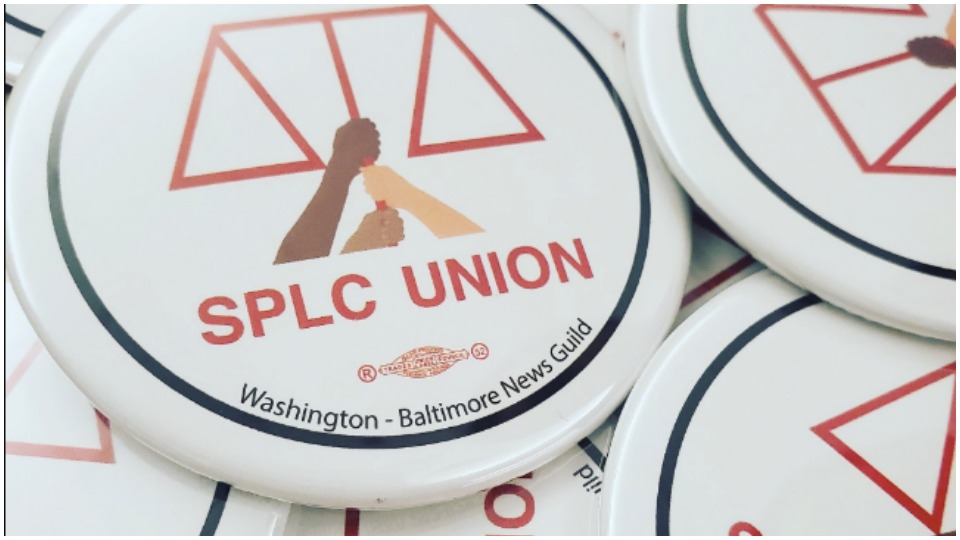 MONTGOMERY, Ala. (PAI)—By a 142-45 vote, the staff at one of the nation's most-prestigious—and most-troubled—civil rights groups, the Southern Poverty Law Center, voted to unionize with the Washington-Baltimore News Guild.
The Dec. 16 win in the 262-member unit is the latest in a string of big victories by WBNG, The News Guild Local 32035, among often overworked and underpaid staffers at non-profit organizations. But there were special reasons the Guild won at the center, Organizing Director Bruce Jett said.
"We look forward to helping them expose and eradicate the workplace inequities they continue to encounter in their workplace today," he said. "Together we stand and together we will be victorious!"
The staff decided to unionize with WBNG after months of turmoil at the SPLC, the nation's top tracker of hate groups, white nationalism, and hate crimes against African-Americans, Muslims and Muslim-Americans, Jews, Latinos, and other minorities.
SPLC also frequently battles them and racist governments in court. It has in the past won multi-million-dollar judgments which put some haters out of business, plus other cases.
But in the last 18 months, SPLC was forced to fire co-founder Morris Dees and other top leaders due to sexual harassment of staffers and retaliation against whistleblowers. And Montgomery, Ala., media reported SPLC discriminates against people of color in promotions from within.
SPLC's headquarters are in Montgomery and it has staff elsewhere throughout the South, plus D.C. The paper also reported the staffers earn $20,000-$30,000 each, yearly. In its campaign, the staff organizing committee cited both SPLC's history—including its long support of unionization—and those workplace harassment and retaliation reports.
"Our ultimate mission is #DisruptingWhiteSupremacy, #PursuingEquity, #BuildingSolidarity and #Uniting Workers," the staff organizing committee said in its first information tweet a month before.
"Current leadership committed itself to the task of changing @splcenter's workplace culture. Collective bargaining ensures workers the opportunity to play a leading role in this transformation," its second tweet said. "#SPLCUnion #OurTimeOurVoice"
"All workers deserve an environment free of inequity, discrimination, and harassment. Once our union is officially formed, staff will collectively determine its goals to shape SPLC into a workplace that lives by its mission internally as well as externally," the organizing committee concluded in a formal statement.