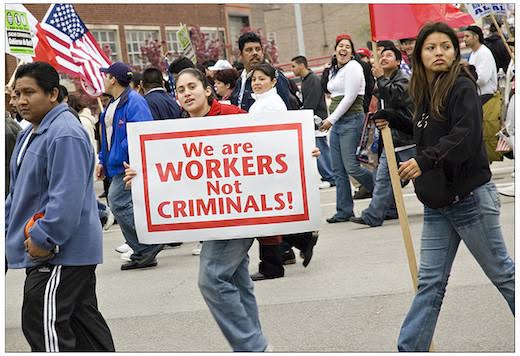 WASHINGTON – As the negative coverage surrounding Donald Trump's inflammatory immigration policy paper continues to spill out, Liz Robbins of the New York Times lifts up a critical, yet missing, voice in the current debate.
Meet Ricardo Aca. Ricardo is an undocumented immigrant who works hard at three different jobs, including the Trump hotel in New York City's Soho neighborhood. In an incredible video from New Left Media and picked up by the New York Times, Ricardo describes working as a busboy at the only restaurant at Trump Soho, and his subsequent reaction to Trump's claim that undocumented immigrants from Mexico – hardworking immigrants like himself – are criminals.
While Ricardo realizes the risks in going public -feeling Trump's retaliatory wrath in public or at work-he also wants to speak up for his family and community, and that's a risk he's willing to take for them.
Says Frank Sharry, executive director of America's Voice, "This is the true David versus Goliath story. Ricardo is putting everything on the line to stand up to a bigoted bullying billionaire who makes even the media and well-financed politicians cower. Ricardo's story isn't just courageous, it's inspiring. Moreover, it's representative of the millions of hardworking undocumented immigrants who contribute to this country every day. According to Trump's immigration plan, Ricardo would be stripped of DACA and he and his family would be deported. At America's Voice, we're proud to stand with Ricardo, and stand up to 'The Donald.'"
The video is available here and the full New York Times story, entitled, "In Video, Immigrant Worker at Trump Hotel Criticizes Donald Trump's Views," is available online and below, following the introduction to Liz Robbins story on Aca:
Ricardo Aca knew he could be fired. But he wanted the camera to roll anyway.
Mr. Aca is shown holding his cellphone watching Donald J. Trump call Mexicans who enter the United States rapists, criminals and drug dealers. Then, Mr. Aca calmly tells his story.
A slight 24-year-old Mexican immigrant who graduated from high school and community college in Queens, Mr. Aca works at the Koi SoHo restaurant, which leases space inside the Trump SoHo hotel. He made a short video with a filmmaker friend and posted it on Facebook on Monday, where it attracted more than 300,000 views in 24 hours.
"I was offended because this is not who we are, this is not who I am, this is not anybody I know who is an immigrant," Mr. Aca said in an interview on Tuesday, wearing his Mexican national team soccer jersey.
Read the full New York Times story here.
Photo: "We are workers, not criminals" was a theme at the Chicago May 1, 2006, immigrant and labor rights march. (swanksalot/CC/Flickr)