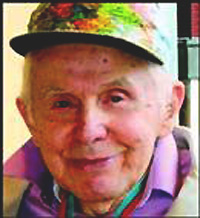 SEATTLE—Nearly 200 people gathered at the Urban Horticulture Center on the University of Washington (UW) campus, Mar. 9, to honor George Tony Starkovich for his lifelong work as a union organizer, an activist for jobs, peace, and equality. Starkovich died February 26 at age 91.
His family, including his widow, Pat, were in the crowd for the celebration. Daffodils and ornamental trees that George Starkovich once tended were coming into full bloom on campus.
Born April 27, 1922, Starkovich became a coal miner at age 15, following his father into the mines near Bellingham, WA. He became class conscious and kept that understanding the rest of his life. His parents were immigrants from the town of Lic, Croatia and Starkovich visited his relatives there over the years.
Dick Major, Secretary of the Croatian Fraternal Union Lodge #439 said he and George Starkovich were considered "young turks" who resisted pressures that pulled other immigrant groups to the right. When Starkovich's father died, George asked Major to deliver the eulogy. "For me, George was a friend. Rest in peace, George."
Robby Stern, President of the Puget Sound Advocates for Retirement Action (PSARA) called Starkovich "a passionate man" fired by a love of working people and their unions.
But Stern recalled that Starkovich "had a temper. The House Un-American Activities Committee (HUAC) knew about that."
David Loud, a staff representative of Rep. Jim McDermott (D-WA) read a letter from McDermott hailing Starkovich as "salt of the earth. Loud told the crowd details of Starkovich's combat with HUAC. When the witch-hunt committee came to Seattle in 1954 they attempted to grill Starkovich on his leftwing affiliations.
George had served as a medic in the South Pacific during WWII. When a bomb exploded, Starkovich continued to treat wounded GIs even though he himself was wounded. He won a Purple Heart and a Bronze Star for bravery.
Starkovich was not about to have his loyalty questioned by HUAC demagogues. One of them called Starkovich "The most contemptuous witness I have seen since I have been a member of this committee."
Starkovich fired back, "I do have contempt for this committee and I want that in the record so that it will be known in the future that I expressed my contempt for this committee."
The People's World reported the story in its June 18, 1954 edition under a blazing headline, "WAR VET HURLS PEACE CHALLENGE AT VELDE PROBE." And PW staff writer, Will Parry, in the Friday Mar. 11, 1955 edition wrote a story about Starkovich's struggle with HUAC headlined, "New Battle for a War Hero."
Starkovich was cited with six counts of "contempt of Congress." In the years that followed he and dozens of other leftwingers, including members of the Communist Party, were hounded and harassed by the FBI. His daughter, Patty Starkovich, told the World, that her dad was fired 17 times during a two-year period. Finally, she said, Joe Forza, an immigrant Italian gardener hired Starkovich in 1957 and resisted all FBI pressures to fire him. Later, he worked as a self-employed gardener. In 1965 the UW hired Starkovich as a full-time gardener.
(U.S. Judge, George Boldt, ultimately threw out all the contempt charges. Boldt later handed down the landmark ruling that the Indian tribes of the Pacific Northwest are entitled to half the salmon catch each year).
Mel Hearn, an African American gardener at UW said, "George actually taught me how to be a union activist. You meet someone sometimes who touches your heart. George was that kind of person. He's up there in gardening heaven with all the gardening angels, organizing."
Greg Devereaux, Executive Director of the Washington Federation of State Employees, said Starkovich organized the UW gardeners from about 200 members to 1,000 members. Starkovich was repeatedly elected vice president and president of AFSCME Local 1488.
"George helped organize his local into a powerful force statewide," Devereaux said. "For George it was always the union against the boss. The University of Washington is a wonderful institution…but George was a leveling force. He was fearless in defense of those who needed defense the most."
Under his leadership, Local 1488 won its first contract with the UW. He led the fight for equal pay for women and secured jobs for women in previously all-male job categories.
Libby Sinclair said she and her family moved into an apartment downstairs in the same house with Pat and George Starkovich. Soon they became surrogate grandparents to her children and trusted friends they discussed political issues with. "We knew we could always trust George because his instincts were so clear," she said.
Sinclair is a 5th grade school teacher and often invited Starkovich to speak to her classes about issues confronting the nation. "He never said no," she said.
Patty Starkovich told the crowd her father "considered himself lucky throughout his life," lucky to have immigrant parents and a coal miner for a father, lucky to have survived WWII, to have met and married Pat, "lucky to have found an old gardener who didn't care that the FBI was coming around trying to get him fired."
Tears welling in her eyes she added, "Just a few weeks ago, he would look at my mom and get that smile. Until the end of his life they were so devoted to each other." They were struggling with Starkovich's Alzheimer's, she said, and Pat "always made sure his life was filled with love and dignity."
Photo of George Tony Starkovich courtesy the family.