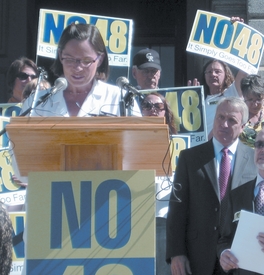 Claiming voters' attention this fall alongside races for national, state and local elective offices are over 150 state ballot initiatives and a wide range of local measures.
At the state level, about 60 state measures are initiatives or constitutional amendments appearing on the ballot because registered voters signed petitions; others originated with state legislatures or other state bodies.
Among measures claiming national attention is California's Prop. 8, to amend the state constitution to ban same-sex marriage. Last May the California Supreme Court, declaring that sexual orientation is "not a legitimate basis upon which to deny or withhold legal rights," overturned an initiative banning gay marriage passed by voters in 2000.
Supporting a ban are religious groups including the Roman Catholic Church, the Mormons and some Evangelical Christians, along with many Republican state legislators and presidential nominee John McCain. A long list of opponents includes the California Labor Federation, the California Teachers Association, the state NAACP,
Republican Governor Arnold Schwarzenegger and Democratic presidential nominee Barack Obama.
Though the opposition led in earlier polls, Proposition 8 has become a cliffhanger, with the latest tallies showing 47 percent of California voters supporting it and 43 percent opposed.
Across the country three measures deal with abortion rights. One is California's Proposition 4, to ban abortions for minors until 48 hours after a physician notifies the minor's parent, guardian or adult family member. Similar propositions lost in 2005 and 2006 but recent polls show Prop. 4 leading, 49 to 41 percent.
Opponents, including the state ACLU, health and education organizations, California NOW and the California Labor Federation, say Prop. 4 would actually endanger the most vulnerable young women, who could become more likely to choose an unsafe, illegal abortion.
In South Dakota, Initiated Measure 11 would change the state constitution to ban all abortions in the state except in cases of incest or rape or to protect the woman's health. Doctors violating its provisions would be charged with a Class 4 felony, carrying a maximum of 10 years in jail and a $20,000 fine.
Anti-abortion laws failed in the last two state legislative sessions. Measure 11's backers include Evangelical Christian and Roman Catholic organizations; opponents include the state Medical Association and ACLU along with religious and women's organizations. Polls show the two sides neck-and-neck.
In Colorado, Amendment 48 would change the state constitution's definition of "person" to include "any human being from the moment of fertilization." Supporters believe its passage would outlaw abortion in the state.
Among backers are Christian Evangelical organizations including Focus on the Family; among opponents are Planned Parenthood and the Colorado ACLU.
Also sharing Colorado's ballot are measures to outlaw union shops and affirmative action. Amendment 47, the so-called Colorado Right to Work Initiative, would bar unions and employers from negotiating "union shop" contracts requiring workers to pay union membership or "agency" fees as a condition of employment.
A major backer is Jonathan Coors of the historically right-wing Coors brewing family. Though the Colorado Association of Commerce and Industry supports it, the Denver Metro and South Metro Denver Chambers of Commerce have joined the Colorado AFL-CIO in opposition.
Pointing out that "right to work" has nothing to do with a right to a job, the Colorado AFL-CIO says Amendment 47 would bar workers and employers from negotiating union security clauses. It would also weaken unions by forcing them to provide all the benefits of membership to workers who pay nothing. The AFL-CIO also notes that federal law already protects workers who choose not to join a union, and that workers in "right to work" states earn significantly less than those in states lacking such a restriction.
A recent poll showed Amendment 47 losing, 49 to 21 percent, with 30 percent undecided.
Amendment 46, the misnamed Colorado Civil Rights Initiative, would ban both "discrimination" and "preferential treatment" in public employment, education and contracting to any individual or group on the basis of race, sex, color, ethnicity or national origin.
Proponents are led by California businessman and former University of California regent Ward Connerly, an African American who has sparked similar initiatives that have passed in California, Washington state and Michigan. This year, Connerly is backing similar measures in Arizona, Missouri and Oklahoma.
Opponents include the state AFL-CIO and a broad array of labor, faith, education and civil rights organizations. Polls predict the measure will pass.
In Oregon, Ballot Measure 58 would bar teaching non-English speaking public school students in their own language for more than one to two years. Students would then be mainstreamed into classes taught in English. Chief petitioner for Measure 58 is anti-tax activist and perennial ballot measure initiator Bill Sizemore, founder of Oregon Taxpayers United. He has four other measures on the 2008 ballot, including one to base teachers' pay on classroom performance. Opponents include the Oregon Education Association and an array of labor, education, faith and civil rights organizations.
In Massachusetts, progressive activists are working to defeat the anti-income tax Question 1, sponsored by the Libertarian Party-connected Committee for Small Government. The measure would lower the state income tax rate from 5.3 percent to 2.65 percent in 2009 and completely eliminate it by 2010.
If passed, Question 1 would cut nearly 40 percent of the state budget, much of that in local aid to poorer municipalities, which would then be forced to increase property taxes up to the limit. In Massachusetts municipalities cannot raise property taxes more than 2.5 percent without an override vote by their citizens.
The Vote No on Question 1 coalition includes a broad range of organizations from the state AFL-CIO to a number of Chamber of Commerce groupings.
mbechtel @ pww.org Jose Cruz contributed to this article.