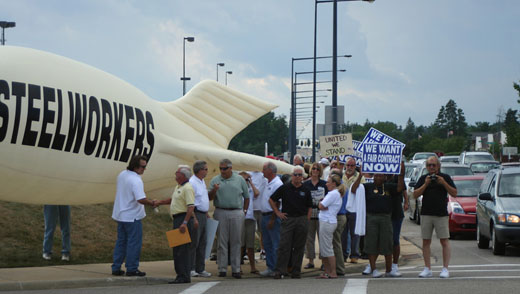 Twelve striking Mississippi steelworkers and over 100 supporters held a spirited rally at the corporate headquarters of Omnova Solutions in Fairlawn, Ohio, demanding the company return to the bargaining table and negotiate a new contract.
The transnational with production at 20 facilities in the U.S., Europe and Asia, makes commercial wall coverings, vinyl vehicle seats for mass transit and school buses and other coated fabrics. Its 174 employees, members of USW Local 748L, in Columbus, MS, walked out May 21 after one bargaining session in which the company presented a take it or leave it "final offer" demanding elimination of the defined benefit pension plan and major cuts in wages and health care.
Despite the recession, the company recently reported record profits and sales.
"We'll stay out as long as we have to," said Ronald Crowe, 38-year employee in the plant's ink department. "We've had practically no wage increase in the past four contracts. They want to take away everything we've won since 1992."
Crowe described Tob Coss, the plant's manager who came in a year and a half ago as "a union buster," who had carried out similar policies at the company's plants in Auburn and Jeannette, Pa.
A delegation was turned away by security guards when it attempted to present a letter to CEO Kevin McMullen "calling on you and your local bargaining committee to come back to the table and engage in meaningful negotiations."
Mattie Andrews, a 32-year employee and truck driver, said McMullen was "hiding" in the building. "His salary is $3 million and he wants to cut our pay," she said.
"They won't talk to us," said Dave McCall, director of the union in Ohio. "So maybe we'll talk to their investors. Maybe we'll talk to their customers."
In the past the company has had major contracts with Holiday Inns and casinos in Las Vegas.
"We're serving notice that an injury to some steelworkers in Mississippi is an injury to all steelworkers in Ohio," McCall said to loud applause.
Local Vice President Gene Gore voiced deep appreciation for the support he received in Ohio.
"This is overwhelming to us," he said. "I can't thank you enough."
Photo: Debbie Kline