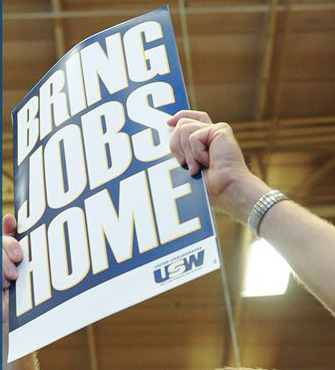 HANOVER, Pa. (PAI) – Mike Strausbaugh, a steel worker from Hanover, Pa., has a message for Sen. Pat Toomey, R-Pa.: It's time to bring outsourced jobs home.
But Toomey and his fellow Republicans may not get it. Senate Democrats do.
Strausbaugh and other Steel Workers and Autoworkers brought their message to Congress on July 22, with a press conference promoting the Democratic-backed "Bring The Jobs Home Act." Half a dozen Senate Democrats – several seeking re-election – joined in.
The legislation would extend a 20 percent tax credit to companies that had outsourced jobs abroad and that decided to reverse course and return those jobs to U.S. shores. Even more importantly, it would end company tax deductions for expenses associated with moving any U.S. jobs abroad.
Those deductions cost the U.S. Treasury billions of dollars and force U.S. taxpayers – like Strausbaugh – to subsidize the moves. And he's seen a lot of them.
Strausbaugh, who works for SKF Corp., a Hanover, Pa., manufacturer of large bearings for engines and turbines, has seen outsourcing and migration of industrial jobs abroad by area firms for the last decade.
Speaking to Press Associates Union News Service afterwards, he reeled off a list of five companies that left the Hanover-York area alone, taking good-paying industrial jobs to Asia and Latin America, where wages are low and workers are exploited. Only one, Harley-Davidson, brought some back – and those were 100 or so white-collar, not industrial, jobs.
Some of the workers who lost the outsourced jobs have found new ones in the area, Strausbaugh says. But they're at Walmart or making Utz potato chips, both low-paying firms.
Strausbaugh's job outsourcing story has been repeated nationwide for the last decade, and not just in heavy industry. The legislation's co-author, Sen. Debbie Stabenow, D-Mich., said some 2.4 million U.S. jobs have been outsourced since the start of the century. Studies show another 21 million – from working at call centers to manufacturing turbines to you-name-it – are endangered.
"This is incredibly basic," said Stabenow, whose state has seen an exodus of auto jobs to Mexico and China. "When we talk about the global economy, we want to be exporting our products, not exporting our jobs."
Added Strausbaugh, a member of USW Local 7343: "It makes no sense that we as manufacturing workers and taxpayers are still being asked to subsidize the cost of shipping our jobs overseas with a tax loophole that should be eliminated."
As a result of such outsourcing, and other factors, "the middle class is on life support," he added.
The U.S. loses in another way, Sen. Stabenow adds: Tax revenues. Outsourcing robs the Treasury of money it would otherwise receive from workers and taxpaying U.S. firms. "The costs are broad, but we're talking about tens of billions and hundreds of billions of dollars," Stabenow says.
While Strausbaugh and his Steel Worker colleagues – Lonnie Young, Joe Brown and Ryan Fairly, all from Pennsylvania locals – drew Senate Democratic support, the Republicans, such as Sen. Toomey, and their business backers are another matter.
Strausbaugh said the four planned to visit Toomey's office to discuss the outsourcing, which Sen. Bob Casey, D-Pa., told the press conference has cost the Keystone State alone 900,000 jobs. Strausbaugh wasn't sure what reception they'd get from Toomey.
That's because the U.S. Chamber of Commerce and other business groups strenuously oppose the "Bring The Jobs Home Act," Stabenow admitted. Democrats won 93-7 a vote on a motion to start debate on the measure, S2569, on July 23. But they still needed 60 votes to stop the ensuing GOP filibuster against it. They tried to move the jobs bill two years ago and drew several Republican votes – but not enough, combined with Democrats, to reach 60 "yes."
Those results prompted Casey to challenge the GOP: If they believe the Bring The Jobs Home bill is not the right solution to outsourcing, offer one of their own. That would start "an important national conversation" about outsourcing and its impact, Stabenow added.
The GOP's stance against the anti-outsourcing, pro-return-the-jobs measure puzzles Strausbaugh.
"Why would you vote against it?" he asks.
Photo: USW.