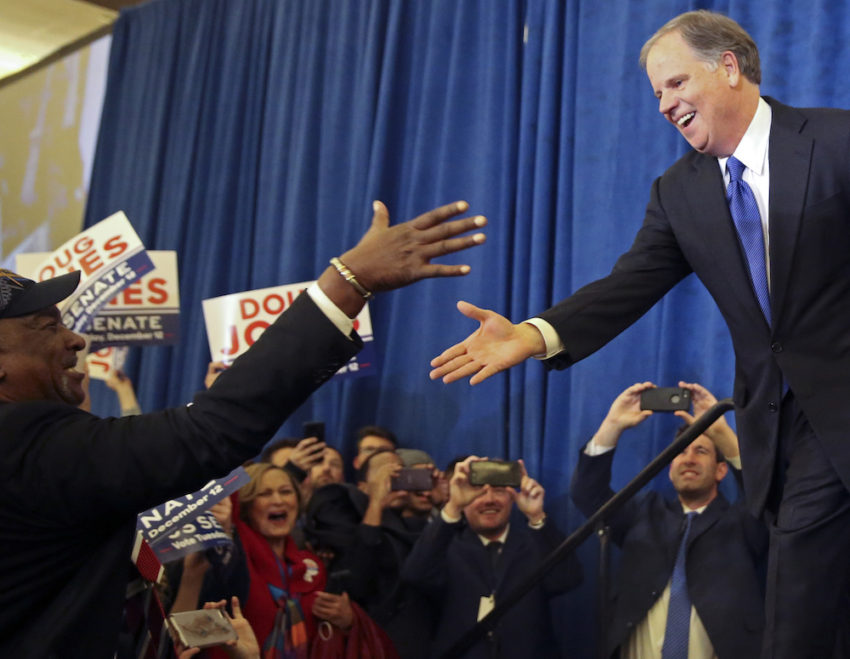 BIRMINGHAM, Ala.—Dan Flippo, the Birmingham, Ala.-based Steelworkers district director for the Deep South, noticed something interesting when he looked at Republican U.S. Senate nominee Roy Moore's last run for statewide office, several years ago.
Moore barely won his state Supreme Court seat statewide. He also won Mobile. And GOP presidential nominee Donald Trump won Mobile by 14 percentage points in 2016. If we can reverse that result in Mobile, Flippo thought, we can beat Moore.
And that, in so many words, is what the Steelworkers' door-to-door canvassing, phone banking and mobilization in Mobile did. In the Dec. 12 vote, Democratic nominee Doug Jones won Mobile by 56-42 percent and the state by one and a half percentage points.
Mobile's shift was not the only reason Jones won 49.9 percent of the vote to Moore's 48.4 percent on Dec. 12. African-Americans, who were 30 percent of the electorate – a higher share than when Barack Obama ran for president – went for Jones by a 96-4 percent score.
The African-Americans knew Jones successfully prosecuted the racists who bombed Birmingham's 16th Street Baptist Church, killing four young black choir girls, in 1963. They may have heard Moore wanted to repeal every U.S. constitutional amendment since the Bill of Rights – including the post-Civil War amendments outlawing slavery and guaranteeing citizenship to everyone born in the U.S., regardless of race, creed or prior servitude.
And white women with college degrees, upset and disgusted by Moore's sexual predations among teenage girls when he was a rising local prosecutor in his mid-30s, 40 years ago, voted for Jones, too.  White women without diplomas went for Moore.
But Mobile was the case study for how a union, working in harness and going door-to-door, can make a difference electorally, even in deep-red Alabama.
The Steelworkers' campaign in Mobile was augmented by the Government Employees in central Alabama, the building trades in several areas and the teachers – the Alabama Education Association – in Birmingham.
Together, the unions made up for the absolute lack of a Democratic Party organization in the state, say Flippo and state AFL-CIO President Bren Riley, also a Steelworker from Gadsden.
"Once we saw what happened on the Republican side, we decided to play big," Flippo said in a telephone interview the day after the Dec. 12 Jones win. That's because Jones faced the controversial Moore, who sexually victimized teenage girls when he was a prosecutor in his mid-30s.
And Jones "had a Steelworker history," having worked in unionized steel mills as a teenager during summers, while his father was a career Steelworker at U.S. Steel's Fairfield Works outside Birmingham.
"We think Jones can really help the state and can bring in more manufacturing jobs," Flippo explained. Those are well-paying jobs "and that's good for organized labor. When workers prosper, everybody prospers."
So the union put seven reps into Mobile for a month and a half in the run-up to the Dec. 12 vote, Flippo said. They went door-to-door, averaging 1,500 door-knocks daily, and ran an extensive phone bank, too. "We kind of thought we could move Mobile," Flippo said in an understatement.
They also sent canvassers into Montgomery. That city went for Jones, 72 percent-26 percent.
The state federation concentrated on Montgomery and Alabama's "Black Belt" in the South, an area named for its fertile soil, but also with one of the state's highest concentrations of African-Americans.
Sometimes the Democratic Party structure was so out of it the unions had to step in with basics, such as yard signs, for Jones, Riley said.
But until the final weeks, Alabama's unions were on their own, he added. When the national AFL-CIO finally called, three weeks before the voting, he asked them "Where were you 20 years ago?"
That's when Alabaman union density was higher than its current figure, 8.1 percent. A decade ago, according to the only federal data available, it was 8.8 percent, but it was over 10 percent from 2009-2015, except for 2012.
The fed sent two regional field reps, skilled in get-out-the-vote, to help out.  That's not enough, says Riley.
"The South is the new North," he explained, referring to the area's growth, its low wages and its workers whom unions can help, if they really commit to organizing. "Employers are coming South to try to exploit" what businesses call "the dumb white rednecks," Riley noted.
That can change, both on the shop floor and electorally if labor puts in the effort. There's a perfect opportunity in next year's governor's race, he adds, where Tuscaloosa Mayor Walt Maddox is already seeking the Democratic nomination against incumbent Gov. Kay Ivey, who endorsed Moore.
Of Ivey, Riley said, "We believe we can tie her statement 'I believe those women, but I'm going to vote for the boy,'" Moore, "around her neck, just like the Republicans tied Obama around our neck."