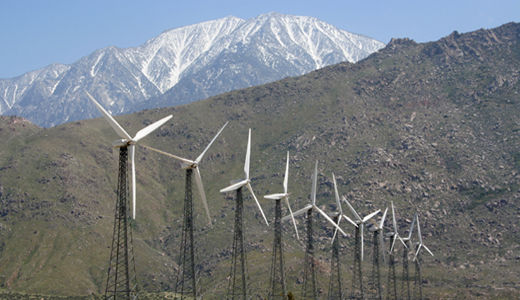 Last week the United Steelworkers union (USW) announced important agreements with two Chinese clean energy companies. The Chinese companies, A-Power Energy Generation Systems Ltd. and Shenyang Power Group, are world leaders in clean power generation.
The historic agreement states that the "USW will guide and work collaboratively on all aspects of the companies' U.S. market strategies including manufacturing, assembly, component sourcing, distribution and wind energy project development."
The agreement involves building one of the largest U.S. wind farms ever, in Texas. The steelworkers estimate that the massive 650 megawatt wind farm will use 50,000 tons of steel, to be made in the U.S.
The extraordinary agreement insures a large percentage of the wind farm components will be made by union workers in America. Under the agreement the Chinese companies will build a state of the art wind turbine plant in Nevada with an ongoing domestic supply chain. And further, the agreement includes the promise of company neutrality in union organizing drives connected to the project.
"We will work with A-Power and SPG to create long-term, good-paying, green American jobs," said USW International President Leo Gerard. "The USW is committed to building a strong domestic supply chain that will be key to the future of America's global renewable energy leadership."
The pioneering work of the USW on this agreement is fully in line with the union's continuing fight to rebuild the manufacturing base in the U.S. and Canada. The steelworkers' drive for good union jobs includes focus on new industries and new, innovative production relationships. Earlier this year the USW signed agreements with the famous Spanish Mondragon Cooperatives to explore setting up workers' cooperative ventures in the U.S. and Canada.
The agreement with the Chinese companies also continues the union's ground-breaking initiatives to create new ways of pursuing labor's goals and economic justice in an era of capitalist and financial globalization. This includes ongoing talks with the Mexican miners union to create the first North American and Caribbean-wide industrial union.
The agreement comes in the context of the continuing growth of Chinese trade unions. Recent Honda strikes in China and pending legislation to protect the right to strike and collective bargaining in China help create a new situation for U.S. and Chinese labor. In this light the USW-brokered agreement may also help open important doors for future trade union cooperation and international ties.
Photo: Part of the San Gorgonio Pass wind farm, Riverside County, California. http://upload.wikimedia.org/wikipedia/commons/0/07/San-Gorgonio-pass-wind-farm_IMG_6704_060421_143600.jpg