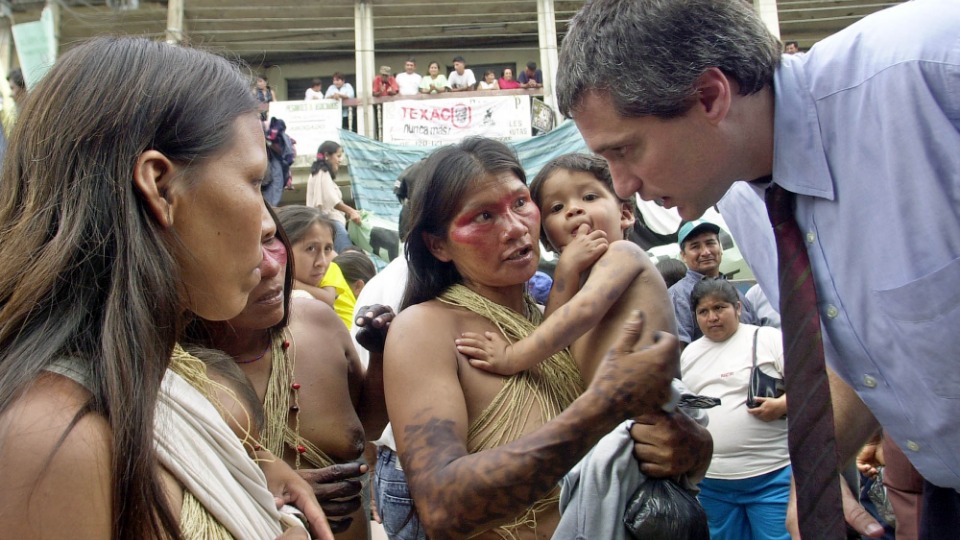 NEW YORK—On a cold Monday evening in April, a crowd gathered in New York City's Upper West Side to hear the words of a man finally tasting his freedom. Steven Donziger, a Harvard-educated lawyer and environmental activist, celebrated his newfound liberty in style.
Accompanied by a live band from the Czech Republic, numerous prominent progressive figures spoke, including actress Susan Sarandon, Amazon union organizer Chris Smalls, Harvard law professor Charles Nesson, and prominent human rights lawyer Martin Garbus.
Among the many points emphasized was a focus on unity in the face of opposition by large institutions, like the one that had gotten Donziger imprisoned in the first place. The origins of this tragic story go back years.
The Amazon Chernobyl
In the 1960s, oil was discovered in Ecuador. Soon after, American oil giant Texaco descended upon the region with the intention of capitalizing on the untapped natural wealth buried there. Decades of extraction ensued, resulting in massive profits for the oil industry. However, this enrichment came with an incredible price: Billions of gallons of toxic oil waste were intentionally dumped into the Amazon rainforest.
Without any warning, tens of thousands of Indigenous people were exposed to hazardous chemicals and heavy metals. Thousands developed cancer and died, while incidents of congenital birth defects rose astronomically. The rivers were choked with oil in what quickly became an apocalyptic disaster. So bad was the human and ecological toll that it would later be dubbed the "Amazon Chernobyl."
Despite sparse coverage in mainstream corporate media, this crisis caused a stir in the international community. Among those outraged by the corrupt callousness of this exploitation was a young lawyer from the United States named Steven Donziger. He, along with a group of lawyers and scientists, took a trip to Ecuador in the 1980s to see the destruction for themselves. The horror that Donziger witnessed led him to spearhead a case against the powerful perpetrators of the environmental crisis.
In 1993, Donziger and other devoted lawyers brought a class-action lawsuit against Texaco (now Chevron), representing affected Indigenous tribes in an unprecedented act of resistance against a powerful corporation.
That trial would take many years to reach a conclusion. Among the alleged methods used by Chevron to sway the result were bribery, use of false testimony, intentional stalling, and attempted entrapment. The oil giant used its resources to drag the trial on as long as possible in an effort to exhaust the opposing side's finances. Despite all of this, in 2011 Chevron was finally ordered to pay $9.5 billion in restitution to the Amazonian tribes. To this day, not a cent of that money has been paid.
Chevron v. Donziger
Having lost the trial, Chevron went on the offensive. The company immediately refused to pay any of the money, sheltering behind the protective curtain of American jurisdiction. The company's view on the issue can best be summed up by the infamous words of Donald Campbell, one of their representatives: "We're going to fight this until hell freezes over. And then we'll fight it out on the ice."
Chevron set their sights on Donziger. In 2011, the company filed a Racketeer Influenced and Corrupt Organizations Act (RICO) civil suit against the lawyer, alleging he committed fraud during the Ecuador trial in order to secure a favorable outcome. The new trial was presided over by U.S. District Judge Lewis Kaplan, a former corporate lawyer whom Donziger and many others alleged to be biased in favor of Chevron.
A key witness on behalf of the prosecution was Alberto Guerra, a former judge from Ecuador who testified that he was personally bribed by Donziger and his team. Guerra would later admit that this accusation was untrue, and that Chevron had paid him thousands of dollars to testify against Donziger. During the trial, though, Guerra's accusation seemed to be sufficient for Kaplan, who ruled in favor of Chevron. Donziger was forced to pay $3.4 million—an unheard-of sum for a fraud conviction—and was disbarred in 2018 because of the verdict.
Unfortunately for Donziger, the story didn't stop there. He was charged with six counts of contempt of court for refusing to turn over his laptop during an appeal. Judge Kaplan, who had laid down those charges, made the very unusual move of appointing a private law firm, Seward and Kissel, to prosecute Donziger.
Additionally, Kaplan decided not to assign a random judge to oversee the trial—as is the standard procedure—but instead opted to personally choose one. His choice was senior district judge Loretta Preska, another former corporate lawyer. Preska had ties to the Federalist Society, which had received a great deal of funding from Chevron.
The trial progressed in much the same way that it was set up: blatantly one-sided. Judge Preska denied Donziger a jury, deemed him a flight risk—despite him never missing a day in court—and sentenced him to house arrest for the duration of the trial. After two years, Donziger was found guilty on all charges and sentenced to six months in prison. He served 45 days in federal prison and was then released to serve the rest of his sentence under house arrest.
For Chevron, this trial was a massive symbolic victory. They could not allow Donziger to get away with holding them accountable for the damages they committed in Ecuador. Doing so would threaten the lucrative business model that they employed in countless other nations. They needed to send a message. What Chevron and their allies tried to do was turn Steven Donziger into a trophy for their wall. However, they may instead have made him a martyr.
Both the conditions and the outcomes of the trial were heavily criticized around the world. International organizations from Amnesty International to the UN High Commissioner on Human Rights condemned the trial as retaliatory and unjust. Law students organized protests and boycotts of Seward and Kissel. A group of 55 Nobel Laureates wrote a letter to Attorney General Merrick Garland demanding Donziger be released. Nine members of Congress did the same, calling on President Joe Biden to take action. He never did.
Now Donziger is a free man. The defiance he showed and spread through social media posts during his ordeal persists, although the future remains uncertain. Without a passport and law license, he cannot continue to support the Ecuadorian efforts for justice directly, though he vows to continue his environmental advocacy. After some well-deserved rest, Donziger plans to continue writing and speaking on social media and through his new Substack. He also will stay committed to obtaining an official pardon from Biden.
As of now, no measures have been taken by the government, though Donziger remains optimistic about the possibility. Whatever happens to him in the future, it will require the combined effort of all who hear and take inspiration from this story to achieve the important victories necessary to secure a future for this planet.
READ MORE ABOUT THE CASE OF STEVEN DONZIGER: