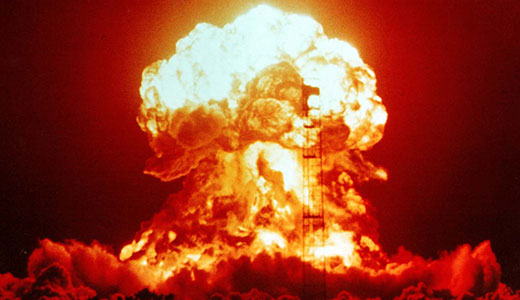 Arizona Republican Senator Jon Kyl's abrupt announcement Nov. 16 that he opposes consideration of the New START treaty to cut U.S. and Russian nuclear missiles during the current congressional session imperils a vital step toward finally eliminating the world's only true weapon of mass destruction.
Other leading Republican senators have also expressed opposition to the agreement.
The treaty, signed last spring by President Obama and Russian President Dmitry Medvedev, would cut the two countries' long-range offensive nukes to 1,550 each, or about 30 percent. The U.S. and Russia have about 95 percent of such weapons in the world.
The pact has now had some 18 hearings by Senate committees.
Earlier this fall the Senate Foreign Relations Committee approved New START, by a vote of 14-4. Three Republicans voted with the majority, including the committee's ranking Republican, Indiana Sen. Richard Lugar.
Ratification requires 67 votes in the full Senate. Supporters of the pact are pressing for ratification by the end of the year, before the Democratic majority shrinks in the new Congress.
Kyl, the number 2 Republican leader in the Senate, claimed there is not enough time during the current session to deal with the "complex and unresolved issues related to START and modernization."
This, despite the Obama administration having agreed to pay the ransom the far right demanded for ratification: well over $80 billion over 10 years to modernize the U.S. nuclear arsenal. That is spending that peace advocates consider both unnecessary and potentially dangerous and destabilizing.
New START has broad support, including the faith community, scientific organizations, and military leaders serving under both Republican and Democratic administrations.
A nationwide CNN poll, released Nov. 16, showed 73 percent of the public backing ratification, including nearly six in 10 Republicans, 87 percent of Democrats and 72 percent of "independents."
Saying failure to ratify the treaty this year "would endanger our national security," Vice President Biden pledged the administration would continue to fight for its consideration before the Senate adjourns this year.
At a Nov. 17 news conference, Secretary of State Hillary Rodham Clinton, Foreign Relations Committee chair Sen. John Kerry, D-Mass., and Sen. Lugar all called for approval in the current session.
We say the world's security is endangered if this vital first step on the road to a world without nukes stalls out in the Senate. Contact your senators today and urge New START's ratification in 2010.
Photo: The Official CTBTO Photostream CC 2.0