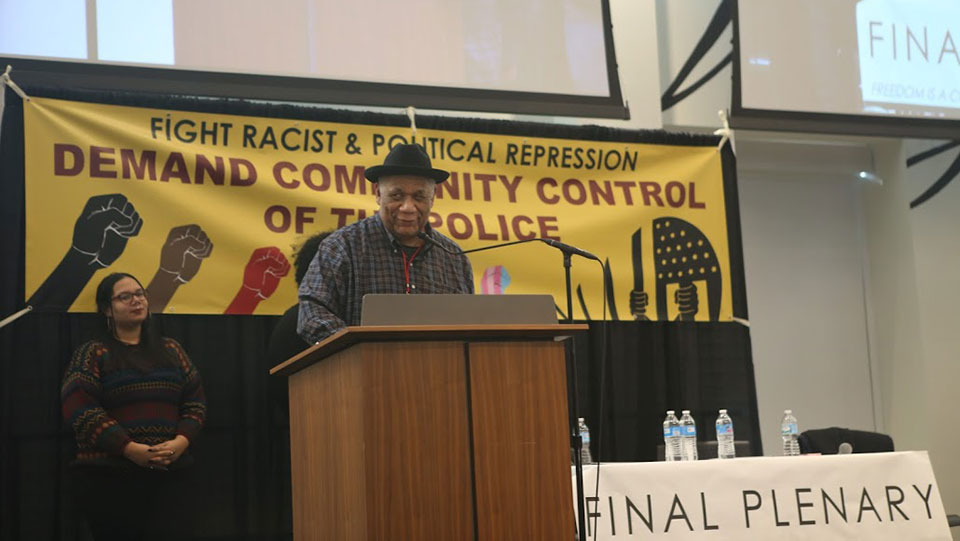 CHICAGO – "We share a vision for community control of the police, freedom for all political prisoners and the wrongfully convicted. Abolishing the police and prisons, is part of a larger vision of changing and abolishing governments that oppress us," declared Frank Chapman, to a gathering here Nov. 22-24 to re-establish the National Alliance Against Racist and Political Repression (NAARPR).
The multi-racial gathering included many young people and leaders of grassroots struggles in the fight for civilian control of the police, freeing the wrongfully convicted, ending police violence and murders, mass incarceration, and deportations, solidarity with Palestine and the Philippines, and for criminal justice reform and prison abolition.
Over 1,200 attended the event from 100 cities and 28 states. The conference took place at the home of the Chicago Teachers Union, fresh off a historic strike. Vice President Stacey Davis Gates greeted the conference.
Angela Davis, one of the nation's foremost advocates for prison abolition and socialism, was a featured participant. In 1971, authorities unjustly accused her of supplying weapons in a courthouse shooting. California Governor Ronald Reagan vowed to send her to the electric chair.
But Davis was freed by a worldwide campaign that included working people, unions, campuses, the religious community, sororities, the legal community, artists, and celebrities. Communist parties and socialist countries led an outpouring of international solidarity.
The original NAARPR, founded 46 years ago, grew out of that fight to free Davis. The re-establishment of the NAARPR reflects the new upsurge in activism against racist police murders and vigilante violence, militarization of police departments, for broad structural reform to the criminal justice system and ending institutional racism and sexism.
These movements have been instrumental in exposing police misconduct and helping effect shifts in public opinion. The election of progressive state's attorneys and other elected officials, freeing of many wrongfully convicted, restoration of voting rights for formerly incarcerated, and the toppling of statues extolling the Confederacy and white supremacy, are among the results.
The democratic upsurge against the racist and anti-immigrant policies
These movements are part of the democratic upsurge against the racist and anti-immigrant policies of the Trump administration. In response, most current Democratic candidates for president have issued plans for ending mass incarceration.
In her keynote to the conference, Davis urged participants to root the new organization in the conditions of today, invigorated by the lessons of accumulated experiences and new understanding.
"The notion of a defense organization is not very different than what we were trying to create 46 years ago, or the Civil Rights Congress (CRC) that was founded in 1946," said Davis. The CRC fought the "legal lynching" of African Americans. An even earlier organization, International Labor Defense, led the fight to free the Scottsboro Boys.
"Just as the National Alliance couldn't reproduce the Civil Rights Congress because times had changed, a 21st-century defense organization cannot simply replicate the 20th-century version," she said.
It was clear, said Davis, that broad alliances and multi-racial organization were desperately needed to fight against state repression targeting political activists and attempts to normalize racist repression.
The assassination of Dr. Martin Luther King, Jr., Cointelpro, the disruption of African American led movements, suppression of prisoner rebellions like the Attica massacre, the attack on Native Americans at Wounded Knee, and Chicano/ Latino movements, were part of this concerted repression.
Today's democratic upsurge faces a lawless occupant in the White House and a Republican Party linked to white supremacist and fascist movements. These movements have infiltrated the courts and every agency of government, including the Justice Department. Today's upsurge with its ability to mobilize a massive vote in the 2020 elections, is battling the suppression of voting, reproductive, and labor rights.
"Every day, we hear about impeachment. About Trump's messing with the enemy abroad to steal an election at home," said Chapman, who was elected executive director of the new organization. Chapman himself had been wrongfully convicted of murder and freed by an early NAARPR campaign.
"We do not hear about impeaching Trump for ordering thousands of immigrants into detention camps and caging children, or his support for white supremacist terrorists," he said. "Trump ought to be impeached not just for high crimes and misdemeanors and obstruction of justice, but for crimes against humanity."
What is new in today's struggles
Davis urged participants to give a lot of thought to what is new in today's struggles. "Since that (earlier) period, we have developed new approaches and elucidating vocabulary. And thanks to feminist scholars and organizers, we've begun to understand more clearly connections, relationalities, and intersectionalities (of different struggles and oppressions)," she said.
"We have learned that we cannot call for gender justice unless we also call for racial justice and economic justice. We have learned that hetero-patriarchy has saturated every aspect of our lives."
The conference took place in Chicago, a city infamous for police brutality but today at the epicenter of the fight for community control of the police. Battles have been waged for decades to win justice for survivors of racist police brutality. They include the victims of the notorious Jon Burge and his "Midnight Crew" who tortured hundreds of young African Americans into making false confessions. Many spent decades in prison, and some remain incarcerated. Chicago police continue to commit murder with impunity.
Among the organizations initiating the conference was the Chicago Alliance Against Racist and Political Repression (CAARPR), one of the remaining chapters of the original NAARPR. The CAARPR has united survivors of police torture and murder while spearheading the grassroots campaign for community control of the police and establishment of a democratically elected Civilian Police Accountability Council (CPAC).
CAARPR led efforts to build support for CPAC in the recent Chicago municipal elections. In a massive repudiation of corrupt machine politics, voters swept into office many reform-minded aldermen, including grassroots activists and six democratic socialists. Besides, 40 percent of the new city council supports CPAC.
Another organization leading these developments is Southsiders Organized for Unity and Liberation (SOUL), led by Tanya Watkins. SOUL began organizing against racist practices of Cook County State's Attorney Anita Alvarez resulting in thousands of low-income African Americans and Latinos being locked up in the county jail system.
"Then the ground swelled beneath our feet when the Laquan McDonald tape dropped," said Watkins, referring to the release of suppressed video showing the horrific police execution-style killing of McDonald in 2014. Many viewed Alvarez as protecting the police. The murder sparked mass protests, a campaign to unseat Alvarez, and forced Mayor Rahm Emanuel to abandon his bid for re-election.
"We spoke to 5,000 voters and registered 30,000 people to vote. (In 2016), we elected the first African American woman (Kim Foxx) as State's Attorney," said Watkins.
Foxx is one of several state's attorneys elected who ran as reform candidates, including Larry Krasner in Philadelphia and Marilyn Mosby in Baltimore. Upon assuming office, Mosby launched a review of convictions attained with prosecutorial misconduct. As a result, courts exonerated nine people, including three African American men, released on November 25, after spending 36 years behind bars.
But in Chicago, SOUL activists soon realized change would be much harder to achieve than one election. They ran immediately into the entrenched resistance and power of the Fraternal Order of Police, and its ability to block disciplinary action against police criminal conduct and embedded white supremacy in the criminal justice system.
"We were asking questions that were already being answered by the CAARPR" and the campaign around CPAC," said Watkins. This experience, like those of so many other groups, convinced SOUL it needed to be part of the refounding of the NAARPR.
Joe Sims, national co-chair of the Communist Party USA who led a delegation to the conference, lauded the refounding of the NAARPR. "It couldn't have come at a better time as the country faces a growing fascist threat by Trump in which racist and political repression are its hallmarks," said Sims. "A broad approach to combatting its new features while using old school and new school organizing will ensure its success."
The conference elected a continuations committee and agreed to hold a formal convention in 2021.
"This is a fighting organization," said Chapman. "If we fight, we will win."