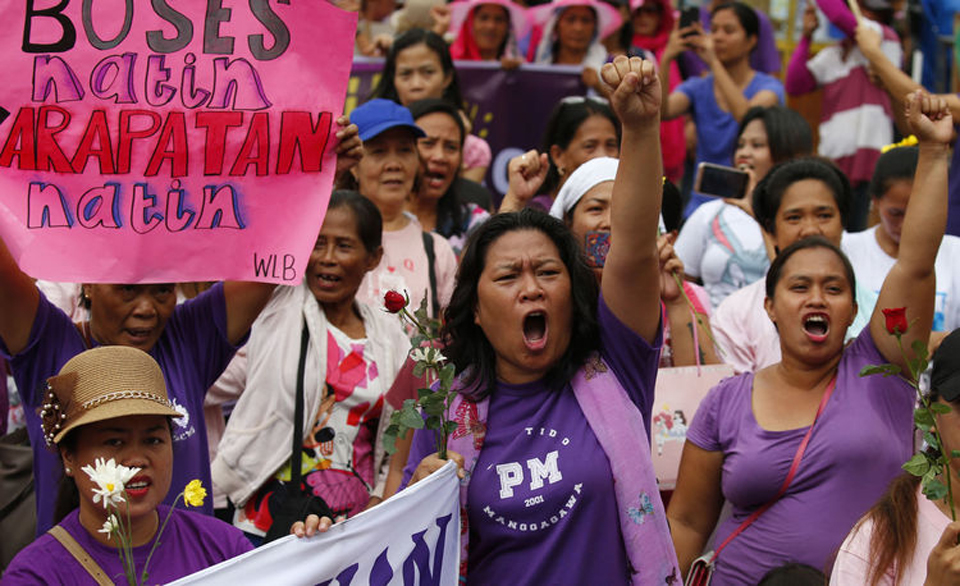 MADRID (AP) — Women across Europe and Asia shouted their demands for equality, respect, and empowerment Thursday to mark International Women's Day, with protesters in Spain launching a 24-hour strike and crowds of demonstrators filling the streets of Manila, Seoul, and New Delhi.
Spanish women were staging dozens of protests across the country against the wage gap and gender violence. In Barcelona, protesters disrupting traffic into the city center were pushed back by riot police.
In Madrid, hundreds of women gathered in its central square to demand change. Teresa Sonsur, a 38-year-old social services agency worker, said she wanted to end workplace discrimination.
"What we see in our job in social services is that the women are doing all the hard work, dealing with the customers, but in the positions of management it is always men," she said.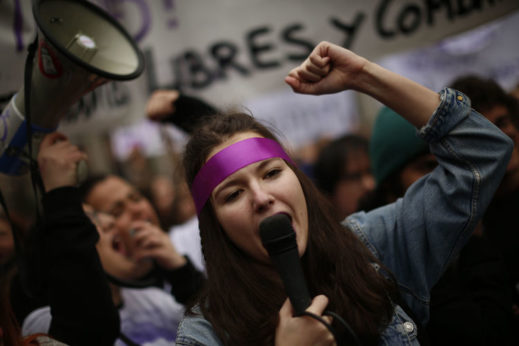 In France, a leading newspaper found a witty way of making its point about discrimination and the gender pay gap—by upping its price for men. The left-leaning daily Liberation said that for one day only, men would pay 50 euro cents more than women, in a reflection of the 25 percent less that women in France are paid, on average.
Across Asia, women came out to mark the day. At rallies in Pakistan's capital Islamabad, its largest city Karachi, and the cultural capital of Lahore, women denounced violence against them in a country where nearly 1,000 women are killed by close relatives each year in so-called honor killings. Pakistani women have largely been deprived of their rights since the country gained independence in 1947.
Hundreds of activists in pink and purple shirts protested in downtown Manila against Philippine President Rodrigo Duterte, calling him among the worst violators of women's rights in Asia. Protest leaders sang and danced in a boisterous rally in Plaza Miranda, handing red and white roses to mothers, sisters, and widows of drug suspects slain under Duterte's crackdown on illegal drugs.
Human rights groups have condemned Duterte's sexist remarks, including one in which he asked troops to shoot female communist rebels in the genitals.
In Afghanistan, hundreds of women, who would have been afraid to leave their homes during Taliban rule, gathered in the capital to commemorate the day.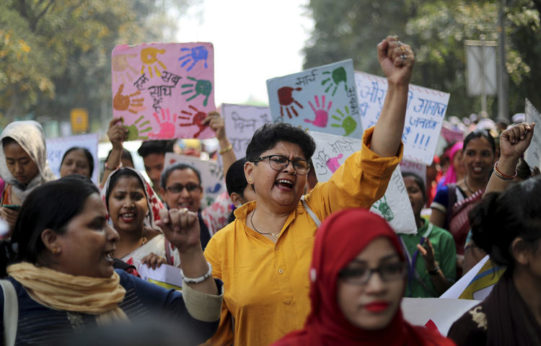 Hundreds of South Koreans, many wearing black and holding black #MeToo signs, rallied in central Seoul. South Korea's #MeToo movement has gained significant traction since January, when a female prosecutor began speaking openly about workplace mistreatment and sexual misconduct.
Several high-profile South Korean men have resigned from positions of power, including a governor who was a leading presidential contender before he was accused of repeatedly raping his female secretary.
In India, hundreds of women, including students, teachers, and sex workers, marched through the capital to bring attention to domestic violence, sexual attacks, and discrimination in jobs and wages.
"Unite against violence against women," one placard urged. "Man enough to say no to domestic abuse," said another. "My body, My choice."
India had its first female leader in 1966 when Indira Gandhi became prime minister, but Indian women are still often relegated to second-class citizenship.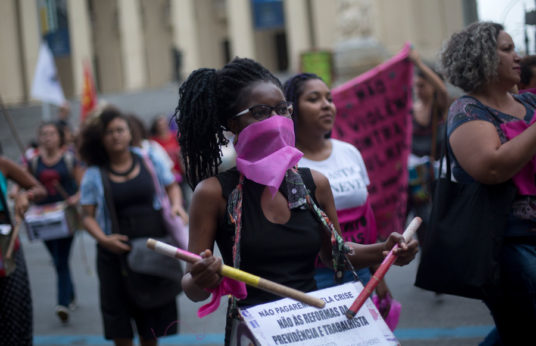 In Africa, Ugandan President Yoweri Museveni urged men to stop physically abusing their wives. Domestic violence is common in Uganda, although victims rarely report perpetrators to the police for fear of being stigmatized or thrown out of their homes.
Back in Europe, Belgian women's groups spoke out angrily as the world of sport provided an immediate and visible target for their struggle.
The Belgian football federation, saying it did not want to be taken "hostage" by women's groups, refused Thursday to back down from its decision to choose a rapper known for lacing his songs with misogynistic lyrics to produce its official World Cup song.
The Women's Forum, a coalition of Belgian women's groups, said it was unacceptable that an artist using degrading lyrics could be picked to produce what should be a unifying song.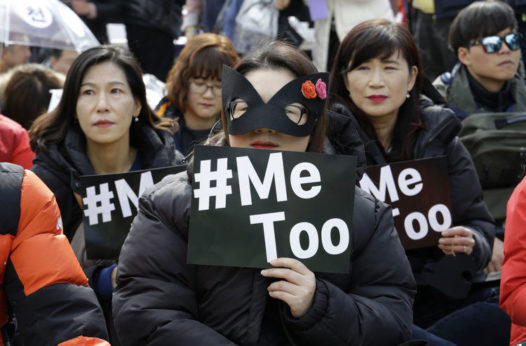 In Rome, Catholic women challenged Pope Francis to give women a greater voice. Former Irish President Mary McAleese, an outspoken advocate for women's ordination and LGBTQ rights, accused the church's all-male leadership of refusing to change their entrenched second-class status.
Asia Argento, an Italian actress who helped launch the #MeToo movement, said she is launching a new movement, #WeToo, which aims to unite women against the power imbalance in favor of men.
Tim Sullivan in Delhi, Barry Hatton in Lisbon, and AP correspondents around the world contributed to this report.