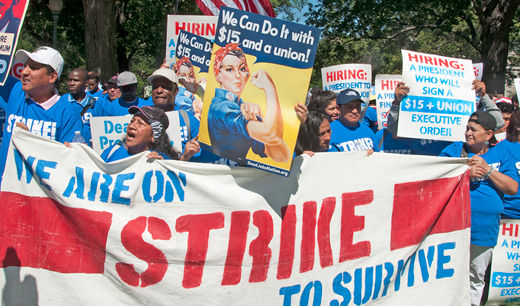 WASHINGTON – Almost 1,000 striking low-wage workers employed by federal contractors rallied at the Russell Senate Office Building here and demanded $15 an hour and the right to join a union. Two Executive Orders supposedly issued to help them have not helped much.
The one-day strike was coordinated by Good Jobs Nation, which is supported by the Change to Win labor federation, Interfaith Worker Justice and the Campaign for America's Future, among other organizations.
The strikers work at the U.S. Capitol, the Pentagon, Smithsonian museums and at other federal sites. They cook and serve food, maintain cafeterias and clean offices. All are employed by huge corporations that have been awarded contracts by the federal government.
All earn poverty wages.
Sonita Bailey, a cashier at a café inside the U.S. Capitol, told the crowd she earns so little she also works a second job at Kentucky Fried Chicken. "KFC pays me more," she said. "I work 70 hours a week. It's hurting my health."
Charles Gladden works full time at Senate buildings, but was homeless until he received temporary housing from a charity. "This is not right," he said. "As a worker for the federal government I should not have to rely on charity."
Following a similar one-day strike almost two years ago, President Obama issued an Executive Order raising the minimum wage for federal contract workers to $10.10 an hour. However, according to Good Jobs Nation leaders, many contractors did not comply at all and others used gimmicks to cheat the workers out of portions of their pay.
The workers went on strike again and won an Executive Order mandating penalties for employers who cheat. However, the Order is not being consistently enforced.
Furthermore, even when workers get the full $10.10 an hour, they have discovered it's not enough to provide security for their families.
So they went on strike again, this time demanding a Model Employer Executive Order calling for federal contracts to be awarded only to corporations that pay at least $15 an hour and allow workers to unionize.
U.S. Sen. Bernie Sanders, D-Vt., and other members of the Congressional Progressive Caucus addressed the rally at the Russell Building. Sanders said, "The United States is the richest nation in the history of the world. It is unconscionable that only a small number of people at the very top own the vast majority of these riches." He announced his intention to introduce a bill calling for a national $15-an-hour minimum wage.
"LA City and LA County have raised their minimum wage to $15 an hour," he said. "So has Seattle, and New York is about to. The federal government should be the leader, not playing follow the leader."
U.S. Rep. Keith Ellison, D-Mich., said "the biggest low wage employer in the U.S. is not McDonald's or KFC or Wendy's, it's the U.S. government itself. This must stop."
The crowd responded by chanting what they wanted: "15 and a union."
Photo: Larry Rubin/PW