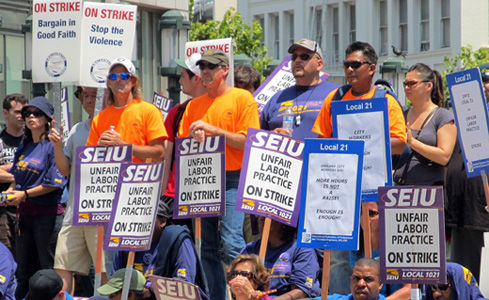 OAKLAND, Calif. – A massive noontime rally at City Hall July 1 brought together striking Bay Area Rapid Transit (BART) workers and Oakland city workers protesting what they said were management's refusal to increase wages, and demands for givebacks, despite rising revenues.
Some 2,400 striking BART workers struck the system that serves riders in San Francisco and surrounding cities after their contract expired at midnight June 30. Leaders of some 2,500 unionized city workers said further stoppages could follow their one-day strike unless negotiations progress.
Demands of the BART workers, members of Amalgamated Transit Union (ATU) Local 1555 and Service Employees International Union (SEIU) Local 1021, include passenger and worker safety, and a pay raise after five years without one and significant givebacks four years ago. Workers also reject demands that they pay or pay more for health care and pensions. The unions point to BART's record ridership and resulting operating surplus.
ATU 1555 President Antonette Bryant asked rally participants to hold up four quarters. "Yesterday, that's what BART offered our employees – a dollar a year," she said. "Don't be fooled by the press saying 8 percent [over four years], it was $1." Bryant also focused on safety, citing increased assaults on passengers and workers, and "equipment that causes us to be injured."
Before the rally, bargaining committee member James Riddle, a BART transit vehicle mechanic for nearly 23 years, backed Bryant's concerns about safety, noting that two workers have been struck by trains in the past year, and over 1,000 passengers and workers have been assaulted during that time.
The Oakland city workers are represented by Local 1021 and by the International Federation of Professional and Technical Engineers Local 21.
At the rally, SEIU International Secretary-Treasurer Eliseo Medina was flanked by national and state SEIU leaders as he put the strike in a national context: "You are part of a struggle that is going on in this country. Workers are saying it's time for the greedy bankers, the developers and the corporations to pay their fair share of maintaining vital public services."
The city unions say their action is an unfair labor practices strike because city leaders won't provide vital information about why they are demanding concessions amounting to 10 percent of workers' wages
Local 1021 Oakland Chapter President Dwight McElroy denounced what he called deceptive bargaining policies and efforts by the city to "hide" tens of millions of dollars in available funds. "It is our obligation to ensure that the public dollar be spent in a manner that serves the entirety of the City of Oakland," he said.
Rally participant Denise Parker, a 17-year city worker who is an office manager in the city's Building Department, said what irks her most is the city's proposal for a permanent wage cut. "In 2007 we gave, gave, gave," she said. "Now that the city is doing better, why are they trying to continue making us give, give, give?"
Another big issue is the growing number of part time workers; the union says the majority of city workers have been reduced to part-time hours and lack health care and job security.
Library assistant Stephanie Hamilton said she has been "temporary, part-time" for 12 years. Temporary workers "are being driven into Walmart worker status, with no benefits and often without a fixed work schedule," she said, noting that the practice "saves the city money while accomplishing the same work."
Many representatives of Oakland community organizations and other unions participated to show their support. Among them was Our Walmart activist and lifelong Oakland resident Dominic Ware, who told the crowd, "We are here to stand in solidarity and show the workers we support them. We are workers united and we will not be divided."
The contract covering hundreds AC Transit bus drivers and other workers serving East Bay communities also expired at midnight June 30, but as of July 2, they were still on the job.
Photo: Marilyn Bechtel/PW