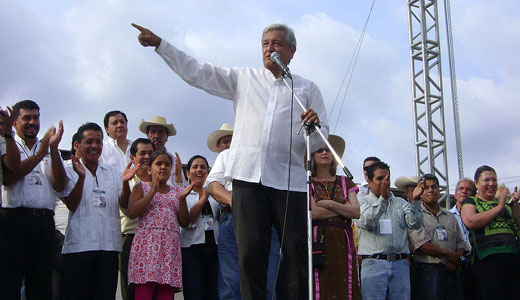 Andres Manuel Lopez Obrador and his left wing coalition have joined forces with the right wing National Action Party (PAN) to press electoral authorities to investigate the Party of the Institutional Revolutionary Party's (PRI) massive vote buying campaign and use of illicit funds during the recently held Mexican elections.
After two vote counts, the Federal Electoral Institute (IFE) has declared PRI candidate Enrique Peña Nieto, a former governor of Mexico state, winner of the presidential race over center-left candidate Andres Manuel Lopez Obrador (known as AMLO), the candidate of the Party of the Democratic Revolution (PRD), Labour Party (PT) and Citizens Movement (CM).
AMLO and his coalition are asking IFE's electoral court to annul the presidential election.
AMLO has presented evidence to the court demonstrating that the PRI violated Mexican law by buying 5 million votes. According to AMLO, PRI governors (who run 20 Mexico's 32 states) funneled public, private and illicit money, including funds from the U.S., amounting to billions of pesos, to PRI operatives at the local level. These operatives distributed pre-paid gift cards for Soriana (a department store chain), cash, household goods, farm supplies, even tax forgiveness in exchange for casting a vote for PRI candidates.
Peña Nieto met with the 16 PRI governors on June 12 to plan the massive vote-buying operation, said AMLO. For political parties to buy votes is illegal in Mexico.
Lopez Obrador said that there were also irregularities in at least 113,855 polling stations out of 143,132 across the country. In some cases, more votes were counted than those who actually voted. The final vote tallies that were counted in front of all party representatives in the polling stations were not always correctly reported by IFE's PREP (rapid vote count) and votes were removed for some candidates (AMLO) or increased for others (Peña Nieto). In other places, voters were denied the right to vote because there were not enough paper ballots.
While PAN, which has run the country for the last 12 years, has so far not called for the annulment of the presidential elections, its leader Gustavo Madero has criticized the PRI for massive voting buying and use of illicit campaign money. Madero admitted that the PRI always wins elections through "money and deception." He questioned the legitimacy of Peña Nieto's victory given the PRI's illegal massive vote buying effort during the elections. He stated it would be difficult to annul the elections but one cannot reject this possibility. PAN president Fellipe Calderon has also criticized the PRI's massive vote buying effort.
PAN is working with the AMLO's coalition to expose the PRI's financing and vote buying during the elections. Coalition and PAN leaders have already met and are exchanging information. Madero demanded that the PRI "explain where these resources (illicit money) came from to finance their campaign." Jaime Cardenas, lawyer, for the PRD-PT-CM coalition, charged that the PRI greatly exceeded spending limits and the extra money has to be accounted for.
Both Parties have asked IFE and Mexico's Attorney General to investigate the PRI's use of illicit funds as well as massive vote buying.
The PRI denies allegations of vote buying and use of illicit funds and accuses AMLO of being a sore loser.
AMLO also announced on July 21 the National Plan for the Defense of Democracy and Dignity of Mexico. As part of his effort to overturn the presidential election results, his coalition will hold assemblies on July 29 and August 5 across the country to discuss new information about electoral fraud. Tables will be set up to collect new information about fraud. They will also mobilize people, especially artists, to participate in creative activities in defense of the vote. The coalition will use TV, radio and the Internet to publicize its campaign to get IFE to annul the presidential elections.
AMLO has said that PRI supporters have been providing more information and testimony on fraud to his campaign headquarters.
Meanwhile, the student movement "#YoSoy132" is continuing its campaign of large scale peaceful protests against what it sees as the right wing's imposition of Peña Nieto on the country. They movement is considering occupying the headquarters of Televisa this coming Friday to protest the network's support for the PRI during the elections. At least 32,000 people marched through Mexico City July 22 to protest the right wing's imposition of Pena Nieto as President.
Photo: Andres Manuel Lopez Obrador speaks during a political campaign. Emiglex/Wikipedia