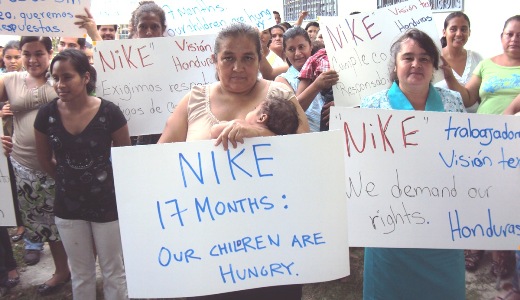 PORTLAND, Ore. (PAI)–Labor-backed United Students Against Sweatshops claimed a big win on July 26 when the world's largest shoe and apparel maker, Nike, agreed to pay the full $2.5 million two Honduran subcontractors owed their 1,800 workers after the subcontractors closed the plants and broke that nation's labor laws.
The money will be paid to the workers through their Honduran union, CGT. The workers' organizing drive in Honduras was one reason the subcontractors, Hugger and Vision Tex, closed the plants in January 2009. Nike previously denied any responsibility.
The workers will get $1.5 million in legally mandated severance pay, and be eligible for priority hiring by Nike's other Honduran suppliers. They'll also get nine free months of medical care through the Honduran social security system, and paid job training. Nike also committed to expand its sourcing in Honduras as its overall business expands and to give priority hiring to the 1,800 workers.
"This is a watershed moment for USAS and the anti-sweatshop movement. Ever since the 1990s, when Nike led the race to the bottom that produced shocking sweatshop headlines, the sportswear giant has refused to acknowledge responsibility for worker abuses at its subcontracted supplier factories where workers actually cut and sew Nike products," said Jack Mahoney of USAS.
"Today that era is over," he continued. "Nike's full payment of the severance owed to workers at these contracted supplier factories sets an unmistakable precedent: Apparel corporations will be held accountable for workers' rights in their supply chain. No more excuses."
USAS cited three key points in its campaign against Nike, its second such success against a sportswear multi-national that used subcontractors to exploit workers in developing nations.
One was a series of scathing reports by independent monitors about wages and working conditions at Nike's subcontractors. The reports by the Worker Rights Consortium led to a national "Nike Truth Tour" campaign by USAS featuring Honduran workers and U.S. activists. USAS is now active at more than 150 campuses.
"Students used the reports to illustrate how Nike violated universities' codes of conduct and to compel universities to take action and cut contracts with Nike," Mahoney said.
Two universities, Wisconsin and Cornell, then terminated their Nike apparel contracts, pushing the firm to settle, USAS said.
Photo: Ex-workers demand Nike pay them what they're owed at a rally in Honduras, June 12, 2010. (USAS)