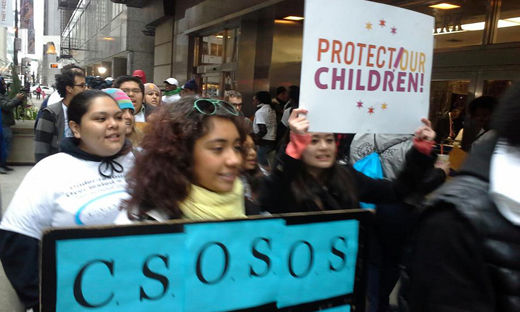 CHICAGO – High school students here went on strike today, refusing to participate in the second day of standardized testing. The test, PSAE, which juniors take, is used to evaluate the high school and to determine how much funding it will receive. Students took buses from high schools around the city to Chicago Public Schools headquarters downtown to picket and hold a press conference. (Continues after video.)
In a statement on Facebook, the organizers wrote:
"These tests put a number on our school, and on us. Standardized testing is NOT right! No student is standard! Students are more than a score. Our education and knowledge should not be limited to or dictated simply by a multiple choice test. Standardized testing shouldn't be a heavy influence on determining which schools close or how teachers are evaluated and definitely shouldn't rule our lives as students. We should be in classrooms learning and exploring not bubbling in scan-trons!
"This action is also addressing the racist and unfair 54 school closings that Mayor Rahm has imposed. These are OUR children. We can't allow a mayor close 54 schools in black and brown neighborhoods on false data as to why. We ALL must do something."
Photo: PW/John Bachtell