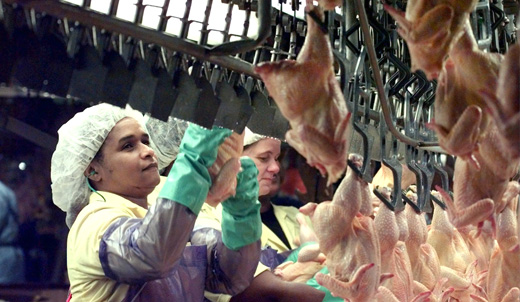 WASHINGTON – Almost six of every 10 of the nation's poultry plant workers – 57 percent – suffer musculoskeletal, or ergonomic, ills from the constant repetitive motions they undertake cutting up chickens and turkeys on the job, a new federal study says.
The National Institute of Occupational Safety and Health (NIOSH) study adds that 42 percent of all poultry plant workers suffer from carpal tunnel syndrome, a nerve-pinching disorder common among assembly-line workers, typists and others.
The study's results, released in early April, prompted the United Food and Commercial Workers, whose members include tens of thousands of poultry plant workers, to renew their call for the federal Agriculture Department to drop its scheme to let plant owners speed up poultry processing lines.
USDA wants to institute a new federal inspection method that relies more on plant supervisors than it does on federal poultry inspectors to pick out and discard diseased chickens. It also would let the supervisors be selective about which chickens to eyeball, rather than inspecting each one. Both moves would speed up the lines.
The American Federation of Government Employees, which represents federal poultry inspectors, has been waging a long campaign against USDA's new inspection plant, which would also reduce the number of inspected poultry carcasses.
Plant owners – including big firms such as Tyson – are campaigning vigorously for the new rules, which they say would let them process more chickens. They would also make more money.
But AFGE's poultry inspectors retort that the speedup and the transfer of inspection to in-plant supervisors increases the risk of food poisoning. The NIOSH report shows the speedup would also increase the risk to workers' health, UFCW says.
USDA wants to virtually double poultry line speeds from 70-91 birds a minute to a maximum of 175 a minute. NIOSH found what UFCW called "a drastic level of injury" to workers even at the present speeds.
If working conditions are this bad, and workers get hurt this often, with current poultry line speeds, UFCW President Joe Hansen says, they'll only get worse if the lines speed up. He calls USDA's proposal "reckless."
"One injury is one too many," Hansen said. "Four out of ten workers with carpal tunnel. Nearly six out of ten showing symptoms. This is an epidemic."
Instead of trying to speed up the poultry lines, Hansen added, the plant owners should adopt NIOSH's recommendations to help the workers. Some of them are: Designing job tasks at levels industry experts recommend, provide workers with more than one break per shift and increasing reporting, screening and treatment of musculoskeletal disorders.
Until that's done, "USDA must pull this rule and take a hard look at how to improve safety in our nation's poultry plants," Hansen said. "This NIOSH report is both a wakeup call and a warning sign."
The unions are not alone in criticizing USDA's chicken inspection scheme. Citing a report from the non-partisan Government Accountability Office, 68 lawmakers also asked Agriculture Secretary Tom Vilsack to backtrack on the inspection rule.
They said the GAO study shows the inspection model is flawed, that USDA drafted the rule with too little consultation outside of the industry, and that it could harm food safety as well as the workers' health.
"While we strongly support modernizing our food safety system and making it more efficient, modernization should not occur at the expense of public health, worker safety, or animal welfare," Reps. Rosa DeLauro, D-Conn., James Moran, D-Va. And others wrote to Vilsack. DeLauro and Moran are members of the House Appropriations Committee, one of the key panels that decide where USDA spends its money. "We harbor serious concerns over what we believe are the Food Safety Inspection Service's (FSIS) inadequate considerations to date of these issues in promulgating this rule."
Workers at a processing plant prepare cleaned and gutted chickens for packaging. (AP Photo/J.Scott Applewhite)